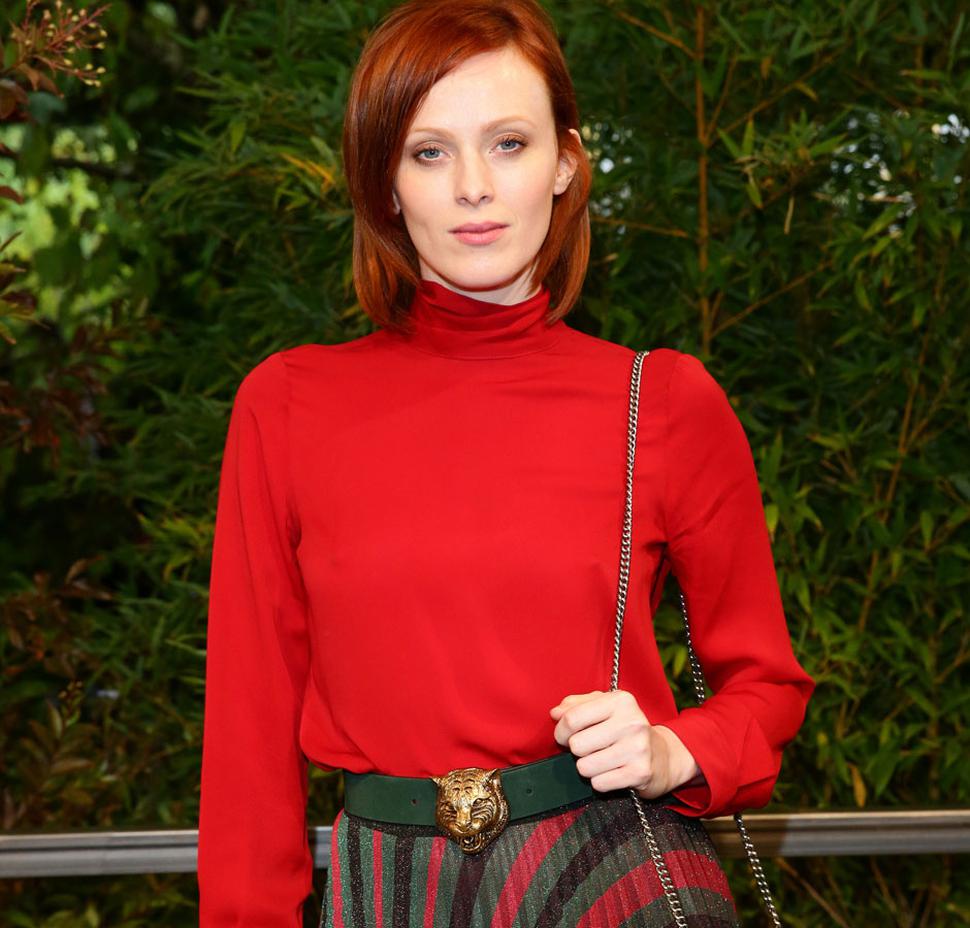 Karen Elson on Early Bedtimes & The Fantasy of Social Media
Two decades as a model and two successful albums — but Karen Elson is now in bed by 11 most days
Sunday March 4, 2018
Recently, people have started to say, 'you're looking so good for your age'," the British model and musician Karen Elson explains over the phone from her home in Nashville, Tennessee.
"Am I supposed to be old and haggard at 38? Am I now considered a quote-unquote older model?"
In the past few years, the fashion industry has been widely proclaiming its interest in diversity, shouting from the rooftops about the more prolific employment of "different types" of women as models.
Elson has inadvertently highlighted one of the stranger side effects to come from the positive movement, however; must every woman who doesn't fit the previous bill of a slim, white, anonymous teenager, now be subsequently categorised as a "plus-size", "racially diverse", or "older" model?
"I'm not sitting here thinking I'm an 'older woman' with every birthday that comes," she says, laughing.
"I'm just a woman, and my job has always been to model and I'm happy to keep doing it. I'm not a big fan of putting people into boxes."
Being difficult to define has always been one of Elson's strong suits. She's been at the top of her game in modelling for two decades, and last year she released her second indie album, Double Roses, to critical acclaim.
She admits she didn't expect the positive reception; "It was nice to know that it would be taken for what it is, and that the modelling didn't have to detract from it."
With 30 international Vogue covers, hundreds of catwalk appearances and more than 130,000 Instagram followers to her name, Elson, who is from Oldham, near Manchester, first went global as a model in 1997, when she was photographed with her eyebrows shaved off for a now-iconic cover of Italian Vogue.
Her own red hair was amplified with a cherry dye job, and chopped into a spiky neo-punk bob. The media adored it and hailed her the "fashion freak" of the day, something that ignited Elson's career but, she says, took time to process at the age of 18, although she remembers that "the photographer Steven Meisel made it one of the most enjoyable shoots".
"I won't let anybody cut my hair anymore though," she laughs. "They can put a wig on me, extensions, whatever, but, I wouldn't do anything so permanent now. These days I'm much more terrified of a bad haircut.
"As I get older, I know who I am and what makes me tick, so when I leave a shoot I know that the person who was left behind is an alter-ego me," she says.
"It's taken me until my 30s to really see the fun in that, but it has always been a dream to go on set and have people transform you."
For Elson, the opportunity to see the world — from luxurious modelling destinations to zones of extreme poverty — was all that she ever really wanted growing up listening to The Cure and The Smiths.
"It was the 80s and early 90s and I had the Manchester music scene right on my doorstep," she says.
"Morrissey's lyrics spoke of these dank, dark terraced houses and wanting to escape them, and when I got spotted to be a model [at 16] I would have done anything to get on a plane or a train and just be seen differently."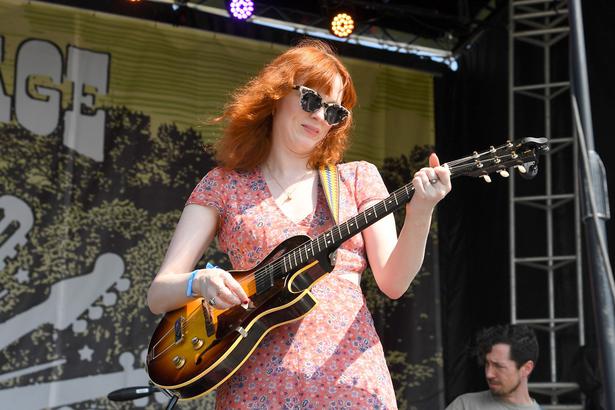 "I was terribly bullied at school, boys would throw rocks at me and shout 'you're not a model' in the street. The best the careers adviser had offered me was that maybe I should become a travel agent."
A snapshot of Elson's Instagram feed reveals how far she's come — one night she's on stage playing an intimate gig in Texas, the next she's at a wedding under Rio's Christ the Redeemer statue, wearing Gucci and partying with Helena Christensen, Bono, and P Diddy.
"I like Instagram," she says, "but it's my fantasy life. Nobody ever posts a picture having a bad day."
Touring as a musician, she says, requires her to slum it a lot more than when she travels for fashion jobs.
"It's so much more glamorous as a model," she laughs.
"Especially in the position that I'm in now, as they put you up in five-star hotels and you fly first class. In music, I'm still working my way up and we're travelling in a van, sometimes for seven hours in a day, before we arrive, set up, play the show, pack up again and go on to the next place. It's a lot more hard work but I actually enjoy it more with my band."
Until 2011, Elson was in a relationship with The White Stripes frontman Jack White. They met on the set of the band's Blue Orchid music video in 2005, married on a canoe in the Amazon River the same year, and famously threw a divorce party when they split.
The tabloids were fascinated with their unconventional life; they remained best friends with his ex and bandmate Meg White, they routinely co-ordinated in gothic outfits on the red carpet, and it was he who ultimately convinced her to make her debut album The Ghost Who Walks, back in 2010.
There were turbulent times, too; Elson was granted a restraining order against White when they split following claims of harassment, and the couple initially struggled to agree on parenting rights.
These days, however, they are on good terms and both reside in Nashville, raising their children Scarlett and Henry. Elson insists that, despite appearances, she is not "rock 'n' roll" in the slightest.
"My life has got a lot quieter and I'm really grateful for that," she says. "It's all an image, honestly, because in reality I wake up in the morning and take my kids to school. Maybe the coolest thing I'll do in a day is pick up a guitar and try to write a song, then I'll do some exercise, have dinner and be in bed by 11pm.
Most of the musicians I know have kids and a lot of responsibility, so they're not burning the candle at both ends. I rarely have a drink."
Then why does her life look so glamorous from the outside, I ask her.
"I don't know how people have come to imagine this about me. Maybe because I've got weird personal style and I like to wear strange things?
I'd look to Stevie Nicks for inspiration, but then I bet even she's in bed by 11 these days, too."
— The Daily Telegraph
Share this: