Everything You Need to Know About Top Model Jess Hart
Top Australian model Jess Hart talks about bras, racing cars and her beauty brand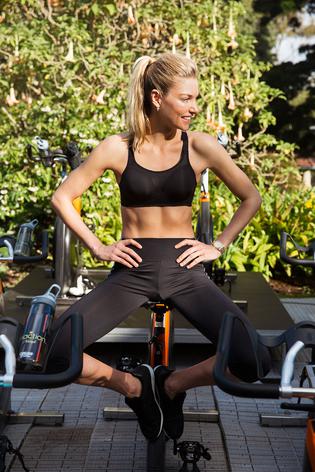 On a park bench in Sydney's Royal Botanic Garden, after a gruelling spin class, Australian model Jess Hart — famous for her gap-toothed smile — takes a seat.
She's on home turf having flown from New York, where she has lived for the past 12 years. She's here to launch Triumph lingerie's new Triaction sports bra range, in her role as the brand's new global face.
Jess had pedalled flat out throughout the class, barely breaking a sweat in the humid Sydney summer heat.
"I was going for it, way more than anyone else. I probably could have toned it down a bit," she says, laughing.
She was clearly keen to set a good pace for the gathered media from Australia, Singapore and Viva, all there to test drive the new "bounce certified" bra range with innovative technology for sizes from A to E.
The 30-year-old has been a model for over 15 years, after first being discovered in a Dolly magazine modelling competition. She has featured in Sports Illustrated shoots and on the covers of Australian Vogue, Elle and Harper's Bazaar. Today, she is a front-row fixture at New York Fashion Week, and is often found partying alongside friends Poppy Delevingne, Eva Herzigova, Karolina Kurkova and Derek Blasberg.
When it comes to longevity as a model, Jess confesses to having no idea what the key is. Instead she chooses to focus on always being at the top of her game.
"Be the best you can be, that's all we can do. It's easy to get caught up with what other people are doing and what other people look like, but I know I am the happiest when I am feeling my best," she explains in a matter-of-fact way, her Australian accent still very much intact.
Jess thanks her mum for encouraging her and her sister Ashley, also a model and yoga teacher based in LA (and former Viva cover star) to achieve their goals.
READ: Ashley Hart's Healthy Approach
"She is one strong woman. She raised us as a single mother and worked two jobs to put us through private school. She is just an amazing person. I wouldn't be where I am without her input and influence in my life.
"Half the reason I am probably such a toughie is she would never let us moan or complain. 'Get on, get up, move on,' she would say.
"Obviously you don't get every job so, when my sister and I started modelling, she would tell us, 'you are a beautiful pear, but that person was looking for an apple —and there is nothing you can do about it.
"So be the best pear that you can be'."
One of Jess' unique quirks, and what she is recognised for, is the gap between her two front teeth. She recalls visiting a dentist who advised they would have to snip out the middle of her gum, put on braces and every night she would have to wear a head unit to push it together. "I was like 'I'll stick with the gap, thanks'."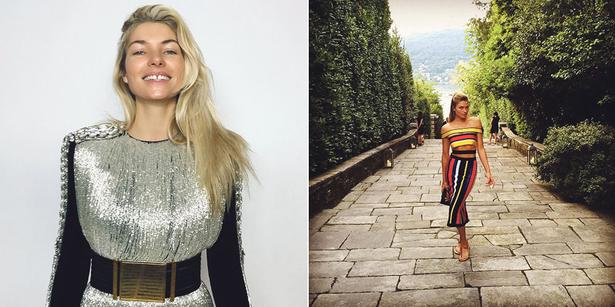 In 2009, Jess launched her own beauty line Luma Cosmetics, which she will relaunch at the end of this month. She plans to introduce skincare into the range, alongside her
best-selling illuminating highlighters.
"I started Luma when I was really young and I the packaging reflected that. So for the past year I've been working on the relaunch with multi-use skincare products, balms, facial scrubs, body scrubs and tinted beauty balms."
Obviously motivated, Jess she is much more of a tomboy than you see in her pictures.
"I love to race cars. I've just been to Texas, where I learned how to race really fast cars. I can also probably drink like a dude and I swear a lot," she laughs.
Naturally blessed with a supermodel physique, when it comes to fitness and health, Jess says it's all about balance.
"I try to work out as much as I can and eat as healthily as I can, but it's not always the case. I just do my best, but I don't like to pretend that I'm always healthy, because it's not true. I'm just as bad as I am good, but that's kind of the beauty of it. I also like to mix up my workouts as I think your body gets used to something. If you change it up you get better results."
QUICK FIRE WITH JESS
Reading The Power of Now by Eckhart Tolle.
Listening Shape of You by Ed Sheeran.
Watching So many things — I watch mindless comedy, like Two Broke Girls.
Cocktail Tequila soda.
Best beauty trick Highlighter.
Treasured possession My dog Floyd @theadventuresoffloyd
Favourite destination I love Marrakesh in Morocco; it's mysterious and really magical. Everyone there speaks three languages. I had a great trip to New Zealand; I stayed at the incredible Matakauri Lodge — the bath has an open window on to the water, it looks like a painting.
Favourite designers I'm loving Tome, Brock Collection and Rosie Assoulin.
Share this: