Get to Know Model Mercy Brewer
We talk to Mercy Brewer of Unique Model Management about her perspective on beauty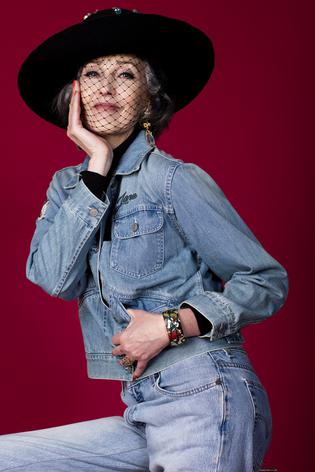 What does beauty mean to you?
Something that strikes the heart through the senses ... it's all in the mind.
What are the top five beauty products you swear by?
1. MitoQ power antioxidant serum.
2. Sun Sense Daily Face Invisible tint spf 50.
3. Neutrogena Hydro Boost Mask.
4. Abeeco bee venom lip plumper.
5. A handful of epsom salts in the bath.
SHOOT: Why Age Is Just a Number
Your most memorable style moment?
When Vivienne Westwood told me I worked her silver sequin sheath dress better than Linda Evangelista.
Who has influenced your style?
Silent-screen movie stars — love those moody wet eyes and dark matte lips, stockings with everything. Equally 18th-century aristocrats with their white or grey powdered hair and black velvet or satin beauty patches, the initial inspiration for me to embrace my grey hair.
What's the most treasured item in your wardrobe?
A 90s black silk satin couture corset with accentuated bust and hips from Isabell Kristensen.
Mercy's Shopping Picks:


Who are your favourite designers or brands?
Jean Paul Gaultier, the late Alexander McQueen, Dolce & Gabbana, Thierry Mugler, Vivienne Westwood ... I like theatre.
What are you currently reading, watching and listening to?
Reading Wuthering Heights [again!] by Emily Bronte, watching Islamic State attacks throughout the world and the American presidential elections, listening to 60s French pop.
What's an experience you will never forget?
Natural childbirth.
How would you describe your career?
Surprising.
When and where did you start modelling?
London 1984.
Where in the world do you feel most at peace?
In my husband's arms.
Share this: