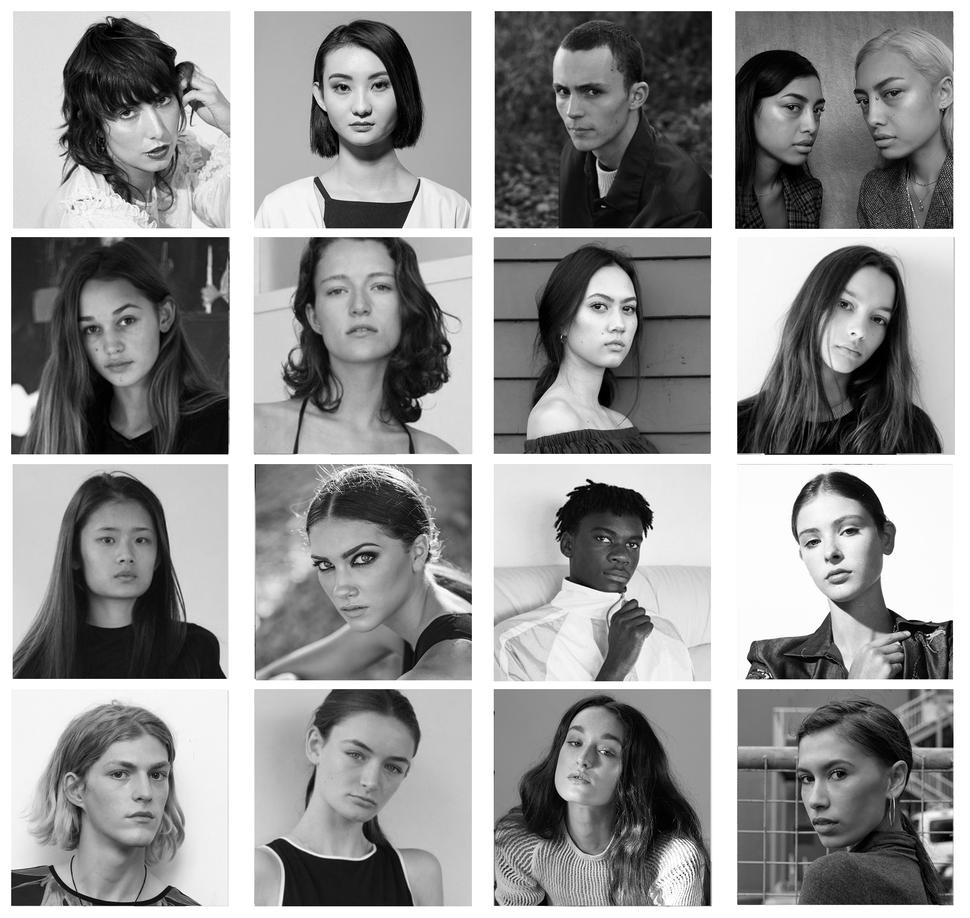 Models To Watch On The Runway At NZ Fashion Week 2018
Keep a look out for these fresh faces at this year's NZFW
Saturday Aug. 25, 2018
New Zealand Fashion Week begins on Monday, and we've rounded up the freshest faces to keep an eye on as they hit the runway next week.
Top row from left:
1. India (The Others)
It's India's first time at fashion week this year – catch her and her amazing haircut at Wynn Hamlyn & Lela Jacobs.

2. Freja (Red11)
A favourite of Zambesi, Freja will be walking for the label again this year as well as several other shows including Knuefermann and Twenty-Seven Names.

3. Jack (62models)
With his shaved hair and sharp cheekbones, Jack is sure to be a favourite from this year's NZFW. He's been confirmed for Huffer and Zambesi.

4. Rain & China (N Model Management)
Explosive DJ-duo and Viva cover girls, the Katanayagi twins are sure to be a fixture at fashion week, expressing their great style off the runways and walking for Huffer and Twenty-Seven Names.
Second row from left:
5. Rose (Unique)
Already signed with Elite Paris, Rose and her long flowing locks will be gliding down the catwalk for Kiri Nathan, Trelise Cooper and Huffer.
6. Izzi Zigan (Clyne)
Another Viva cover girl, we think amazing Izzi is destined for great things. We're looking forward to seeing her at Wynn Hamlyn and Twenty-Seven Names.
7. Josie (N Model Management)
Beautiful Josie is a natural in front of the camera, and we're sure she'll be a natural on the catwalk too, stomping up a storm for Stolen Girlfriend's Club and Huffer.
8. Alida (Clyne)
Striking Alida is an editorial favourite, having featured in Black Magazine and campaigns for Ruby. See her heading down the runway for Knuefermann and Hailwood.
Third row from left:
9. Grace T (Clyne)
We're looking forward to seeing brand new face Grace strut her stuff at Zambesi and Stolen Girlfriend's Club this year.
10. Hannah (Portfolio / Red11)
Christchurch-based next-big-thing Hannah has booked several shows this year including Kathryn Wilson and New Gen Couture.
11. Tak (The Others)
You'll have seen new face Tak in campaigns for Hunting Ground Store and Checks Downtown – at his first NZFW he'll be walking for Stolen Girlfriend's Club and Zambesi.
12. Fran (Unique)
Signed with IMG Models, Fran is set to explode in the industry this year. See her at Hailwood, Twenty-Seven Names and Knuefermann, among many others.
Fourth row from left:
|13. Arthur (Unique)
New face Arthur was introduced to the industry by his aunt, successful London-based model Angela Dunn. You'll see him at Stolen Girlfriend's Club, Ryan Turner among others this year.
14. Olivia (Clyne)
It's young Olivia's first fashion week, and she's proved popular with Rachel Mills and Wynn Hamlyn snapping her up for their presentations.
15. Erin (N Model Management)
Another long-locked model, Erin will be lending her otherworldly beauty to Kiri Nathan, Hailwood and more.
16. Brooke (62models)
We're looking forward to seeing Brooke and her elfin features at the Designer Selection and New Generation shows.


Share this:
More Fashion / NZ Fashion Week 2018