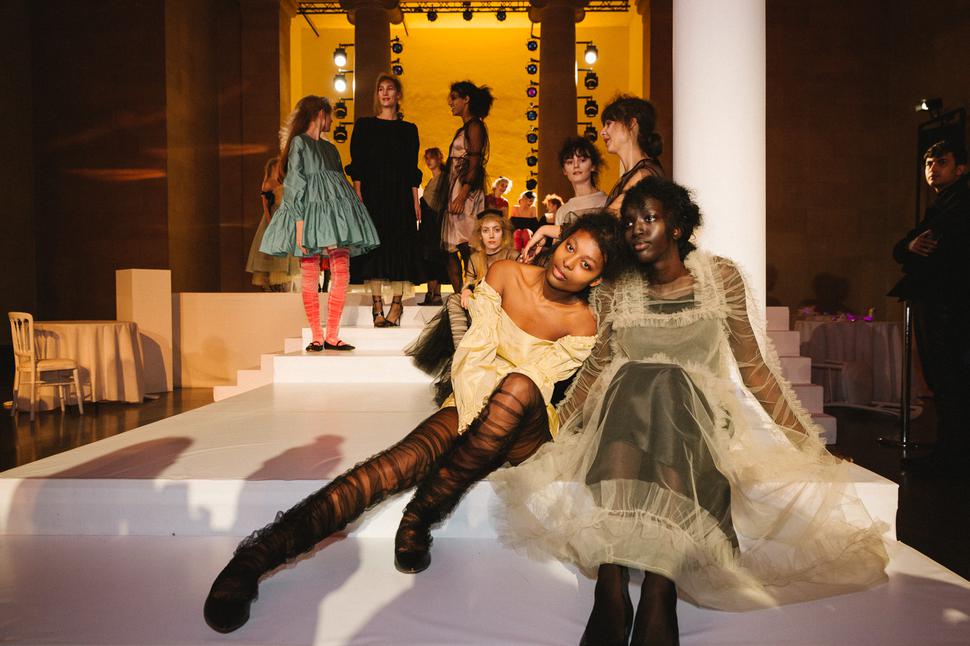 Molly Goddard Is the Toast of London Fashion Week
The story behind tulle-obsessed London fashion designer Molly Goddard
Monday Feb. 22, 2016
If you want to put yourself in a good mood, just try on a dress by Molly Goddard. Her voluminous tulle numbers are the closest thing an adult gets to the dressing-up clothes of our childhood, when we could pull on a polyester princess dress with multiple underskirts or a brightly coloured shiny superhero suit over what we were already wearing and change character as quickly and effectively as Mr Benn. A Molly Goddard dress in pink, green or tomato red will make you feel upbeat and bright.
And right now Goddard has much to feel happy about. She has just shown her fourth collection at London Fashion Week, a presentation supported by the British Fashion Council's NewGen programme at Tate Britain. It has been a supersonic rise since her first show just two years ago, with her collection for spring/summer 2014. What started out as an excuse for a party – Goddard's first collection was put together in six weeks for £500 and shown off schedule – became a business almost by accident.
"I had no production plan, it was just fun. It was in a church hall in Mayfair. Somehow Dazed & Confused and i-D covered it. I thought I would get a job from it – but I didn't think I'd get sales." The models were either friends or street cast by her sister Alice, a stylist, and they put the dresses on over their own clothes.
Quickly Dover Street Market, the influential multi-brand store set up by Rei Kawakubo of Comme des Garçons, put in an order, as did I.T in Hong Kong.
"I spent all my youth going to Dover Street and feeling very intimidated," she says. "I was almost too scared to look at things but now I know everyone is so friendly there and interested in you." They even gave her a window.
Goddard spent the next few months working morning till midnight cutting, smocking and sewing until the orders, for more than 80 dresses, were complete. She didn't even have a studio – she did it all from a small spare room in her parents's house in Ladbroke Grove in west London.
READ: The best London design stores
"I did get a bit fed up – it felt a bit much," she says, which you suspect is an understatement. But she got it done. "Everyone thinks you are organised straightaway but if you get an order you have to do it."
"Molly's part of a new breed of young women entrepreneurs who are doing one thing very well," says Sarah Mower, chair of the NewGen committee, which selects new design talent for London Fashion Week.
"That one tulle dress has been such a hit. The designers know they have to sell or they are not going to survive: if Molly had done tulle dresses one season and switched to denim the next and had another concept the third, she'd be lost."
Goddard's fashion week presentations have become a must-see at London Fashion Week. For her second collection she hosted a life-drawing class. The audience was free to walk around the easels admiring the charcoal drawings of the older gentleman who posed nude as much as the "students"' dresses.
For spring/summer 16 she set up a production line of young women making salad sandwiches with bright green leaves of limp- looking lettuce and tomatoes that matched the colours of the dresses. She likes her models to be "real"-looking, doing something rather than walking up and down for the sake of it. "I think she's so brilliant at presentations," says Mower. "She's from the believable generation: it's real, it's not just the skinny zombies."
The morning I meet Goddard at her small studio in a former school underneath the Westway in Ladbroke Grove, she is wearing one of her dresses over a black vest and trousers, finished off with a pair of solid boys' loafers. She has strawberry-blonde hair, clear blue eyes and freckles, but she is not as frivolous as her designs might suggest. Her latest collection has just arrived back from the factory. Great puffs of tulle and ruffs of tartan taffeta are squeezed inside the polythene hanging bags.
Goddard is at a crucial moment between meeting delivery deadlines for her S/S16 collection (she now has a factory) and starting work on her next collection for A/W16. It is only six weeks before her show. The team has been busy running great lengths of fabric through her Sally Stanley smocking machines to be ruched up into tiny gathers – she can't find a factory that can do it so she does it herself. It limits the number of orders she can produce but she has also introduced shirring, which is done with elastic and can be produced industrially – important if she is to grow her business.
Read: Emilia Wickstead on her love of London
The studio is already cramped, with three pattern-cutting tables, a small desk where Goddard sits and another nearby for her boyfriend and business partner/studio manager Tom Shickle (who also plays bass in the band Spector). She employs three design assistants, while three interns are doing work placements as part of their degrees. They sit around one of the tables delicately embroidering floral sprigs – the last stitches in the production of the S/S16 collection on its way to New York, Tokyo and Paris.
The next collection is all in her head, waiting to tumble out. There is half a toile on a dressmaking stand in the corner, some fabric swatches and a stack of references that range from a 1950s Balenciaga fashion plate to a 1990s Steven Meisel shoot from Italian Vogue and some drawings by her sister with ideas for socks and shoes and hair.
Although she has been inspired by debutantes and posh boarding schools, Goddard's own upbringing was "the complete opposite. My school was terrifying," she laughs. "We wore tracksuits and would try to avoid having fights. It was pretty rough." Nevertheless she has a network of old friends from those days who live locally – along with her sister Alice, a fashion stylist, and her mother, Sarah Edwards, a former art teacher and photographer, whose skills come in very handy when it comes to building sets.
It was her mother who taught Goddard to sew. "She used to make loads of clothes for me and my sisters in gingham, rickrack and frills. For our birthdays she would always make us something, like a skirt."
While Goddard was at school, around the age of 15, she did a week's work experience with designer Giles Deacon. "I didn't have a clue who he was or how successful he was till I left and saw him in Vogue," she says. Later she did a BA in fashion knit.
As a student at Central Saint Martins, Goddard became obsessed with the smocking that made her feel nostalgic for the dresses her mother made for her as a child. She likes children's clothes; she has kept many of her own and collects vintage outfits as inspiration. She is drawn to garments that don't fit properly, that are slightly too small, like the shrunken jumpers she designs.
Gallery: Topshop Unique at London Fashion Week
When she joined the MA course, a tutor told her about the Sally Stanley smocking machine – a 1950s contraption with tiny needles that get threaded up and ruche the fabric into tight gathers. She started to experiment with the technique but struggled with the course.
"I couldn't keep up and I was very miserable," she says. "The month before the big deadline when you have to show your work, I didn't sleep. The stress we were under was so intense. I was quite relieved that I had failed because it meant I had a way out."
As it turned out, leaving the MA was the making of her. Perhaps it was the fact that she was making a collection just for the fun of it that gave Goddard her joyful USP. The resulting look was dishevelled bohemian crossed with punk princess, and it hit a nerve.
"It's not precious," says Mower. "It's pretty but never frou-frou. I've seen very grown-up women wearing her things. This is not just for awkward 19-year-olds: it can be glamorous."
There is of course a danger that the famously fickle fashion pack will get bored with voluminous party dresses. But Goddard is in no hurry to reinvent herself just yet. "It's really lucky to have an instant signature but it was never conscious," she says. And with that she disappears in a cloud of tulle.
— The Observer
Share this: