The Rise of the Multi-Dress Wedding
Big celebrations are back. Caroline Leaper charts the rise of the multi-dress wedding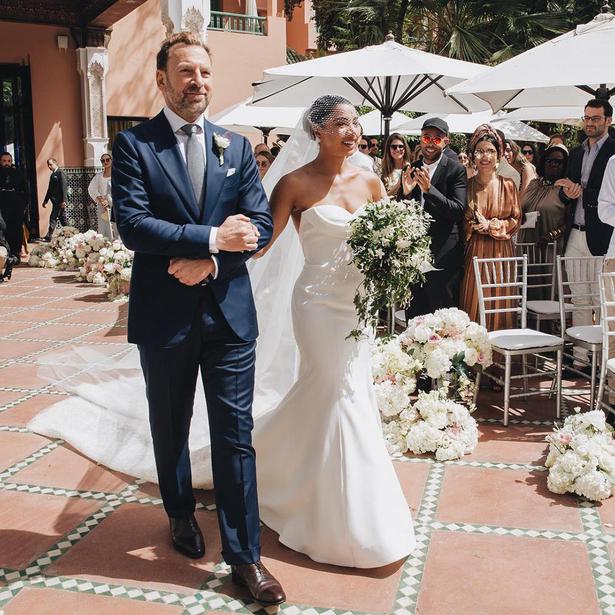 Thursday July 27, 2017
It seems that more is more in the world of weddings this year, as brides have stopped searching for "the one" in favour of "curating" entire wedding wardrobes.
Where once a woman bought a single statement gown for the ceremony, possibly slipping into something slinkier for the reception, weddings have now been extrapolated to encompass all manner of sub-events — rehearsal dinners, after-after-parties, international blessings and post-wedding brunches — each requiring a bridal look to match.
When singer and gemstone heiress Victoria Swarovski married property investor Werner Murz in Italy last month, she wore different dresses to get married, to cut the cake, to perform, and to host a unique red colour-themed dinner for her guests. They were all designed by Dubai couturier Michael Cinco and featured a blitz of her family's crystals.
GALLERY: Sparkle in These Fun Earrings
And Victoria is not alone. The trend for extreme dress shopping matches up with a rise in couples booking destination weddings and the desire to extend the party for as long as possible.
The quest to do something unique and memorable is also in line with the impending death of the Pinterest wedding, as guests are becoming fatigued with the twine-around-jam jar set-ups shared on the site.
"Wedding season can get quite repetitive, so a lot of people now want to give their guests a different experience," says Nausheen Shah, the New York-based stylist who recently outfitted DJ and fitness blogger Hannah Bronfman with eight bridal looks for her nuptials in Morocco.
"Destination weddings are productions — if you're expecting your guests to fly somewhere and spend money on a hotel, then you want to make it worth their while."
Nausheen advises clients who are planning a multi-faceted (and multi-dress) wedding to make a storyboard of the key events, times, weather and locations that make up their celebrations, before finding an outfit for each.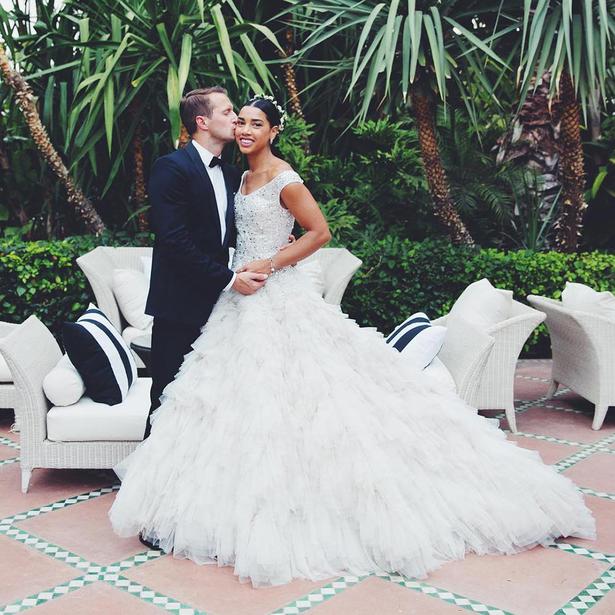 "It's really nice to do a build-up with the wardrobe and to have each section be unexpected," she says. In Hannah's case, this involved a Cucculelli Shaheen dress for the rehearsal dinner, a custom sweetheart Vera Wang gown for the ceremony, a feathered Elie Saab for the breakfast, and a vintage Chanel for dancing. The following day, she chose gold, yellow and black gowns to host a pool party and disco.
As prices for one gown from Vera Wang's bridal collection can start at more than $9000, you can see how the cost can spiral.
While most things about this new movement buck tradition, the main 'wow' moment, Nausheen says, is the exchanging of the vows. "Most women still like to make the main ceremony their grandest [dress], and most still like to wear white for that. But the rest of the events are a chance to show yourself in as many lights as possible," she says. 
READ: Expert Tips for Buying a Vintage Wedding Dress
If you think all the costume changes sound excessive, bridal designer Charlie Brear sees them as a sign of these Instagram-focused times. "Absolutely, it's all about the pictures," Charlie says, adding that the label she founded in 2010 has been booming as clients now request second, third, or fourth ensembles from her.
Brides on a budget are also keen to maximise their styling options, she says, buying mix and match skirts and tops from her Styling Additions line.
"The market has exploded since Instagram launched," she says. "For a lot of people this is their red-carpet moment, their chance to be at the centre of their world — and enjoy planning every detail."
Alexandra Edwards, public relations manager for luxury shoe brand Jimmy Choo, says she found planning her destination wedding to be "the most fun".
She kicked off her wedding to Carlo Carello with a 50s-style Esme Vie dress for her London civil service, then wore gowns by Valentino, Naeem Khan and Georges Hobeika for her ceremony and post-wedding garden party in Italy — all paired with custom Choos.
"I always wanted a big wedding and I wanted to drag it out for as long as possible," she says. When asked if having several gowns dilutes their sentiment in any way, she says: "I would like to think that I will keep all of my dresses because I put so much effort into choosing them. I want them for the memories." And for the gorgeous photographs, naturally.

— The Daily Telegraph
Share this: