Label to Know: Muse Cashmere
Cashmere fanatic Olivia Vincent has launched her own wool label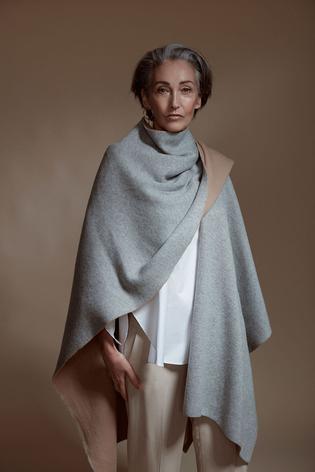 A new local cashmere brand is making a case for trading your heavy winter coat for a feather light, silky soft wrap. Muse Cashmere launches in store and online today, with five classic styles in various colours available from Newmarket boutique Muse.
Owner Olivia Vincent decided to launch the range last year after a buying trip to New York, where she met a family-run cashmere manufacturing business also visiting from Nepal. She had been a cashmere fanatic since she was young, in part to her grandmother, who Olivia describes as the "cashmere queen".
"Cashmere is luxurious, timeless but it is also a durable and practical investment," she explains. "It travels well and doesn't wrinkle. It offers great insulation, plus it's warm in winter and cool in spring — I wear it all year round."
The cashmere used in her new range is premium quality — organic, and combed from long-haired goats in Mongolia's Gobi Desert. It is shipped to Nepal where it is spun, dyed, and the garments hand-finished.
Olivia works directly with the small business, which has been producing cashmere garments for over 25 years. Certified Gold Standard, all garments are tested and are over 95 per cent pure cashmere.
Olivia plans to donate 15 per cent of her sale profits through Oxfam to the Earthquake Relief fund in Nepal, which is still struggling to rebuild after last year's tragic earthquake.
OLIVIA'S CASHMERE CARE TIPS
• Keep cashmere in a drawer with dried lavender.
• Wash only a few times a season. When you do wash, do so gently, with baby shampoo.
• Wear with caution: purses and jewellery can cause pilling, or a snag.
• Fold cashmere, never hang on a coat hanger.
— Muse Boutique, 11 Teed St, Newmarket, Auckland.
Photographer: James Lowe. Stylist: Dan Ahwa. Hair: Mobeen Bhikoo from M11 Salon. Make-up: Paige Best. Model: Mercy from Unique Model Management.
Share this: