Musician Banks Shares Her Fashion Secrets
Musician Banks is a favourite in fashion thanks to her unique sound and original style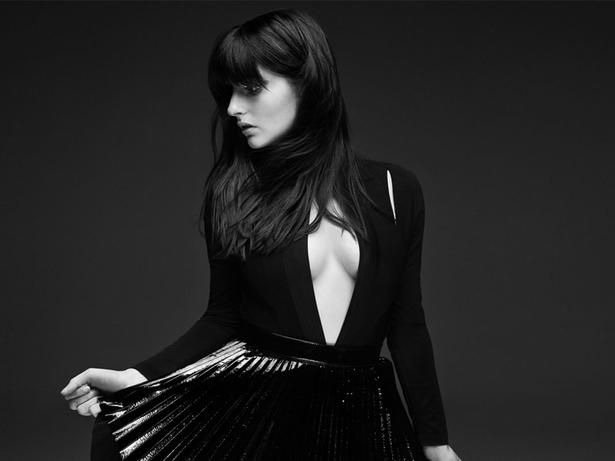 Thursday Nov. 17, 2016
Perhaps the sign of a good artist is their ability to express different personas. That seems to be the case for alt-pop singer Jillian Banks, who recently released her second album, The Altar.
In the surreal music video for new song Gemini Feed, written about an intense relationship, she uses fashion to play the powerful and the powerless: sitting on a throne in an exquisite Vivienne Westwood gown, her eyelids covered in jewels, then two other versions of herself caught up in sado-masochistic ropes, one in innocent white, the other moody black. The video for her first single F*** With Myself is just as unsettling, the singer cosying up to creepy ballerina mannequins that represent different parts of her psyche.
Since dropping her debut album Goddess in 2014, she's become known for her intimate, autobiographical lyrics and gorgeously gloomy take on R&B. But Banks has also gained a reputation for her fashion-forward style.
"I just wear what I love and what I think represents who I am," says the singer-songwriter, on the line from Venice Beach. "I can tap into different parts of myself and whatever I'm most inspired by that day is what I wear."
The Orange County-bred 28-year-old doesn't exactly have sunny Californian in her style DNA, preferring to wear all black. She loves the tough yet sexy aesthetic of Alexander Wang and Helmut Lang, yet hers is not the overly sexualised appearance of many of her pop peers.
Then again Banks has always been an old-fashioned type, shunning the over-exposure a selfie-stocked Instagram account can bring, eschewing endless red-carpet events, and instead offering up her phone number so fans - especially those who relate the most to her darkest, emotional songs - can contact her directly. All of which only heightens her mystery.
"I can't really control how people perceive me, I just know who I am and I'm definitely not into going to industry events for fun."
The photogenic star is more likely to be found at fashion events: front row at Paris Fashion Week for the Chanel show, playing the opening of a 3.1 Phillip Lim boutique, performing at exclusive parties during New York Fashion Week, posing at the CFDA Fashion Awards. Dior chose Banks to perform at its annual Guggenheim International Gala in New York. Just as music is her way to express different emotions, fashion is her means to tap into or inspire moods.
"Sometimes I love feeling really structured and witty and sometimes I like feeling really loose and feminine. There are so many designers that allow you to feel how you want to feel."
She has often said music is her therapy, a way for her to exorcise her demons, investigate relationships, explore her personal growth - The Altar certainly suggests a personal transformation has taken place. In songs such as Weaker Girl, (about growing in confidence), F*** with Myself (about self-acceptance), and Mother Earth (about embracing femininity), there's the undeniable sense Banks is feeling increasingly empowered. "Definitely," she says.
That also goes some way to explaining the album cover. Whereas she was partially hidden behind her long hair on Goddess, on The Altar, her face is free of makeup, her freckles proudly on display.
"On the first album I wanted to be hidden the entire campaign, because I wasn't ready to be seen I don't think, and for this album I am. I'm slowly coming out of my shell I guess. I just wanted to be seen in my purest form."
• The Altar by Banks is out now
Share this: