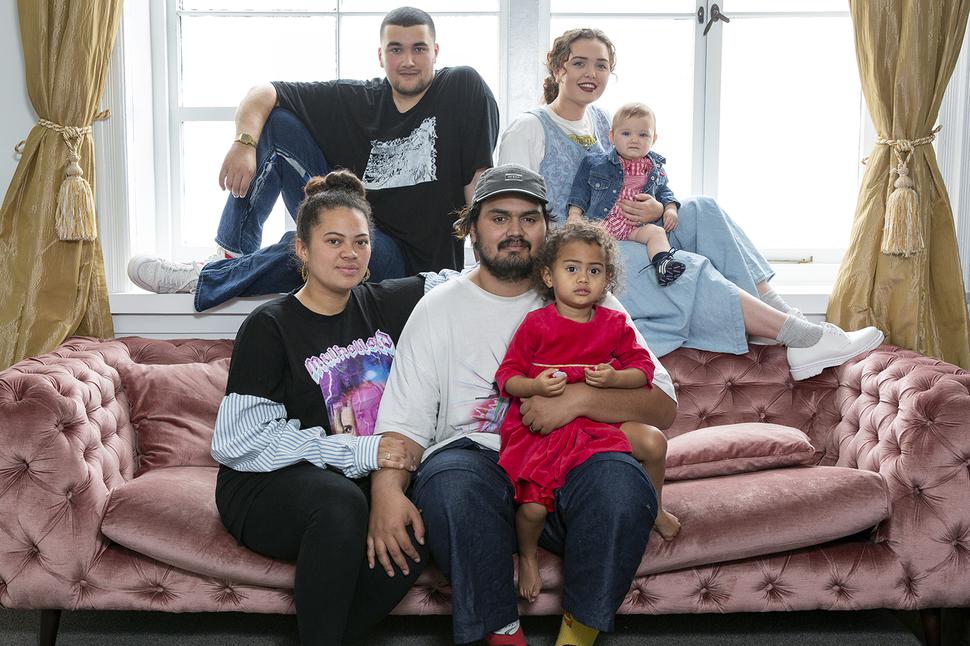 Get To Know Nash Karaitiana, The Designer Behind Napier's Unco Label
The Napier-based designer speaks to Viva about his journey with label Unco ahead of participating in the Miromoda showcase at NZFW 2019
Wednesday Aug. 28, 2019
Miromoda, the group show that puts the spotlight on Maori and indigenous designers, is celebrating a decade at New Zealand Fashion Week tomorrow with its 5pm slot on the Runway at Aotea Square.
This year's overall emerging and supreme winner Nash Karaitiana is looking forward to showcasing his collection entitled 'Unco' which utilises hemp and organic cotton on 90s-inspired silhouettes, a nostalgic ode to his childhood in his hometown of Napier.
Having recently worked with trans-Tasman label Salasai on a range of its current season t-shirt prints, Nash is one designer to watch. 
Can you tell me a bit about your background, where you're from and your journey to being involved in the fashion industry?
Ko Ngati Kahungunu, Rangitane me Ngati Ruru nga iwi. I have grown up in Kura Kaupapa Maori from Kohanga Reo through to Whare Kura.
I spent the first seven years of my life in Grey Lynn. Both my parents were art students when I was born. I have grown up in a creative community of artist and musicians. Soon after mum had my sister Haromi Te Ata we moved back to Kahungunu.
My parents opened a retail store [Aroha + Friends] in Napier selling clothing and art. I have worked with them over the years at whatever level I was at. From stamping the store bags to later working in the Aroha print studio where I printed t-shirts and sweats and started making my own under Unco.
Two years ago I teamed up with Beny from UC&Co — the similarity in our brand's names sparked the discussion that my parents had with him in a market in Canggu, Bali. Beny is the same age me and his brand is now pretty big in Bali. He supports a whole community of fellow Muslims and a Hindu orphanage. His motto: "Spread Love, Zero Hate".
He, along with Muji, produce what I can't myself using organic fabrics with their love and skills — Indigenous Fair Trade.
Congratulations on winning the Miromoda competition! How did it feel to win?
Tena koe, I was so "whatttttt!!??" and then I was very grateful to everyone involved, it takes a lot of whanaungatanga.
Can you tell me about the collection we'll be seeing at NZFW?
The theme is coming from me being a kid and the things that made me feel good mixed with what is good now. Plus, indigenous trade ethical practice and really good fabric.
Most of my pieces are hemp and organic cotton, I found some hemp denim too. I'm a 90s baby, so back to then with my styles — remixed with a bit of now. I'm also lucky enough to show a few custom pieces from Tiger Frame.
You've worked with label Salasai, could you tell me about that experience and how that came about?
Aunty Kirsha (Whitcher, co-founder of Salasai) is my dad's first cousin. We're whanau. She was with my parents in the beginnings of Aroha before the birth of Salasai.
I do bootleg custom t-shirts and sweats and Aunty ordered two for my cousins and it went from there. She asked me to work with her theme and create the graphic designs for Salasai's last season collection. It was fun, she gave me complete freedom and I felt more confident and capable in my work. Tena koe Salasai.
Who, what or where do you get inspiration from?
Heaps @wesolame, @uncle.ruth, @zee.goes, @kawaiifreak97, @youngbounceboynz. These are my creative community and then my whanau especially my bubba Pera and wife Jessey.
My work is a reflection of my environment — who I am, where I'm from and who I love.
If I was to list my current 'whats' and 'wheres' it would be... Skateboarding, anime (particularly JoJo's Bizarre Adventure, I drew a lot from that anime for this collection) and I've spent the last two years travelling to Japan.
I spend time with our friends Shinnosuke, @sincoc and Maiko, @maiconeko, both creatives — they helped set up the Aroha print studio many years ago. Shinnosuke is a design teacher now. It's these kinds of relationships that have fostered me as a designer. I hope to sell in Japan one day when my team and I are ready.
READ: Maggie Marilyn Is A Global Success Story, But This Is Her First-Ever Fashion Show
What's the fashion scene like in Napier?
Napier, Hawkes Bay is a place of extremes. It creates a lot of entrepreneurs so there are some good things growing here. Most move on to work and study. I like these original locals, @Sharkweekltd, @9thlifeintl, @je_pleuree, @matuclothing, @killitdaily_kid, @delaslowstudio.
My cousins work in make-up with my sister, @jodeciapulu. They create all kinds. There are lots of stylie locals, like @spoiltvictoriannchild... it's a real mix, I can't begin to explain. It might require a photo essay.
What would be your ultimate dream for your fashion career?
I want to travel and create with other like-minded whanau. To stock other like-minded stores (especially Japan). I want my work to improve life for me, my patrons and the people I work with. I want to have a positive effect on the environment.
Share this: