Street-style Star Natalie Joos on The Power of Vintage
The vintage-clothing aficionado, photographer and writer discusses her book profiling a worldly selection of modern vintage lovers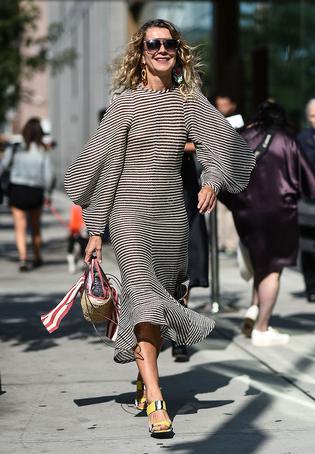 One of fashion's most colourful street-style stars, Natalie Joos, has been a vintage-clothing aficionado since her first purchase of vintage platform Mary Janes at age 16 in her native Belgium.
The now LA-based photographer, writer and designer is adding 'published author' to her repertoire, with the release of her first book, Tales of Endearment: Modern Vintage Lovers and their Extraordinary Wardrobes, a companion to her popular website.
The book is a collection of stories and photos taken by Natalie, and features a selection of people from all over the world who have one thing in common: a love for vintage clothing.
Tales of Endearment identifies with the notion that 'everything old becomes new again', and explores the ways in which the fashion of the past has shaped how we dress now, and will in the future.
"It really doesn't matter where you were born, how rich or poor, how young or old, how big or small you are," says Natalie. "There's this need for nostalgia and being unique that binds all vintage-lovers. We are all a bit eccentric and a bit experimental."
READ: Eleanor Ozich's Guide to Vintage Shopping
I started shooting my book in August 2015 and finished in May 2017. Serendipitously, the first girl I photographed is also the girl on the cover. I photographed people all over the world. I used to travel much more when I was still writing the blog, for the book I compiled a big list of people I'd like to shoot and hired a producer to contact each individual. I also hear about interesting people through word of mouth, or see them on Instagram or at events. The most difficult part is to get a date on the calendar and follow up with questions and talent releases. The fun part is shooting and editing.
Everyone has such a unique story. I picked each person for my book for different reasons. I can read people very well and observe them through the lens of my camera. There's something vulnerable and intimate about these shoots. I always try to dig a little deeper, and discover what makes them tick. I couldn't tell you who my favourites are.
My favourite era of vintage is the Seventies for sure. I think that's just because I was born in the seventies, and I saw my mum run around in bell-bottoms and cute bikinis.
READ: Where to Recycle Your Clothes
What I like about vintage clothes is the fact that the pieces are unique and trendless. I hate looking like everyone else so this is a perfect way to be me. It's also the greenest form of fashion. I'm recycling when I shop vintage. And it doesn't upset my wallet. When I'm bored or have an hour to kill, I will walk into any vintage shop and shop, guilt-free.
I don't feel drawn to vintage furniture as much. I love vintage furniture but it doesn't always work in my interior. I love a mix. I only have three pieces of vintage furniture in my house at the moment. I also don't drive a vintage car. I don't want to break down every five minutes, and in LA it's a bit cliche to drive a vintage car.
My advice for people who want to start buying vintage, but might be intimidated or time-poor, is you first need to identify what you're looking for. Do you want designer labels? Do you want something super cheap? Do you want collector's varsity? Most vintage stores have a curated collection so you can easily start by selecting the right store. Do some research and find your favourite stores.
READ: How to Simplify Your Wardrobe
Of all the designers, Yves Saint Laurent stands the test of time, by far. Prada — you find very little Prada in vintage stores because I think people keep it. Ungaro and Geoffrey Beene also last well.
Every autumn, I used to look for fitted colourful sweaters but never found the right shape or material or colour. Then one day I was at a vintage fair trying on these tiny Courreges sweaters and I was so hopeful, but they were too small and too itchy, and then it just hit me: I should make them! So I launched my sweater collection, JoosTricot. I was really just filling a personal need, and now providing a service to women with a good product.

• Tales of Endearment: Modern Vintage Lovers and their Extraordinary Wardrobes, $105. Published by Penguin, available from December 15.
Share this: