Turn Up The Colour Factor With Fashion's Brightest New Trend
The new neons will see you through spring and beyond, says Caroline Leaper
Sunday Sept. 2, 2018
What to buy now, when the weather is fresh and the height of summer is still a way away? Well, there is an emerging trend with surprising longevity that has taken Europe by storm and it's making waves locally; brilliantly coloured clothing. The new neons are significantly tastier than their predecessors — think watermelon, lemon and lime, like a palette of delicious sorbets, rather than a case of dried-up highlighter pens.
READ: How Minimalist Fashion Went Full-Throttle Maximalist
In the Northern Hemisphere, Victoria Beckham has been wearing her pink lemonade fizz in the form of a neat cheesecloth midi dress. The Duchess of Sussex, in limoncello yellow, showed us how to formalise rave hues in structured silhouettes. London's Browns Fashion boutique says zesty green, hot red and fruity purple have been its best-selling colours of the summer so far, with Dolce & Gabbana and Zimmerman providing its most popular bright dresses. Topshop has more than 50 sunny yellow dresses available to buy in the UK, accessed via a website duly doused in fluoro.
Jules Standish, a colour expert and author of How Not to Wear Black, notes the centuries of research into the effect colour has on the brain.
"Bright colours trigger neurological responses, causing the glands to release feel-good hormones. As well as the emotions, there's a physical effect, improving blood pressure and strengthening the nervous system. Sunlight (or lack of it) seems to be an important factor when deciding on colour preferences. When sunlight is abundant, there is a preference for vivid hues."
READ: Secrets Of A Royal Wedding Dress Designer
Generation Z (born in the mid-Nineties to the early Noughties) has claimed a particularly popular shade of Snapchat-logo yellow as "theirs", but that hasn't stopped the Duchess of Cambridge, Melania Trump and others not in the age bracket from giving it a go.
The new shades are easier on the eye than those that came before, more flattering for all skin tones and simpler to style. A good example is Ganni's luminous green polka-dot blouse (sounds hideous, looks heavenly) with pristine white sandals for a beautiful contrast.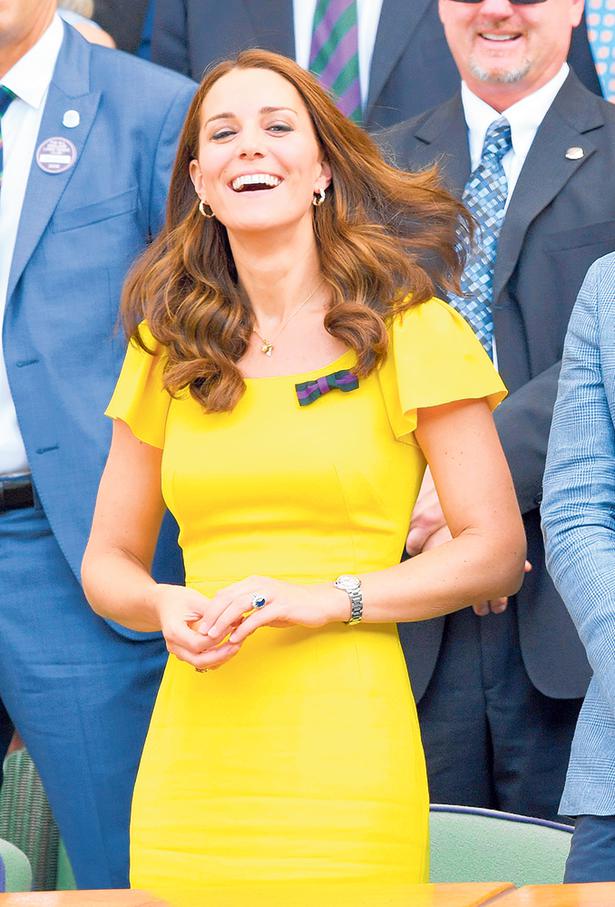 The best neons look as striking IRL (in real life) as they do on Instagram. Designer Stine Goya, from Denmark, has found her way to cult status of late, thanks to a collection of sweet pink and sour yellow dresses that have chimed with the mood of looming summer cocktails.
"We've noticed our customers becoming bolder in their choice of prints and colour," she says. Up to 10 women tag the designer on Instagram every day, in pictures of themselves wearing her rainbow styles. "The most popular pieces in our latest collection were two statement pink dresses. If designing with a bright hue, I usually build it in among a muted colour palette, like dusty earth tones or pastels, that will either pair nicely or contrast."
READ: Say Hello To Scumbro, This Year's Most Intriguing Fashion Phenomenon
Wearing even a splash of bold colour has an instant effect on your wellbeing. It's "optimistic" fashion, as Ditte Reffstrup, the Ganni creative director, puts it. "The colours in the collection evoke the uplifting mood that takes over when the sun comes out."
Overall, Day-Glo hasn't looked this chic in ages. The way to wear it is in a grown-up power dress or sleek separates, with glossy-looking accessories. Satin, crepe and cady fabrics thirstily absorb colour-rich dyes, meaning that the most vivid options, generally, are matte cotton day dresses or silk evening wear. Neon couldn't have come further from its glow-stick nylon roots.
READ: Ugly Fashion Trend: Is Fashion Trolling Us Or What?
If you shop savvily (i.e. pick a trans-seasonal silk blouse rather than a dress that won't work with tights), the whole trend might just carry you all the way through to autumn, too.
Miuccia Prada styled citrus brights with black and navy on her runway for winter. Think how gorgeous that raspberry sherbet top might look, refashioned as a "pop of colour" when layered with a navy, burgundy or camel wool coat?
Also, as Goya mentioned, you might not be a person who ever wants to go the full fluoro. Even the biggest colour explosions can be easily diffused with neutrals. Pick a bright top, and add white or beige to take away the tang. It's the sartorial equivalent of dousing fruit in cream.
— The Daily Telegraph
Share this: