New Looks to Watch for at Fashion Week
Kiekie Stanners talks about the beauty trends to watch for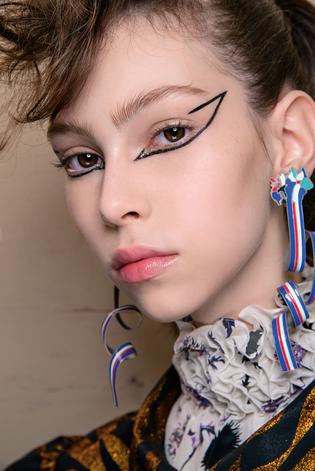 A new generation of designers dominating the schedule at Fashion Week will usher in fresh approaches to beauty on the runway. "It's a season of newness," says makeup artist Kiekie Stanners. 
Expect more individualised hair and makeup looks on a more diverse selection of models, making for beauty with a more achievable appeal.
"I'm really excited to introduce a new signature style of makeup to these designers who haven't shown before, or who don't have a set makeup aesthetic yet," Stanners explains. The M.A.C senior artist for New Zealand leads the makeup team for six key shows of the 11 the brand is supporting, including Stolen Girlfriends Club, Salasai, Harman Grubisa and Eugenie.
She brings international experience at big name European shows to the job of helping designers realise their vision.
What is exciting her now is that show makeup generally is becoming more achievable for women who look to it for wearable inspiration. This is because looks are being increasingly adapted to suit individual models, rather than a uniform ideal.
"It's about creating the new cool girl, there's more personality to the face." Designers can pick up on the accents and signatures that best suit their customer and consumers can more easily find something to relate to.
"It's that makeup the cool girl down the street could put on her face."
Get Graphic
The most eye-catching makeup trick to master right now is going graphic with liner. International shows such as Kenzo pointed the way last season, and at Fashion Week expect more arresting handiwork, with liner applied in unexpected strokes.
This can range from delicately etching out shapes above the crease line to heavily wrapping the eyes in a chunky outline. Forget cat eye flicks, get creative with a stronger statement.
M.A.C's Kiekie Stanners says the graphic trend that she saw first emerge while working backstage in Europe is gaining momentum. It will carry through to 2017, given how well bold makeup looks work in winter.
What makes a graphic eye modern, she says, is that it is applied more precisely than a punk interpretation of old. Where you paint it may be free form, but the execution needs to be razor sharp.
"There's a punkish feel to it, but there's a precision too. It's delicately done and I think it feels much more luxurious and high-end."
Start with looks that hug the lash line as these are easiest to achieve. Straight lines with blunt ends are an option as is curving your liner thickly round the eye, including in the waterline. Try a fast-drying gel liner applied with a brush for precision, or chunk it up with kohl or a thick felt-tip liner pen. (M.A.C Black Track Fluidline is one product that does the jog nicely).
Product Pick
Viva asked Stanners to share her best backstage secret, with a product favourite from her kit that would be worth incorporating in a daily beauty routine. She choose a brightening spray that hydrates and conditions skin.
"This season I will be using M.A.C Lightful C Marine-Bright Formula Softening Lotion Spray on every face that sits in my makeup chair." The week was demanding on models' skin, she said, and this spray helped revitialise dryness or texture before makeup was applied.
To add to your beauty routine, gently spray Lightful onto the skin before applying skincare morning and night.
"I love to use it as an at-home DIY sheet mask, especially after those long days working backstage: spray liberal amounts onto the face, lay a tissue down then re-spray over the top to allow for optimal skin hydration and keep it on for 5 minutes. You'll be amazed at how hydrated your skin will feel after this, and it's so quick and easy!"
Share this: