Le Bon Ton: Shine Bright Into The New Year With Rollicking Party Looks
A parade of coquettish party looks is just the type of irreverent glamour one needs to face a new year with a little joie de vivre. Stay fab!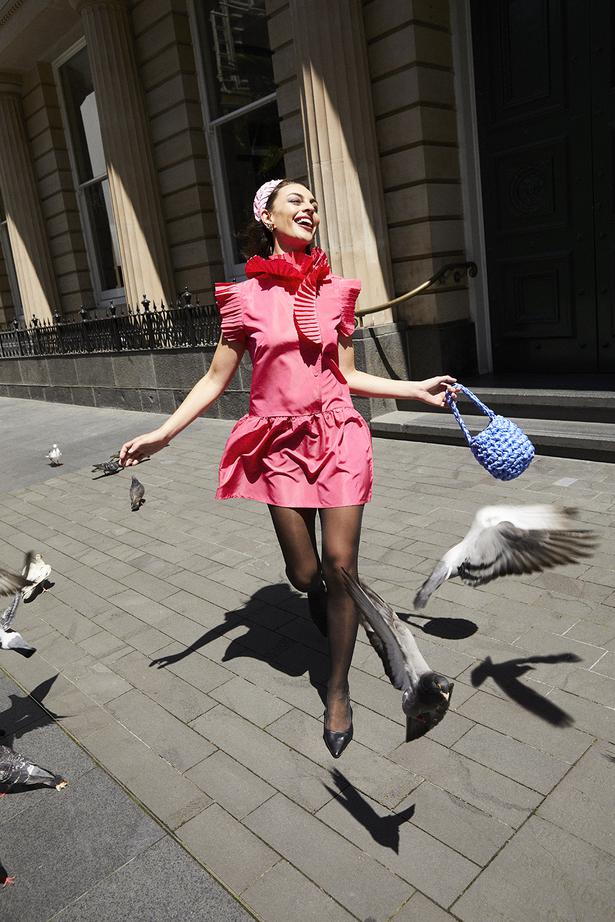 Monday Dec. 20, 2021
Breaking muse
Frivolity and fun set the tone for any festive occasion. If campy froth was a dress, then this neon yellow ruffled ballerina number would be a strong contender. Aje dress $685. KJ Beckett opera gloves $32. Jennifer Behr velvet bow barrette approx. $250.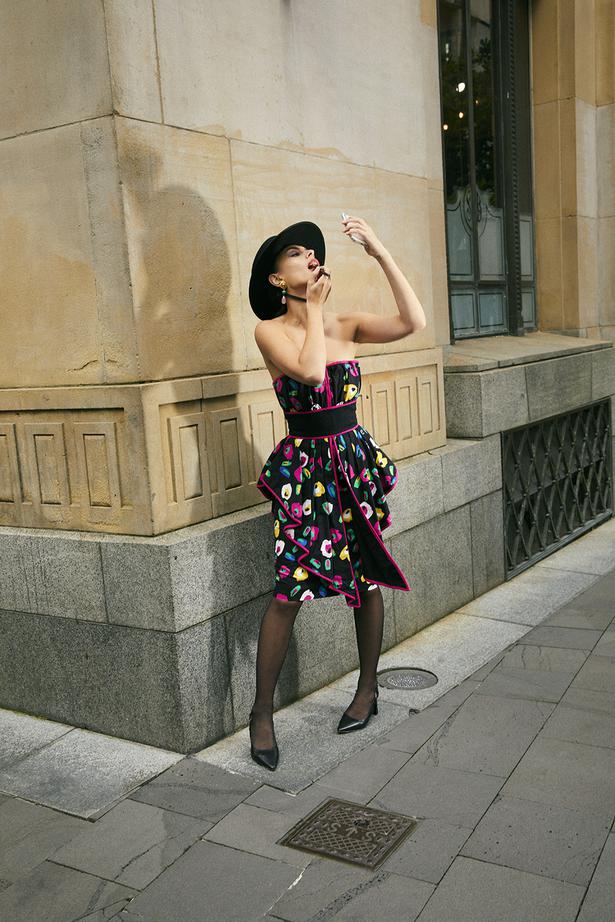 Face time
A final touch-up before a grand entrance in a dress that balances whimsy and sophistication. Try a pre-loved treasure you can update with elegant accessories and a gorgeous lip colour. Victor Costa dress, $369, from Painted Bird Vintage. Anoushka Van Rijn earrings $199. Lack of Color hat approx. $140. Mi Piaci heels $260.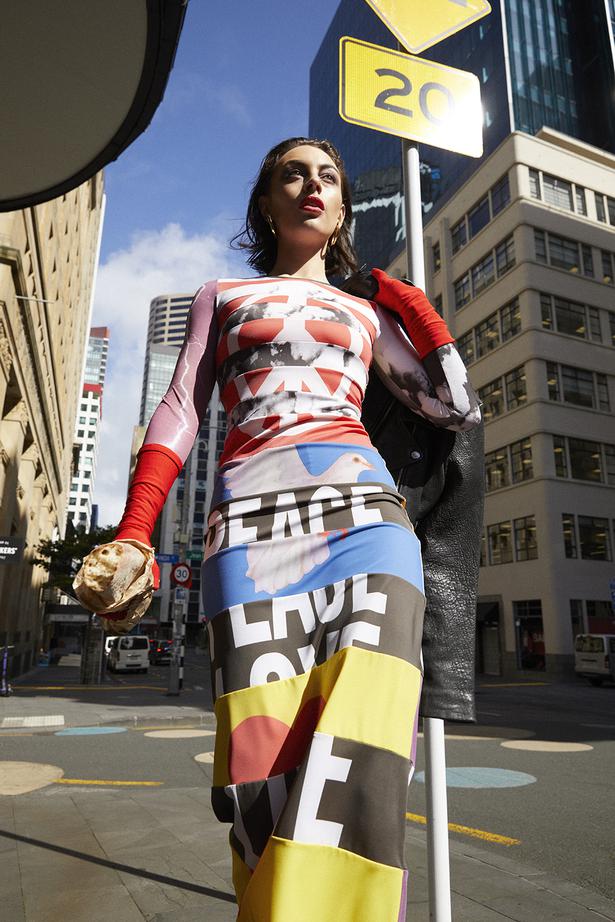 The beat
Franco Moschino's legacy is statement clothing that encourages the wearer not to take life too seriously — especially relevant during times of uncertainty. This archival look, Moschino's Cheap & Chic dress, famously worn by The Nanny's Fran Drescher at the 1997 Kids' Choice Awards still holds its own today, finding a home at one of Aotearoa's beloved vintage stores, Hunters & Collectors in Wellington. Moschino Cheap & Chic dress, $1250, from Hunters & Collectors. Meadowlark hoop earrings $2219. KJ Beckett opera gloves $39. Ksubi leather jacket $765.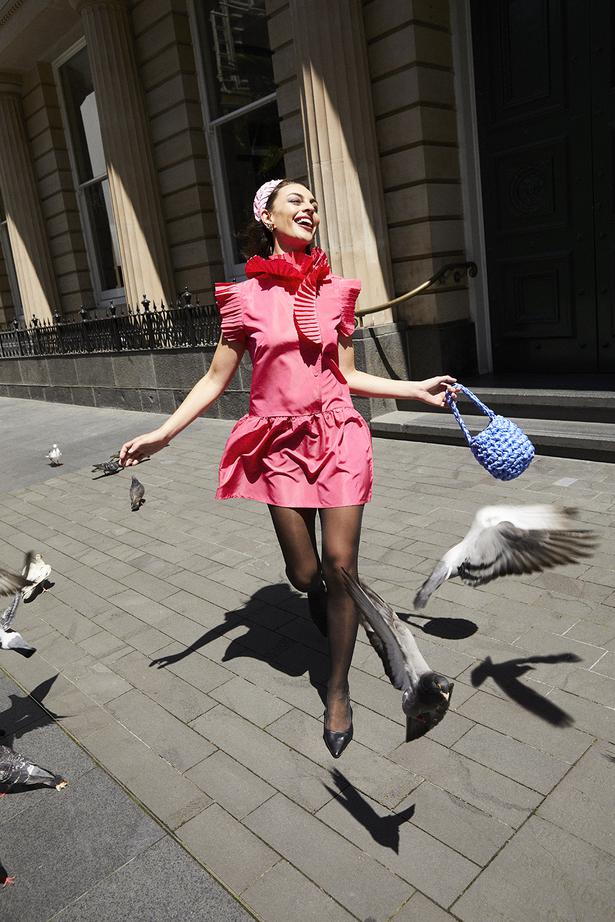 Riot girl
A posh taffeta frock and devil-may-care attitude is an intoxicating mix for a rollicking good time. This vintage Jinty's of London dress works just as well buttoned-up to a pie-crust collar or unfastened to expose a decolletage festooned with your favourite jewels. Jinty's of London vintage dress, $80, from Welcome Back Slow Fashion. Belinda Green Millinery headpiece (POA), or $75 (to hire). Vintage earrings, $29, from Painted Bird Vintage. Isla Risa bag, $229, from Ruby. Bellamagia pantyhose, $26, from Smith & Caughey's (worn throughout). Anine Bing heels, $579, from Sisters & Co.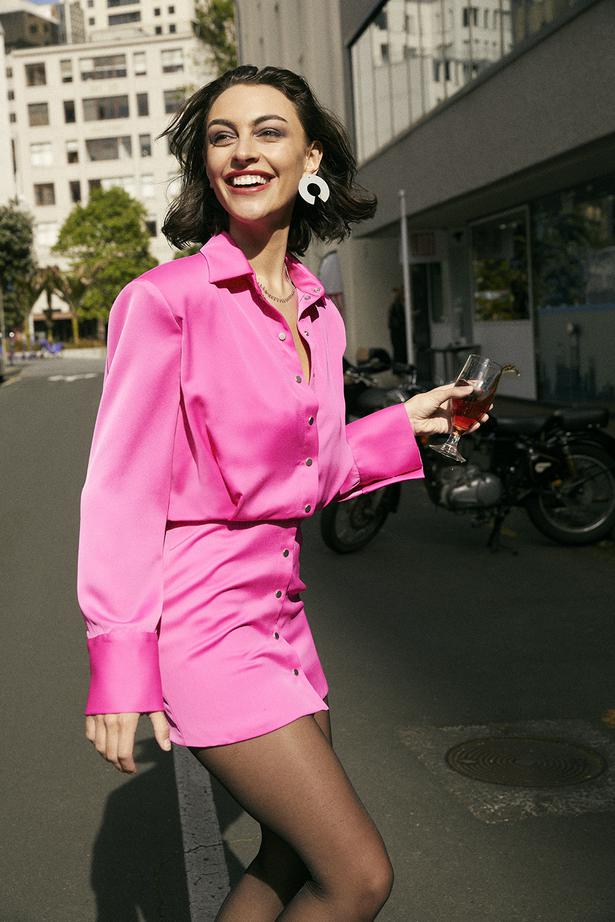 Make a splash
Power shoulders and a thigh-grazing hemline make a surprising energy booster — even better in a colour that packs a punch, like this shocking pink design from Blair Wheeler. BW 36.174 dress $975. Vintage earrings, $69, from Painted Bird Vintage. Ruby necklace $29.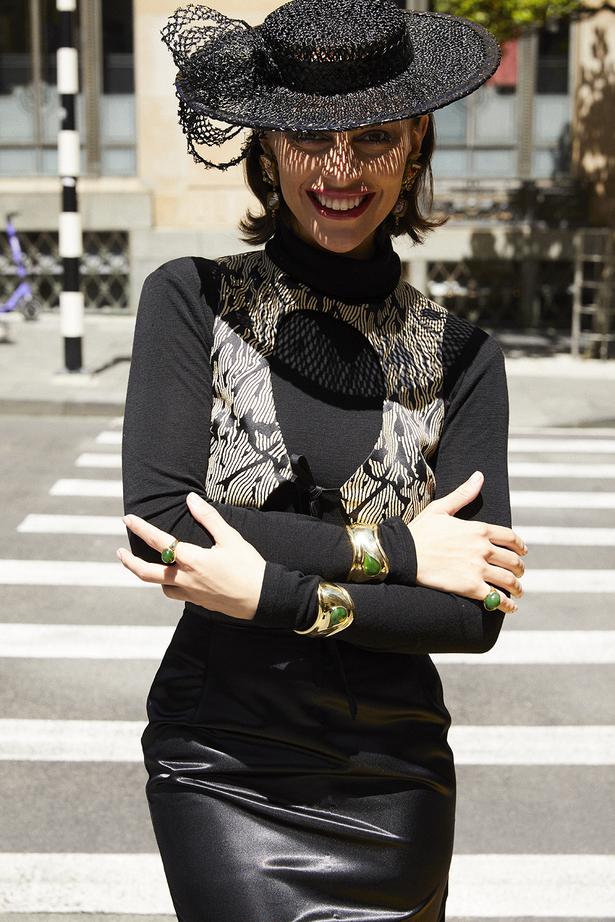 The savoir faire
For those special occasions where a little more decorum is required, a black base is the perfect backdrop for knockout accessories. Gucci polo neck top $1515. Tansy top $245. Elsa Peretti for Tiffany & Co. small bone cuff in 18k yellow gold with green jade, $42,800 each. Elsa Peretti for Tiffany & Co. Cabochon ring in 18k yellow gold with green jade, $8350 (large) and $7400 (small). Vintage Patrick Steel Couture skirt, $189, and vintage earrings, $129, from Painted Bird Vintage. Belinda Green Millinery hat (POA), or $90 to hire.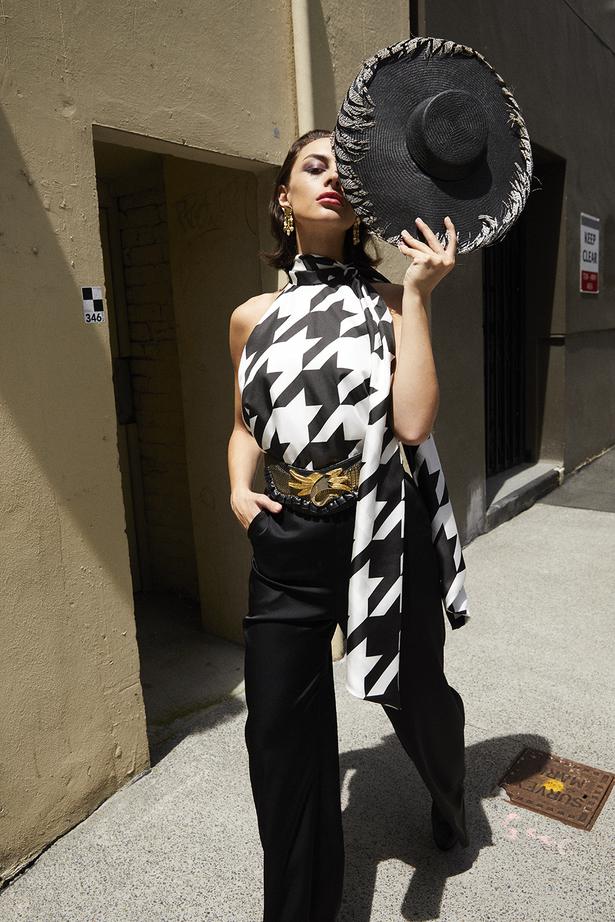 State of independence
The glamour of a full monochromatic look will never cease to inspire. This houndstooth print magnified onto silk teams well with a pair of classic dinner trousers and heels, a formula plucked straight from the nostalgic style book of ladies who lunched — like Babe Paley and Nan Kempner. Cin cin! Sweepstake Winners top $229. Ruby trousers $269. Vintage belt (POA) from Painted Bird Vintage. Aje earrings $225. Belinda Green Millinery hat (POA), or $80 to hire.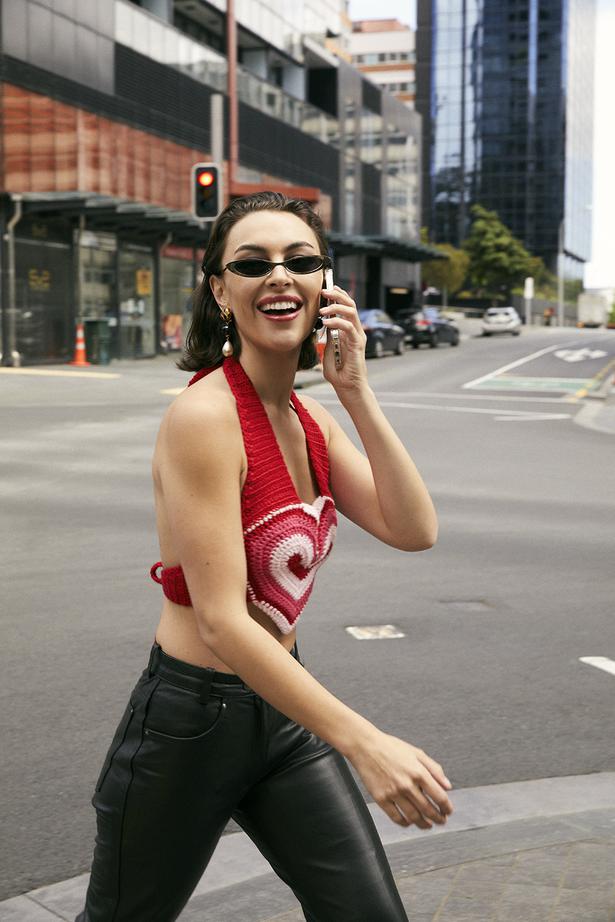 Downtown diva
From hip house parties in obscure hot-spots to summer festivals in the middle of nowhere, one can only dream. For now, a playful ensemble is a good way to get into a festive state of mind. Local maker Ariane Ilagan's pop-tastic take on the traditonal craft form of crochet is realised in groovy tops, playful mini skirts and fun cardigans. This halter neck top from her label AriCrochet is handmade by Ariane herself, contrasting perfectly with a pair of vintage leather trousers. AriCrochet top (POA). Vintage leather trousers, $95, and sunglasses, $45, from Go Jo Recycled Clothing Store. Anoushka Van Rijn earrings $259.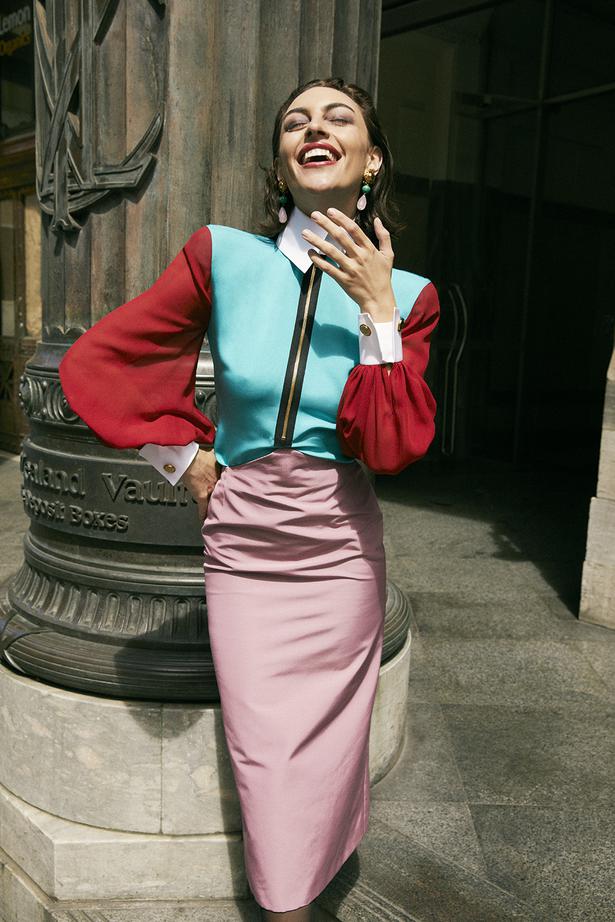 Uptown funk
On the other side of town, colour-blocking panels is another ideal way to add joy to a party look — this top and skirt combo from Gucci is an elegant silhouette with the added drama of diaphanous sleeves that billow in the breeze. Gucci blouse with detachable white cotton shirt collar $2525 and skirt $1605. Anoushka Van Rijn earrings $199.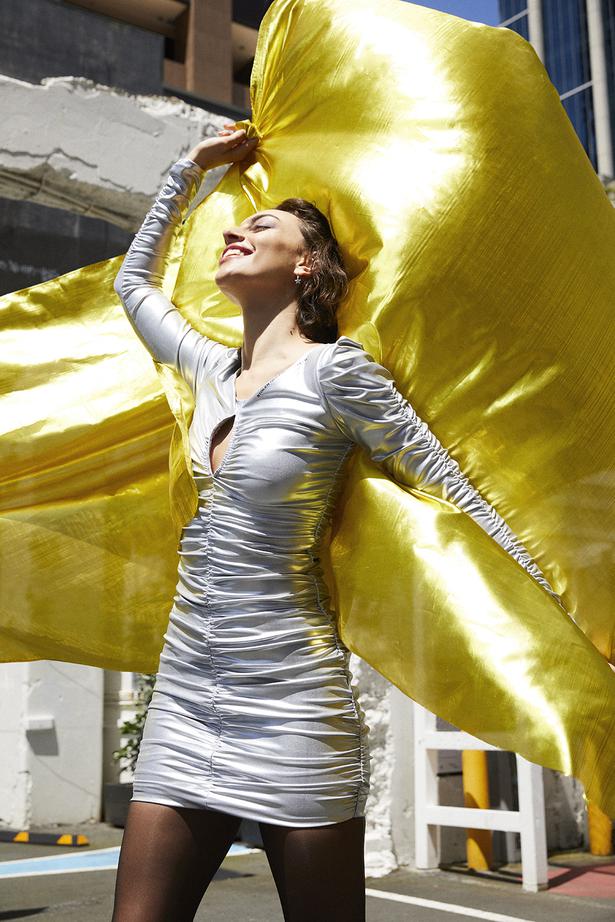 The future starts now
In the heat of a summer's day and into the night, shine bright in a metallic look that will get the party started. Stolen Girlfriends Club dress $329. Ruby earrings $25.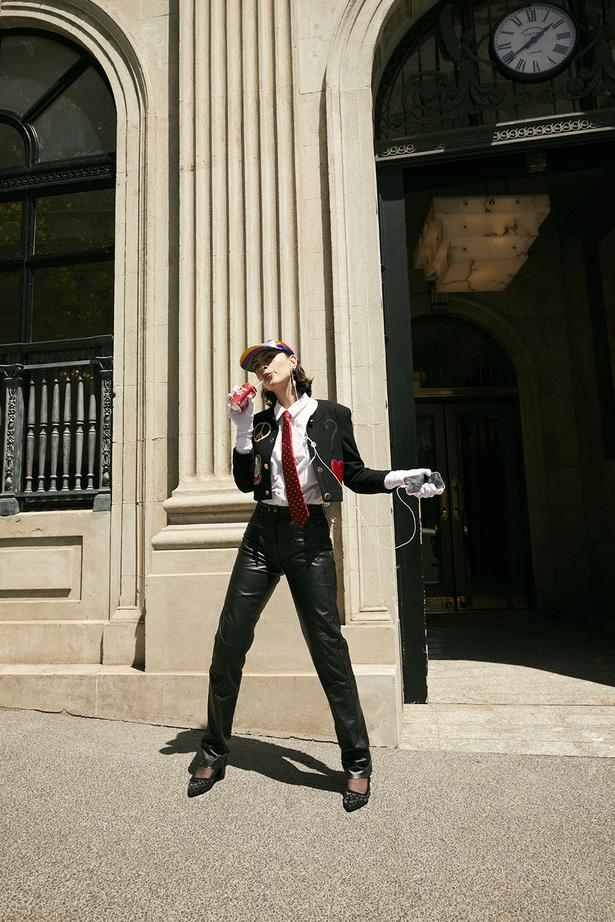 Pop and circumstance
Ties are becoming increasingly obsolete these days, but that doesn't mean we can't appreciate the flourish of colour they can offer an outfit. From video conference meetings in the daytime to after-work drinks, the swift addition of a playful jacket, multi-coloured baseball cap and statement earrings is a one-way ticket out of squaresville. Pump up the volume! Harris Tapper shirt $369. Barkers tie $70. Vintage leather trousers, $95, from Go Jo Recycled Clothing Store. World cap $99. Anoushka Van Rijn earrings $249. Merchant 1948 heels $210. Cornelia James gloves $302.
Photographer / Mara Sommer. Fashion director / Dan Ahwa. Model + Hair and make-up / Tia Harris. Photographer's assistant / Josh Szeto.
This photoshoot was originally published in Viva Magazine – Volume Six.
Share this: