9 Trends from New York Fashion Week
In New York Fashion Week, Sloane Ranger headgear is given a reboot, power-dressing stands up for itself, and hold tight for serious colour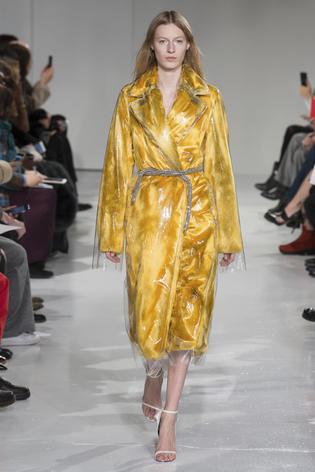 1. Calvin's coats
The talk on the New York front rows has largely oscillated between who will fill all the big jobs currently vacant in the industry (Givenchy and Chloe are both without creative directors); the latest weather conditions (is it safe to ditch the snow boots tomorrow, the merits of Uniqlo Heattech, etc); and Raf Simons's debut at Calvin Klein.
READ: Raf Simons' Calvin Klein Debut
Since the latter occurred on Friday, there has been plenty of time for dissection, and while the consensus is that the cowboy boots he introduced will be the stars at retail, the coats must not be overlooked.In Sunday's driving rain, those plastic-covered, double-breasted designs would have been a godsend, while Monday's bone-chilling winds would have been brilliantly guarded against with one of the cosy hand-quilted options.
2. Models get real
While it's true that many of the models on the catwalks are still painfully thin, young and Caucasian, New York designers have begun to lead the way in disproving the myth that any alternative to the status quo would be too tricky to pull off. J.Crew continued its "real" people concept for a second season, plucking friends and family aged from nine to 67 to showcase the collection. The result was joyous.
"We love it when people smile in their clothes," said womenswear designer Somsack Sikhounmuong. "The message is, we make great clothes which you can wear no matter who you are."
Elsewhere, Prabal Gurung enlisted plus-size models Candice Huffine and Marquita Pring, while Tome's beautiful offering was modelled by women of all shapes and ethnicities. As Alexandra Shulman - an outspoken voice on the need for variety - steps down as editor at British Vogue, here's hoping New York's developing diversity is more than just a trend.
READ: Fashion's Political Awakening at NYFW
3. How to power-dress now
I lost count of the number of times that Victoria Beckham used the word "strong" as she talked me through her collection, but she wasn't the only one alluding to the need for an empowered attitude. "It feels like it's time to stand up a little straighter," said Tibi designer Amy Smilovic. "We've got to get the f--- out there and be strong."
At both labels - and many more - that rallying cry came, somewhat ironically, in the form of sharp, unapologetically masculine tailoring. Alexander Wang and The Row were among those to show shoulders so wide that one wondered if we hadn't been transported back to power dressing's Eighties heyday. Beckham, however was pro-choice, offering either diaphanous skirts or wide-legged trousers with her blazers.
READ: Alexander Wang's NYFW Mosh Pit
4. The new Park Avenue Princess look
At Oscar de la Renta, incoming design duo Laura Kim and Fernando Garcia have a tall order on their hands, tasked as they are with serving up a modern spin on the classic American glamour which the house's founder coined and refined until his death in 2014.
But the challenge was met, with the pair unveiling a dazzling, ultra-polished debut collection, ticking off all manner of social engagements pertinent to the de la Renta customer. Vividly colourful yet slick cocoon coats and knitwear great for lunchtime functions; cigarette trousers with artfully embellished tops will make delightful cocktail attire; while sequinned bandeau dresses with crinoline petticoats recalling Dior's New Look, and black velvet column gowns dripping in crystals, will require a red carpet or grandiose ball to be shown off to their full advantage. Park Avenue princesses and actresses in search of awards-season looks should rejoice - not to mention whoever is putting together Ivanka and Melania Trump's America First wardrobes.
READ: Sexy Confidence at Oscar de la Renta
5. All colours, weird and wonderful
"You never see anyone wearing colour on the street," observed Carolina Herrera, and yet many designers seemed to be on a mission to add zing to our wardrobes with their delectable yet unexpected palettes.
At Sies Marjan, Sander Lak justified his much-hyped rising stardom with a collection featuring champagne with inky teal, chocolate brown with cerulean blue, and Cadbury purple with peach. Rosetta Getty collaborated with Polish artist Alicja Kwade on a print that blended rich burgundy with mint; Proenza Schouler proposed bronze and scarlet; while Lacoste offered up terracotta with lilac.
Go forth and boldly embrace all colour combinations. And, no, navy and grey don't count, sorry.
6. Shaking off simplicity at DVF
We hold simplicity and minimalism in high regard, but there's nothing to make us question that resolve quite like Jonathan Saunders's eclectically high-octane new vision for Diane von Furstenberg. The Glaswegian designer's second presentation for the label was joyfully playful while retaining the easy sophistication exhibited by DVF's groundbreaking wrap dress in the Seventies.
The mood of that decade had sparked Saunders's ideas. "It was about taking the energy of how women expressed themselves then, but combining everything in a more modern way." Cue bold, clashing prints with African and Japanese influences layered underneath opulent faux furs; louche, colourful blanket coats with capacious, braided-detail leather bags and sculptural, oversized jewellery piled on for good measure. Saunders likened the effect to "a collage".
7. Checking in
One New York trend that you can probably opt into today, via a quick sift through your wardrobe, is checks in their many guises: tartan, houndstooth, Rupert the Bear, the list could go on, and on. Often, said checks were subtle and came in neutral shades, appearing on tailored pieces to achieve a corporate look, as at Calvin Klein.
There was a heritage feel at Self-Portrait, Altuzarra, Jason Wu and J.Crew, where a photograph of Prince Phillip at Balmoral had inspired riffs on the kilt. At newcomer Maryam Nassir Zadeh's show, held in a basement theatre at the Guggenheim, the most distinctive check of the week emerged in mustard, blue and candyfloss pink (never fear, it also came in black-and-white). The blazer and pleated skirt would both make worthy entries on your to-buy list for next autumn.
8. Belle of the week
Bella Hadid has been somewhat overshadowed by elder sister Gigi in the past, but it felt as though she was the girl creating the buzz and being cast as the de facto star attraction this week. It's not simple stuff, this supermodel-making business, but the younger, more unconventional-looking Hadid is starting to edge ahead in appearances (10.6 million Instagram followers certainly help - although her sister has nearly 30 million, so she still has some way to go).
But her rising influence means that designers are just as keen to have her wearing their clothes in real life (as she's snapped by street-style photographers between shows) as modelling on their catwalks; in fact, it's often part of the deal.
How do those working with her nail her appeal? "Bella is everything I admire today," said Zadig & Voltaire creative director Cecilia Bonstom, who chose Hadid for the label's most recent campaign and to open its first ever New York show, which celebrated 20 years of the brand. "She has reached a point where you realise how focused and professional she is. She's beautiful inside and outside."
READ: The Fashion Secrets Behind Netflix Show The Crown
9. The Alice band strikes back
Brace yourselves, for as well as hailing the return of the power shoulder, NYFW has thrown up the possibility that another Eighties essential - Alice bands - might be back on the agenda, too.
It was Joseph Altuzarra, fresh from binge-watching The Crown and studying Renaissance art at the Met, who gave the Sloane Ranger's favourite styling tool a new dash of desirability. Each of the 53 models in his show wore some variation, whether studded with pearls or covered in a print to create a matchy-matchy effect with the rest of the outfit. If you're considering joining the revival, then tail the look with a pair of stompy boots as Altuzarra did, for a jolt of attitude to counterbalance the primness.
- The Daily Telegraph
Share this: