Celebrity Sportswear, Plush Sofas and a Blizzard at New York Fashion Week
From intimate 'experiences' to Kardashians in pearls, here's the lowdown on a buzzed up week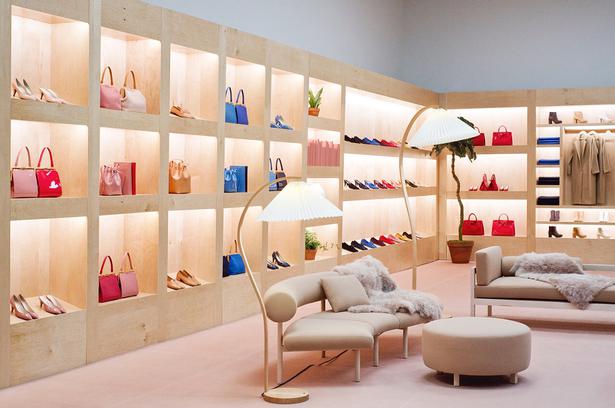 Friday Feb. 19, 2016
CELEBRITY SPORTSWEAR
Kanye West took the concept of fashion as entertainment to a new level with his album playback/Adidas Yeezy Season 3 collection unveiling, which took place in front of 20,000 ticket-paying fans at Madison Square Gardens. Looking on were his wife, Kim Kardashian and her family, all bedecked in Yeezy X Balmain custom spandex plus pearls and crystal confections, their modesty covered by giant fur coats made by the British designer Katie Eary.
The following night, Rihanna unveiled the fruits of her new role as women's creative director at Puma, entitled Fenty Puma by Rihanna. It was very Immaculate-Collection-era-Madonna meets Morticia Addams in a boxing ring. Laced-up body-con dresses were accessorised with oversized crosses, while rosaries were worn as body jewellery. Hooded jumpers and high-neck tops had giant oversized arms, but were cropped unnervingly below the nipple; knickers were high-waisted and on show; slip dresses were spliced open. Both efforts were a sharp exercise in power-branding: superstar designer plus mass global shifters of product equals sales gold.
GALLERY: Inside Kanye West's Yeezy Season 3 Show
AT HOME
With much talk of the point and reason for fashion shows, some offered a more intimate, engaging route into their collections. The grande dame of New York fashion, Diane von Furstenberg, created an "experience" for her guests. Instead of the usual big, flashy catwalk show, she invited the fashion press round to hers — a six-storey block in the meatpacking district, which houses her HQ as well as her own penthouse apartment. The "experience" consisted of a number of live model vignettes — models opened doors, models shifted around pieces of paper in the "office", some danced, some postured against sofas. The final mise-en-scene was DVF's coterie of mega-models — Karlie Kloss, Kendall Jenner, Gigi Hadid, Irina Shayk and Jourdan Dunn skitted around the designer on her pink lips sofa, while the guests clustered around this world's most glamorous zoo.
Elsewhere, the Olsen twins offered creamy sofas and plush carpets to view their offering from, while Mansur Gavriel, the cult handbag and now shoe duo, created a similarly beige-y backdrop with pared-back pottery and pristine kitchenware lying temptingly between their backless mules and patent clutch bags.
READ: Is the Traditional Runway Show Dead?
THE BLIZZARD
Fashion editors flying into town over the weekend were chilled to their bones by the blisteringly cold -15C conditions. By Sunday most Brits had turned to drink, with more than one stumbling into early evening shows, merry from their warm mini-bar inner glow. However, drinking while being fashionable was not without its perils: one blogger, carried away with exuberant late-night dancing, managed to split the crotch of her $1700 Vetements jeans. Now that really is a fashion victim.
VIVA VETEMENTS
The Parisian label Vetements has already set itself up as the label to wear for serious insider style status. Fashion editors were overheard listing the stores which had sold out of the coveted high-waist, straight-leg jean (although, clearly, not designed for too much rigorous movement - Lycra was invented for a reason, kids), and the hooded sweatshirts, with their generously cut arms were a canny cold weather choice (Kendall Jenner debuted her dress version via her mother's Instagram feed). Equally smug were those who had snapped up one of the "bargain" $215 black nylon raincoats. A downside, though, is despite the avant-garde oversize cut, it makes wearers resemble a second division football manager. Fitting, though, as taking shelter in a hotel bar next to the DVF presentation were Frank Lampard and wife Christine Bleakley, seemingly unaware of the fashion storm nearby. Neither, however, were wearing Vetements.
RUNWAY: Every Look from Karen Walker FW16 at NYFW
MID-CENTURY MUTED
A rather satisfying colour palette is emerging: fashion people have long gone weak at the knees for the stark furniture styles of the mid-century era. Now, thankfully, the wardrobe is catching up with us, with spiced autumnal colours perfect for reclining on an Eames chair. Creatures of the Wind called their mustard-y hues turmeric and cinnamon; 3.1 Phillip Lim had dull khakis and muted burgundys; The Row had slightly off-kilter toffee browns; while Victoria Beckham spliced her navy pieces with dirty red and camel stripes, and Tibi had shrimp pinks and dusky oranges.
MASCULINE LINES
In a world full of uncertainty there is something calm and reassuring about a nice sharp herringbone or check, even a little streamlining pinstripe. These traditional tropes of tailoring have been springing up in pleasing options. At Moncler Grenoble, there were punchy red plaid hoodies and mini skirts; Edun opened with spliced-up inverted pinstripe slip dresses; Victoria Beckham offered some very seductive tartan houndstooth outerwear with nifty waxed cord acting as an embroidery. Carolina Herrera gave her deliciously elegant uptown ladies a chic punch with Prince of Wales check, something also offered by 3.1 Phillip Lim, albeit in a more relaxed cool girl tailored, cropped trouser.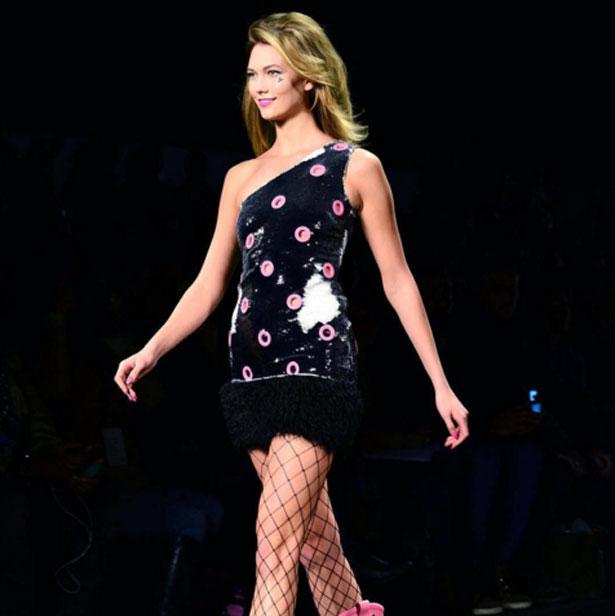 GIVE THANKS TO JEREMY SCOTT
With much business-y talk of shifting retail patterns and see it now, buy it now fashion shows, fashion week was in danger of becoming a bore. Thankfully, Jeremy Scott was on hand with his Clueless/LA/Sable-Starr/Baby-Groupies-with Dolly Parton beehives and rhinestone cowboy boots to cheer us all up. Sometimes all you need is Karlie Kloss strutting down a runway like an original-shaped Barbie doll to keep you entertained.
GALLERY: Inside New York Fashion Week
THE PERFECT DRESS
We're always on the lookout for a fine frock, but here are two serious contenders. Altuzarra offered up lovely scarf-printed, flighty ones - our preferred one has a good length sleeve, and neat button-through detail: flattering, pretty and cool. The second comes from Prabal Gurung, a deceptively simple red number that seduced us with its canny, undone buttons, splicing open just enough to reveal a slither of flesh but not so much that we'd feel awkward.
BOYS AND GIRLS
Dual-sex shows are fast becoming the norm: but something a little different was the insider favourite label Tibi, which enlisted boys to wear women's clothes. Somewhat alarmingly, it didn't look that alarming. Perhaps because Amy Smilovic's designs are so keenly androgynous, with that essential laidback NY girl element. In this non-binary future we're carving out, it was an interesting topic to mull.
NO NEED TO REINVENT THE WHEEL
Over at J Crew, their newly promoted womenswear design director, Somsack Sikhounmuong, showed off his first collection. Featuring a collaboration with British menswear label Drakes, as well as hot pinks and the kitsch prints fans of the label adore, it was a solid effort. When pressed for a muse role model, he offered up Meryl Streep in Kramer vs Kramer - "she seems to crop up on every mood board I ever do," he said. That trench coat is never wrong, we told him
— The Daily Telegraph
Share this: