New York Fashion Week: Karen Walker's garden party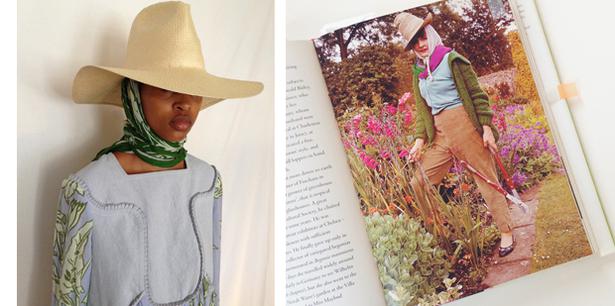 Tuesday Sept. 9, 2014
Karen Walker took to the countryside with her fresh spring/summer 15 collection Garden People, shown at New York Fashion Week today to a packed audience at the Chelsea Piers.
Taking inspiration from another iconic set of women (last season's The League was inspired by suffragettes), Walker looked to Britain's society gardeners who dressed up to get down in the grass, their wardrobes reflecting the colours and textures of the quintessential English country garden. Think civilised but colourful: they mixed colours and textures, tucked flimsy blouses into workwear pants, and accessorised with shoes and hats that were far more pretty than practical.
These women were captured in the iconic photographs of Valerie Finnis from the mid-40s-70s. Finnis' influence ran through Walker's collection from the styling to the name - Garden People is also a 2007 book celebrating Finnis' photographs. 

"What I really liked about [Finnis'] work was she just photographed all her friends in their gardens, so it was really the idea of dressing up to go gardening which gives you that mix of glamour and utility with a slight eccentricity," Walker explained backstage after the show.


"It was just a really natural place for us to start and it gives a lovely summer vibe. It meant that we could play with all those utilitarian fabrics and lines and details that we like, like suede and denim and jute and heavy topstitching, but then we could bring in some beautiful prints, some crepes de chine, and some jewellery, and mix the slight glamour in with it to create an eccentric gardener."

This eccentricity was brought to life through the mix of durable workwear with soft, ladylike prints and fabrics - a classic Karen Walker trick - with denim pinafores and cotton pant suits paired with pastel botanical prints, topped off with jaunty silk scarves and straw hats - to protect that perfect English pallor of course. Colours centred on sky blues, greys, and autumnal oranges, with pops of purple and green in a psychedelic suede patchwork. Walker's customary signature print stated simply 'Plant Shop' with a lightning bolt behind.
The 60s and 70s mood continued with flared trousers in florals and checks, bell sleeved dresses, pieces in orange suede, and perhaps the most perfect denim jacket: this youthquake jolt nicely subverting the more refined gentrified pieces.
Front row guests included blogger Leandra Medine of Man Repeller, DJ Chelsea Leyland, and - much to the street snapper's delight - the stylish older band of women including Linda Rodin, Ilona Royce Smithkin and Lyn Dell who were made famous by the Advanced Style book and blog, and featured in Walker's spring/summer 2013 eyewear campaign.

See the collection in full here:
Share this:
More Fashion / The Latest