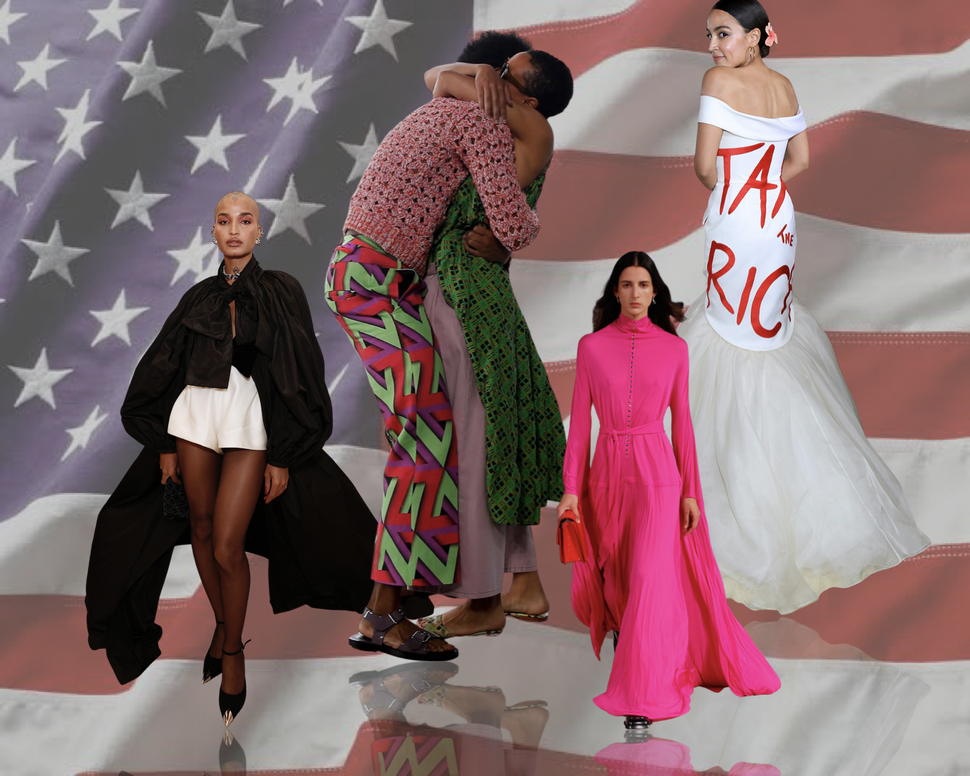 New York Fashion Week, The Met Gala & The Stunning Pursuit Of Identity
The fashion agenda this time around sought to unpack the meaning of American fashion today
Thursday Sept. 23, 2021
The return of New York Fashion Week culminated with another rescheduled appointment: The Met Gala. Cleverly packaged as a two-part exhibition — In America: A Lexicon of Fashion, which opened last week, the second installment will follow on the first Monday of May 2022 — In America: An Anthology of Fashion.
While this cerebral exploration of identity politics feels timely, some of us were left curious at how guests interpreted the evening's dress code assignment of "American Independence".
JLo's "new frontier" Ralph Lauren leather gown complete with a Western-style hat was an obvious homage to Americana, while guests like Frank Ocean, who wore Prada and carried a green-faced robotic baby, and Kim Kardashian, in an all-black Balenciaga T-shirt gown with her face fully swathed in black, had more ephemeral musings of the theme.
Model and activist Quannah Chasinghorse's ode to her Native American heritage with turquoise jewellery and a lamé gown by Peter Dundas, was a powerful sight to behold.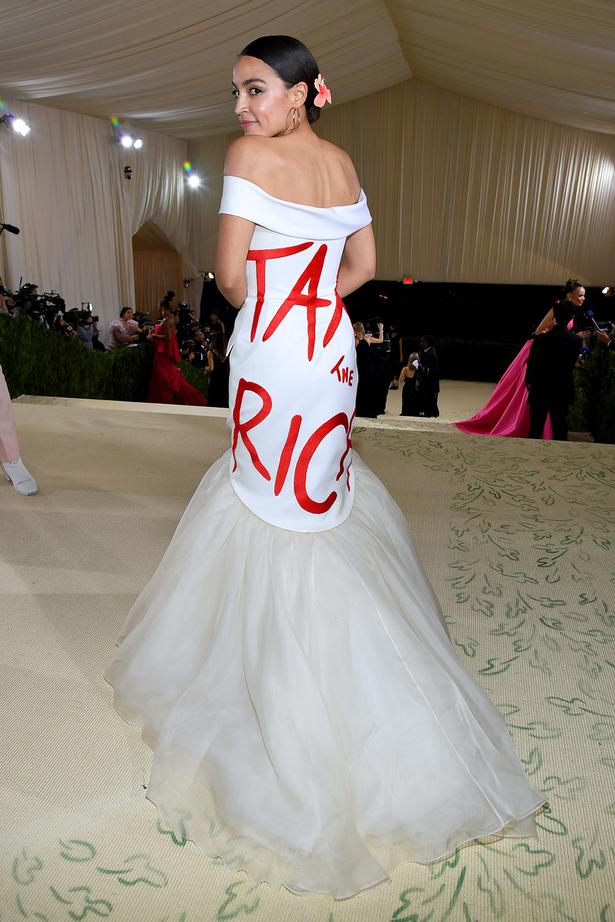 But after the positive energy of New York Fashion Week, which saw a handful of fresh designers make their mark with inclusive clothes and casting, the high-ticket fundraiser looked almost dated.
Pose actor Indya Moore shared on her social media her attendance was "cognitive dissonance", and it would be the last Met Gala she would attend, arguing the event only highlighted the racial divide when it comes to wealth disparity in America.
Congresswoman Alexandria Ocasio-Cortez's Brother Vellies gown emblazoned with the scarlet words "Tax the Rich" across a white mermaid gown polarised opinions, with detractors accusing AO-C of being hypocritical, attending an event with the one per cent of New York in tow.
READ: The Coolest Red Carpet From The Met Gala 2021
Outside the Met Gala, protesters challenged its US$35,000 [$50,000] ticket, a cost justified by its organisers in order to raise funds for the Costume Institute's preservation efforts.
Kim K's head-to-toe look also elicited heated debate. As one of the most polarising figures in American pop culture, Kim's famous hourglass figure was skimmed in black fabric from her face to her fingertips.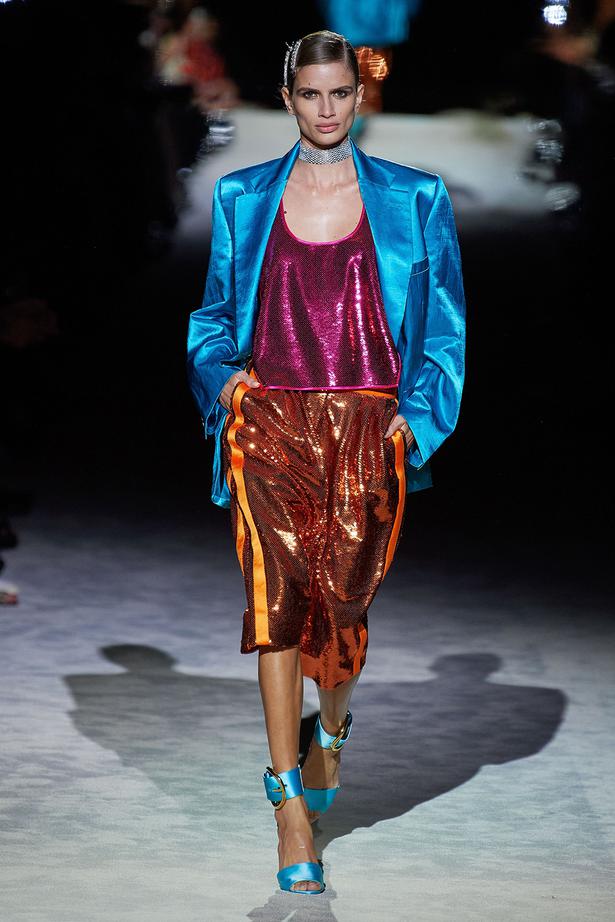 Tom Ford's spring/summer collection was a vivid display of glitz. Photo / Supplied

As writer and modest dress advocate Hafsa Lodi argued, the outfit choice displayed her privilege at a time when global female body autonomy debates are centred on the symbol of burkas, hijabs and niqabs — clothing items that instigate public uproar over immigration, fundamentalism and feminism. Some could argue, what's more American than that?

The collision of the Met Gala at the tail end of an otherwise uplifting New York Fashion Week only fuelled the exhibition's prompting questions around identity and what being American — and ultimately how Americans dress — means today.

During Fashion Week's scaled-back schedule, a mix of established and emerging designers proposed clothes that simply served the purpose of offering, in complicated times, optimism and hope.

READ: 22 Looks From New York Fashion Week That Made Us Swoon

Graduating from the joyful post-lockdown conversations of the past few seasons, the focus this time was on fun clothes that last the distance and, much like an American quilt, to pass down through the generations.

Brands like Bode NYC (worn by Lorde to the Met), with its focus on repurposing materials, are redesigning the meaning of American fashion today.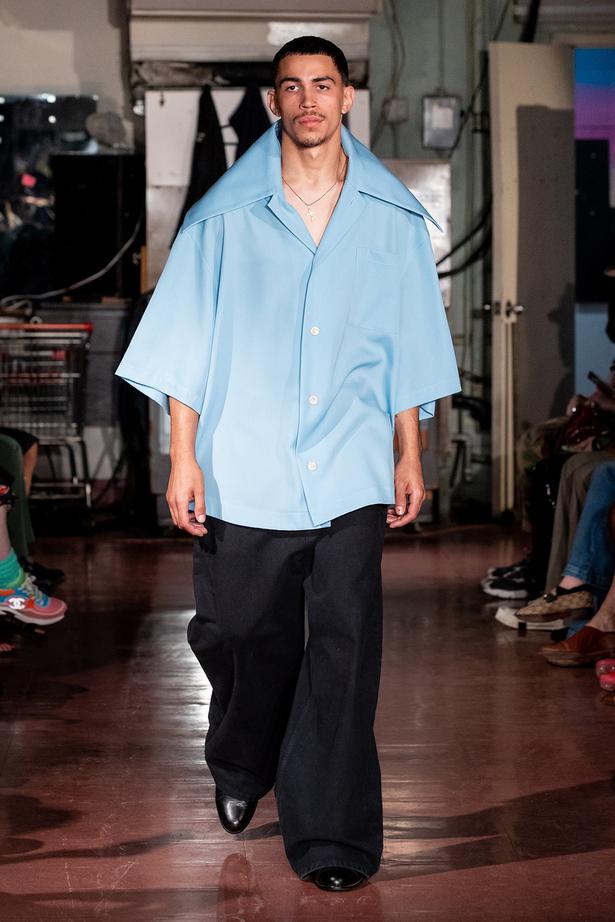 Tom Ford's colour-blocked sequins, Joseph Altuzarra's trippy dip-dyed dresses, exposed chests at Eckhaus Latta, Carolina Herrera's rapturous going-out dresses — all good-time clothes that offered a salve to the complicated conversations the Met Gala had revealed.
As menswear designer and the new vice-president of Calvin Klein men's design, Willy Chavarria, explained of his eponymous solo show held at the iconic Astor Place Hairstylists barbershop, it was a time to put aside the politics.
Inspired by his Latino roots, Willy is part of a new generation of American designers from migrant families challenging the concept of American Identity in new and interesting ways through fashion.
"It was important to not make a pointed political statement," he explained after his presentation. "I just wanted the beauty of the clothing and the models to speak for themselves."
Sometimes it's as simple as that.
Share this: