New York Fashion Week: Salasai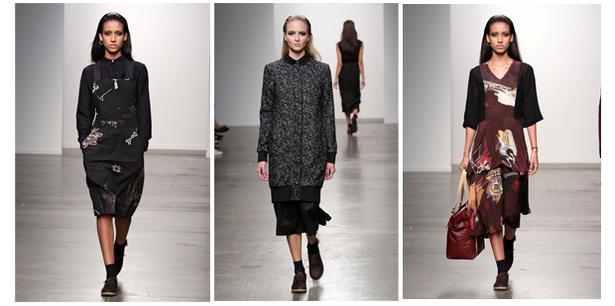 Monday Sept. 8, 2014
Salasai, a brand with local roots, stood out in a sea of Australian resortwear yesterday during the Fashion Palette spring/summer 2015 show at New York Fashion Week.
The event showcased emerging and established Australian brands to the US market, courtesy of Sydney company Fashion Palette. Perth-based Kirsha Whitcher, of Salasai, was one of eight designers, with her collection opening the show at Chelsea Piers, a popular off-site venue during NYFW.
The collection, entitled Self Portrait, was a transeasonal edit of her range recently shown at New Zealand Fashion Week, and included painterly hand-sketched prints alongside strong white and black layering pieces in wool, linen and leather.
After the show, Auckland-based co-designer Kelly Watson said that "the whole idea of the collection being called Self Portrait is that it was a multilayered look at a Salasai woman. There were kid-like drawings, a bit playful, a bit youthful, and then there was the darkness of the burgundy and the layered print".
The designers are making the most of the international opportunity, and have selling appointments set up on their behalf with buyers from major department stores such as Bloomingdales this week, and plans to continue exploring the city - the Statue of Liberty was next on their hit-list.
Share this:
More Fashion / The Latest