Why Hillary Clinton Was the Unexpected Inspiration at NYFW
At New York Fashion Week, designers were obsessed with powerful women who are independent and enduring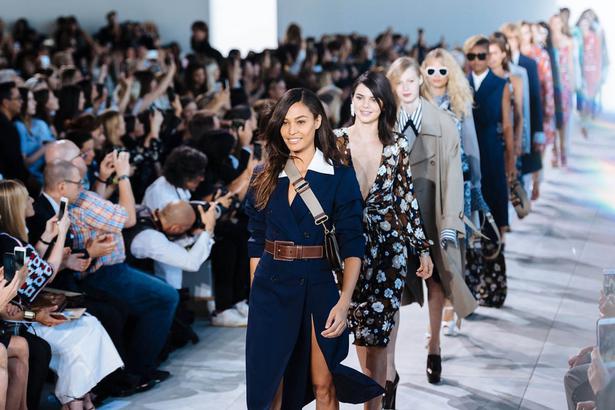 Monday Sept. 19, 2016
The designer Derek Lam was perched on a wooden chair in a penthouse suite of the Greenwich Hotel that looked as though it had been air-lifted from Santa Fe. Dressed in white jeans and a dark shirt, he was describing the inspiration for his spring 2017 collection, and the words that he used again and again were "strong" and "independent."
Specifically, he'd been inspired by Georgia O'Keeffe, the artist who was so often described as "handsome," a polite way of saying that she was not a great beauty. But that striking face of hers, alongside her formidable body of work, made her an icon nonetheless.
It was her strength, off-putting at first but eventually embraced, that captivated Lam, he explained. And there it was at last in New York's hectic fashion week, when audiences couldn't even be sure whether they'd be seeing fall clothes or spring ones on the runway - finally, a thread that connected so many disparate collections.
Strength.
In the latest round of New York fashion shows, there were countless iterations of men's shirting, various shades of orange and a surge in platform shoes. Proenza Schouler, in particular, dazzled the eye with hand-woven dresses, canvas and leather jackets, and an intarsia mink coat that looked great no matter what season it's intended for.
So go ahead and invest in oversized shirts and blazers because that trend isn't going away. Pants are still roomy, the dresses are emblazoned with prints and the fabrics range from lace to velvet.
But beyond cut and color, designers are obsessing about strong and powerful women who are independent and enduring - perhaps even a bit scandalous. There has been talk of O'Keeffe, Germaine Greer, Gloria Steinem, influential mothers and grandmothers - and of course, Hillary Clinton.
The Democratic presidential nominee is, by no means, the typical fashion icon, not in the manner of an actress, a musician or even first lady Michelle Obama. But it is hard to deny her influence, whether direct or indirect - on so many designers. The historic nature of her campaign is in the air; and much of Seventh Avenue has been quite clear about supporting her. Just before fashion week began, more than a dozen designers participated in a runway show-fundraiser for Clinton, that was co-hosted by Vogue's Anna Wintour. Later in the week, as performer Rufus Wainwright was serenading guests at the Michael Kors show, he paused to declare: "I'm with her."
But in a non-partisan way, Clinton's proximity to the presidency has invited designers to reconsider the relationship that women have to power and how it manifests in attire and style. Designers have responded in ways that have been inventive, charming and reassuring. They have refused to be caught up in all the old clichés of polished jackets and below-the-knee skirts. And they are thinking more broadly than just another sleeveless sheath. Even Victoria Beckham, who founded her brand on a fitted sleeveless dress, has expanded her collection to reflect a woman more at ease with her position and authority.
READ: Bill Clinton's First Gentleman Fashion
The conversation about strength takes place not only around the aesthetics of the clothes but in the way they are presented. Yes, lots of fashion houses are shifting gears and offering fall clothes that shoppers can buy right now. Ralph Lauren, the last of a generation of designers who is still plugging away at the household-name, mega-company he founded, upended his production schedule and created a whole new fall collection - in addition to the one that he'd already shown on the runway back in February. He shut down a block of Madison Avenue, put up a tent in front of his store and after the presentation, invited guests to come in and shop for the Western-inspired finery they had just seen.
But for some designers, shifting gears was not about a production schedule. It was a mental shift - a desire to nurture their own creativity and, hopefully, offer customers clothes that are out of the ordinary, perhaps even extraordinary. They wanted to talk about their clothes and not just have them Instagrammed. For designer Sophie Theallet, the very act of refusing to mount a fashion show this season was a statement of independence.
"I don't do a show because I have the right to do exactly what I want," said the French-born Theallet during a conversation in her Garment District studio. "I don't want to be a celebrity. I want to dress a celebrity and make them pretty."
And, indeed, her collection for spring 2017 will do just that. It will also make quite a few business women, tech stars and artists look good, too. Theallet experimented with botanical patterns, waxed raffia, eyelet and linen to create a collection that was multi-functional, aesthetically complex and sexy. It will also be available through a size 14.
Often, when folks have a conversation about clothes that exude strength, the mind immediately turns to those garments that are business-appropriate, clothes that are serious. And certainly there are those collections, such as the one from Narciso Rodriguez, that offer a beautifully streamlined approach to style that weaves sensuality with sophistication.
READ: Hillary Clinton's Style Evolution
But there is another way. It is in recalling that time - in elementary school, perhaps - before self-consciousness took hold, before insecurities wormed their way into the brain, before "running like a girl" took on negative connotations. Designers have created collections that are delightful and sparkly without apology.
Their runway presentations call to mind a 2011 interview in Harper's Bazaar during which Clinton talked about a host of weighty issues but also addressed a few fashion topics. "I have this Ferragamo hot-pink bag that I adore," she said. "My view was that I would carry it around only in spring, but it makes me so happy, I'm even now lugging it around in January. I mean, how can you be unhappy if you pick up a big pink bag?"
If a man can take time from his boardroom duties to yap about his favorite basketball team, his golf game and his vintage cars, surely a woman should be able to look up from her policy papers for a brief fashion reverie without facing criticism.
How can a Marc Jacobs coat, covered in a rainbow of sparkles - and perhaps worn with a simple black dress or pair of white trousers - not delight that 10-year-old girl who still lives in a woman's heart?
Joseph Altuzarra offered a bit of grown-up kitsch, inspired by the film Wild at Heart. A snakeskin trench coat with its cherry embroidery, evening gowns adorned with pineapples, and knits emblazoned with fruit all have the sleek lines that an adult would find reassuring - but the joyful details that would make a child smile.
Tory Burch, the self-made businesswoman, invited guests to her Fifth Avenue apartment with views of Manhattan that are straight out of a movie. This is where success lives, in this warren of art and antique-filled rooms. If one needed a reminder of the interplay of power and fashion, Burch provided it - both in her own style, as well, as on her runway. The collection blended East Coast preppy notes with West Coast bohemia. But it also stayed true to her signatures: the embellished tunics, the bold prints, the uncomplicated silhouettes. Can these clothes go to an office? Burch wears them into the executive suite every day.
A woman does not have to banish frivolity in order to be serious. Why is that so hard to grasp? Kors referred to that duality as "powerful romance." On his runway, that meant oversized shirts under asymmetrical trench coats, hot pink flowers and flowing ruffles. They are not contradictions; they are complements.
Like Kors, Rosie Assoulin exudes joy through her fashion. She showed her vividly colorful collection against a backdrop of beach chairs, with small hills of packing peanuts imitating sand dunes and a mountain of salt water taffy. Hers are not work clothes, at least not for where most people work; they are cocktail, evening and party clothes. But they are also respectful of a woman's desire to move easily and comfortably - and simply look pretty. Or, perhaps, even blissfully handsome.
- The Washington Post
Share this: