Nicola Griffin, 56, is Sports Illustrated's Oldest Model
Model Nicola Griffin says her swimsuit appearance in Sports Illustrated is a breakthrough for real women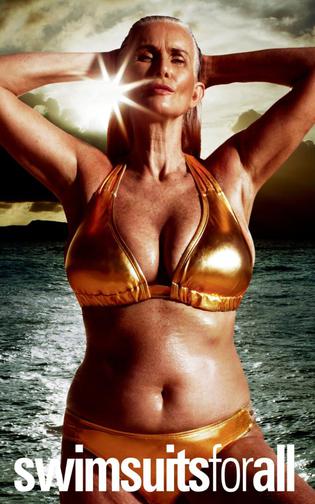 Nicola Griffin, a middle-aged single mother from Nottingham, was queuing with her twin daughters at the bank one day when a stranger asked a somewhat unlikely question.
The woman was from a hair product company, and she wanted to know whether Griffin, who ran a business organising student exchange trips, would be willing to model for the company's latest campaign. Griffin was sceptical but her teenage daughters, Tabitha and Elly, urged her to give it a go.
The hair signing quickly led to more modelling jobs, including a skin campaign, lingerie shoot and retirement home brochure. From local agencies, she progressed to London-based Milk Model Management, which had spotted her on Facebook.
Three years after that trip to the bank, at the improbable age of 56 and a buxom size 16, she has just become the latest pin-up for the Sports Illustrated swimsuit issue, an American institution for more than half a century. This makes her the oldest person to appear in a magazine known for skimpy bikinis and doe-eyed youngsters. The shot of a gold bikini-clad "real woman" emerging from the Caribbean Sea has been welcomed as a glorious riposte to body-shamers and ageists who believe that quinquagenarians shouldn't be seen dead in a two-piece. Pigmentation marks, tick. Wobbly thighs, tick. Griffin is unapologetic about all of it.
READ: Meet the World's Oldest Supermodel
"I have a big tummy, but I gave birth to two 7lb babies at the same time," she says. "It is not a flat stomach, it is rounded. This is me. It has not been photoshopped and I have not gone on a diet. This is how a beautiful woman should, can and does look."
She takes her role as ambassador for mature physiques seriously.
"I have had wonderful feedback from normal ladies, who are saying this is a breakthrough," she says. "They think, 'Great, I am not invisible any more. I too can look good - 56, 66, 76, it doesn't matter."
Not that she's fashion's first silver style icon. Griffin is one of a growing number of mature women upending the industry. Jacky O'Shaughnessy, 64, appeared in a lingerie advert for American Apparel; Balmain recently reunited Naomi Campbell, 45, Cindy Crawford, 49, and Claudia Schiffer, 45, for its spring line; Twiggy, 66, is soaring for L'Oreal and M&S, and last year Saint Laurent and Celine both went one better, featuring 80-somethings in their campaigns. Such is the demand for older models that Grey, the UK's first agency for those aged between 35 and 80, already has an army of 140 on its books since it started last summer.
None of this makes Griffin's late-life career change any easier for her to believe, however. "Will I wake up," she asks, "and realise I have been having a great, big dream?"
READ: Why Fashion Is No Longer Child's Play
If so, it's a dream that has resulted in her fending off TV and magazine requests, hiding from fans on public transport and acclimatising to autograph requests and online propositions. One man, from Dubai, asked her to send him a picture of her ears (she declined).
Clearly the demand for the mature model is there, then. But does being (relatively) old in an industry notoriously tough on body-image and self-confidence make it any easier to roll with the punches?
"Yes," says Griffin. "I don't have anything to prove."As for dieting, she is adamant on the subject. "No. Never. What for? I think that is totally pointless. I'll still be 56, just two pounds lighter. I am not competing with anyone. I am 56 with grey hair and a size 16. End of."
— The Daily Telegraph
Share this:
More Fashion / Features & Profiles