Nobody Denim x Well Made Clothes Repurposed Collection
A denim brand and an ethical fashion website collaborate on a new collection aimed at reducing waste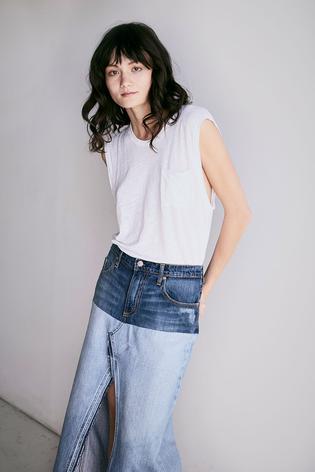 Aiming to take on and reduce waste in the fashion industry is a new collection of denim, a collaboration between Melbourne-based brand Nobody Denim and ethical fashion website Well Made Clothes.
Called Repurposed, the six-piece collection has been made using denim from dead stock, upcycling the fabric from unsellable garments and giving it a new life.
Each piece — jeans, denim jackets, skirts and shorts — was also made with fair labour, created by 15 employees working in Nobody Denim's Ethical Clothing Australia-accredited factory in Melbourne.
Australian model Rachel Rutt features in the low-key campaign (pictured), chosen because she is a prolific weaver and mender and represents the spirit of the collection.
READ: Talking About a Fashion Revolution
Well Made Clothes co-founder Courtney Sanders says they chose to focus on denim specifically because, as it's made from cotton, it is one of the most resource-intensive items of clothing around.
"Conventional cotton is considered the dirtiest crop in the world: it uses around 2.4 per cent of the world's cultivated land, but around 11 per cent of the world's pesticides and 24 per cent of the world's insecticides," says Courtney.
She also notes denim's reputation as being very water-intensive — from the growing of cotton to manufacturing, customer care and disposal.
"All of which is to say, those jeans we love to wear every day have a big environmental impact, so if we can reinvigorate jeans that have already been produced, rather than making new ones, that's a good thing."
• Nobody Denim x Well Made Clothes upcyled skirt, $300, from Wellmadeclothes.co.nz and Nobodydenim.com
Share this: