Noelle McCarthy: Diane von Furstenberg's life less ordinary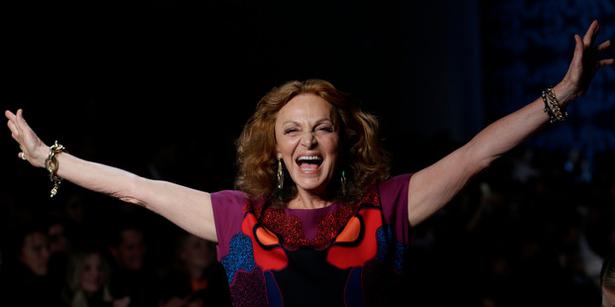 Tuesday Nov. 11, 2014
Millions of women swear by wrap dresses. I am not one of them. When your stomach is your least favourite part, any garment that cuts you across the middle is a no-no. Long sleeves make my mouth dry even thinking of them, especially tight ones, and side splits are awkward. Plus, jersey is a mad fabric for a dress, unless your body is absolutely flawless.
I've bought into my fair share of fashion myths over the years and tried to make them work for me, but in terms of so called must-haves I never-should-have bothered with, the wrap dress is up there with expensive conditioner, and eye-lash curlers. That's not to take anything away from the woman who created it. Diane von Furstenberg.
DVF is bona fide fashion royalty. She certainly didn't need the money when she started designing. In her early 20s, she married Prince Egon von und zu Furstenberg. Egon was handsome, funny, and aristocratic, Diane was cat-eyed and gorgeous.
The couple dropped the 'von and zu' when they became New York socialites, but back when she first designed the wrap dress, Diane was a princess proper.
Of course, the media loved her - and so did her stockists. A good idea has its own momentum, so does a good back-story: Furstenberg was being profiled in the New York Times and her dresses were in Vogue within a year of her getting started. The wrap debuted in 1974, by 1976 she was earning over a $100 million in sales from licences to produce it.
The Woman I Wanted to Be, Furstenberg's new autobiography is a surreal read at times, such was the staggering scale of her success, and the extravagant life that came with it. When she got married for the second time, to Hollywood mogul Barry Diller he gave her 27 wedding rings - one for every year they were together.
Her life wasn't all wedding rings and princes and wrap dresses though. Von Furstenberg writes candidly about her mother, a concentration camp survivor who weighed "barely more than the weight of her bones" after 13 months in Auschwitz. Unsurprisingly, she credits her with all of her professional achievements, and for teaching her the credo of personal responsibility.
She's frank about all the mistakes she's made over the years in business, some of which cost her millions, and she admits to looking up plastic surgeons a few years ago, when she was insecure about ageing. But she tells readers "never ever lie about your age...it's the beginning of lying about who you are", and walks the walk when it comes to showing her real self on camera; at the age of 62 she says, "I ended up on the cover of Purple magazine in only my stockings, my bodysuit and a Maison Margiela jacket made of blonde hair".
Her chutzpah is inspiring, as is her energy. It's still uplifting to read about her renaissance in the 90s, even when you know wrap dresses don't suit you. That's because it's not about the dresses really. It's about von Furstenberg's drive to get out and grab a life less ordinary.
For all the romances, and all the luxury, her success has hinged on her own determination and hard work, ultimately. Gloria Steinem sums it up in her review of the DVF story: "In this era where girls are made to think it's better to be a princess than a person, Diane von Furstenberg's The Woman I Wanted to Be is just the opposite".

* Follow Noelle on Twitter here.
Share this:
More Fashion / Features & Profiles