Nom.D Celebrates 30 Years
As Nom.D celebrates 30 years in the industry, writer and former fashion editor Stacy Gregg looks at the enduring legacy of designer Margarita Robertson and her game-changing label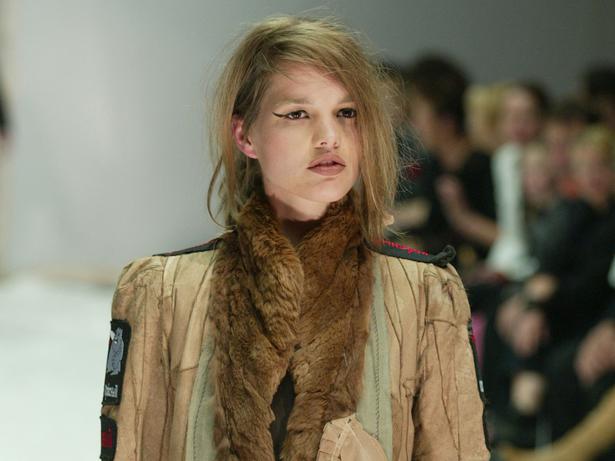 Thursday Aug. 25, 2016
Back in 2009 when I was giving up fashion editing for good, I did a tally of how many runway shows I had seen. Not counting the international collections, I figured it was more than 400. I have sat through a lot of walking. And if I had to nominate a show that stands out the most from that time, I would say it was 2002's Red collection by Nom.D.
To steal from Madonna, it seems kinda "reductive" to talk about a fashion label with a 30-year history and boil it down to one runway show. But then she wasn't in the audience was she? And I can tell you that when the lights came on and the runway in York St Studios was revealed as a glaring white blanket of fallen snow — tonnes of rock salt dopplegangering for icy drifts beneath the model's feet — you felt as if you were witnessing something epic.
Winter was coming and the clothes in that collection could have been a wardrobe prototype for Game of Thrones. Every outfit was Ygritte ("You Know Nothing Jon Snow!"), the rampant Wildling. The models wore shearling skins turned inside out with the roughness of the seams intentionally exposed, the rawness of the hides lashed with black bondage-style leather strappings.
Beneath the coats were long-john leggings and sweats sprayed with punk-rock band graphics, crudely drawn sasquatches and skeletons and stencilled Russian text. In a week where we had seen endless renditions of wearable, practical office-wear and cocktail frocks, I cannot tell you how freakin' mind-blowingly exciting it was to see clothes that screamed punk at you and made you want to immediately throw out everything you owned and dress head-to-toe in Nom.D.
The collection in hindsight, proved to be the ultimate coalescence of the two themes that were to become the consistent cornerstones of Nom.D: the Russian-Ukrainian heritage of designer Margarita Roberston on the one hand, and on the other, her ongoing devotion to the gothic deep south mood of her hometown, Dunedin.
The show at York St might have defined Nom.D but it didn't launch them. They were already the cult label the year before, when they showed their menswear-inspired Clarion collection at an offsite show at the Hilton. In the crush to get inside the oversubscribed venue, 200 people, some of them legitimate buyers and media, but most of them with forged tickets, had to be turned away. The melee only cemented Nom.D's reputation as the ultimate don't-give-a-toss cool kids.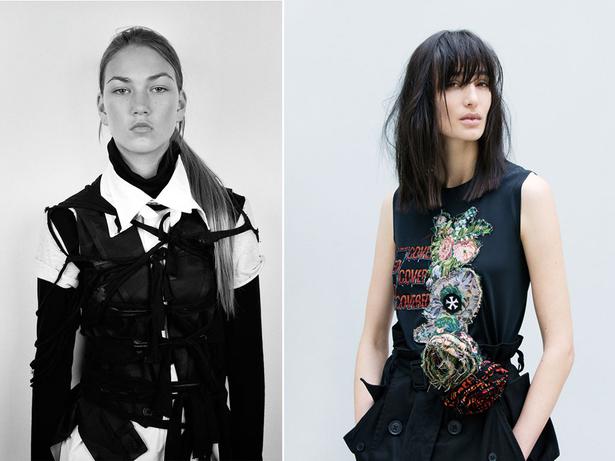 Their look screamed disobedience and disenfranchisement; Doc Martens, dishevelled versions of school uniforms, tartan shirts tied around the waists and brooding layers of frayed deconstructed pieces fashioned on op-shop finds.
Nom.D was the cool girl that everyone wanted to be, but really it was mostly Margi. Margi Robertson had been a retailer before she turned her hand to designing. She had a shop called Hang-ups in the 1970s where she stocked various labels, including clothes made by her big sister Elisabeth Findlay, who had just launched her own label in Auckland called Zambesi.
The sisters stocked their shops by making regular buying trips to pick up labels in Paris, and it was this exposure to designers — including Comme des Garcons, Rei Kawakubo, Martin Margiela, Yohji Yamamoto and Ann Demeulemeester — that honed Margi's own look. Over the years she would constantly refer to these touchstone designers, taking influence from them without ever being directly derivative.
Her own personal wardrobe of international designers, built up over those years travelling to view the collections, became so remarkable that last year, as part of the Dunedin iD fashion shows, the Dunedin City Art Gallery curated an exhibition of 12 outfits taken from Margi's own wardrobe as an installation in the central foyer of the gallery. Her clothes and the way she artlessly threw them together had now become deified as art.
Margi had never really intended to be a designer at all. But it is bloody cold in Dunedin and she needed knitwear for her stores. Hang-ups was gone and she now had Plume in Dunedin and Christchurch. Plus Liz needed knitwear for Zambesi too, so when a knitwear factory in Dunedin was going begging for something to throw on the looms, Margi kicked off Nom.D.
The label's knitwear was fashioned in the same way that the wovens would be later on, referencing vintage finds from op shops. The influences of utility and uniform, of intentionally-distressed punk-rock chic and items that could be worn several ways, were all there from the start. She would probably have stuck with knits alone, but in 1999 she was chosen to join her sister Liz, along with Karen Walker and World, to show on the runway at London Fashion Week.
She needed something to team with her knitwear and so she made trousers and skirts. The media labelled the group The New Zealand Four and singled out Margi's wovens for praise, so there was no going back. Besides, all those years of close inspection of the Europeans that she admired so much gave her a certain sensibility from the get-go and doing a range came easily to her.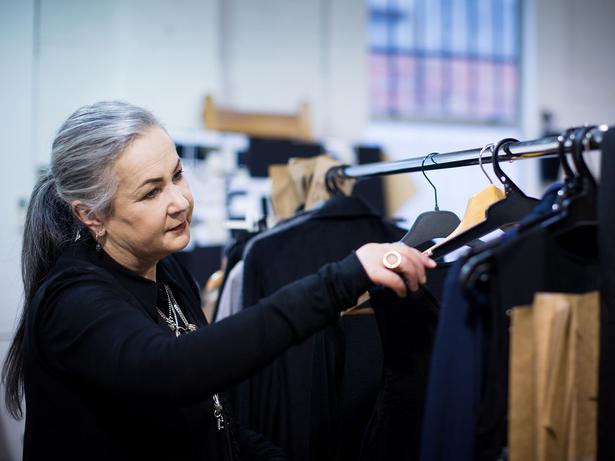 By now Margi was already in her late 40s and there was an awareness that she needed to keep her range much younger than her own chronological age. Her response was a deliberately vampiric approach to keeping the label young, utilising the blood of her workroom team, her own sons Geordie and Sam, the Plume girls on her retail floor, and their connections with the wider Dunedin scene, the Flying Nun band-boys, the gothic mood of the city and the university scene.
Margi mentored her team and gave them their due, always talking about their contribution to the collections, but through it all it has been her. She has continued to captain the pirate ship (Oh God, remember the pirate stencil prints from the 2002 summer collection? I wore my black skull and crossbones sweatshirt to death!).
Margi has kept the label young but she has never done it by being a try-hard. Like all the best New Zealand designers she knows exactly what her handwriting is, and in those times when her look has been out of kilter with the current vogue she has stayed cool and ridden it out.
Now, fashion has come full circle, as it always does. It is her time again. Her "hang on a minute I think I put it on back-to-front and upside down" difficult, intellectual European look is back bigtime and the new generation, kids like my 16-year-old daughter and her friends who are so fashion obsessed they can name every single one of the Antwerp Six, are totally Nom.D disciples. They are all over those Nom.D reissues of classic T-shirts and they scour the op-shops for vintage Nom.D.
Bearing the resurgence in mind, in what I consider to be one hell of a motherly gesture, my favourite Nom.D piece — a vintage floral deconstructed half-dress — now hangs in my daughter's wardrobe. It works perfectly alongside her best-ever thift-shop find — a pair of Nom.D's iconic satin striped "band pants". I am generous yes, but even so I remind her now and then not to get too comfortable with that half-dress. In another 30 years I'm gonna want it back again.
Share this: