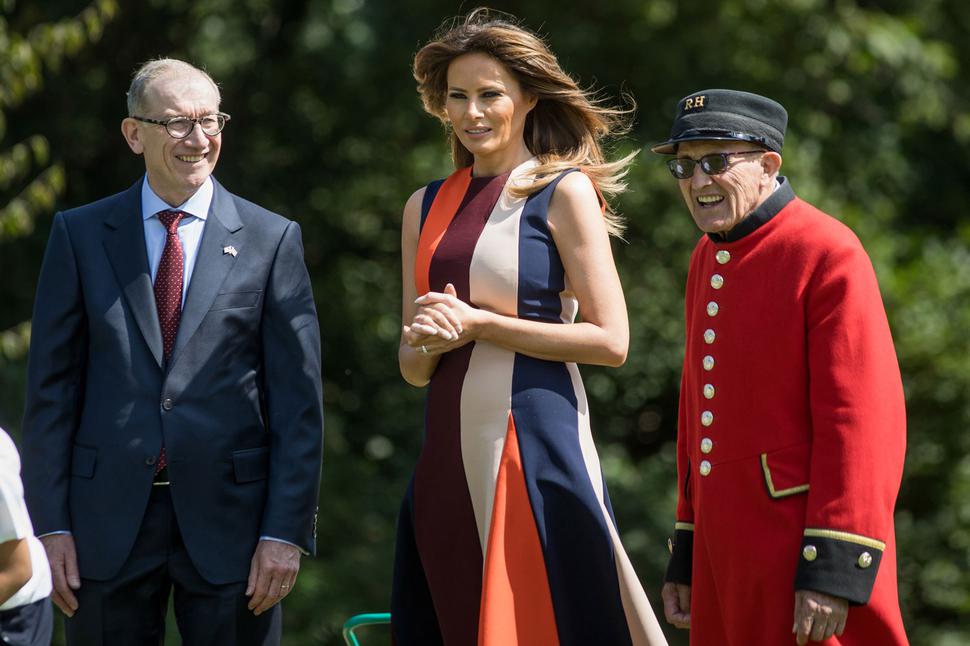 Nothing Else Melania Trump Wears Will Ever Matter Again
Can there be fashion diplomacy after detonating the nuclear option?
Monday July 16, 2018
Once again, Melania Trump has stepped onto the international stage in the traditional role of first lady: an emissary of the American people, a symbol of our collective humanity — and a fashion mannequin of soft diplomacy. The stakes, as always, are high. But her credibility as a moderating force, a gracious presence swathed in silk and lace, has been significantly undermined by her own hand. All it took was a $39 ($58 NZD) olive-drab jacket.
READ: Melania Trump's Political Power Dressing
The first lady began her country-hopping sojourn Tuesday, when she stepped off Air Force One in Brussels wearing a camel-coloured Burberry trench coat buttoned snugly to the neck. There was no evident Belgian subtext to this particular choice, but it still suggested an intent. The classic trench coat was basically invented by the British. And Burberry is a quintessentially British brand, though with a new designer, Riccardo Tisci, who is Italian. Thus, Mrs. Trump's fashion choice could be construed as an olive branch of sorts to Great Britain, the ally with whom the United States has an often-mentioned special relationship that has been looking less special these days.
On Wednesday afternoon at the Queen Elisabeth Music Chapel in the Brussels suburb of Waterloo, Mrs Trump participated in a program for NATO spouses that included a fashion show and chocolate tasting. She listened appreciatively at a recital of Tchaikovsky. For the occasion, she selected a navy sleeveless dress with a flared skirt by Calvin Klein 205W39NYC. It was an astute choice — an iconic American brand under the creative leadership of Belgian designer Raf Simons.
READ: What Does It Mean To 'Look Presidential'?
Since taking the helm in 2017, Simons has mounted runway shows that paint an elegiacal portrait of the American Dream through the eyes of an immigrant. His version is not without hope or optimism, but it's not the sunny vision it once might have been. In Simons's version, the clouds have rolled in over the amber waves of grain. So the first lady's dress potentially offered quite a bit of cultural subtext.
For Wednesday evening, Mrs Trump opted for a white, tea-length cocktail dress by the Lebanese designer Elie Saab. The silhouette was reserved, but the fabric was rather sheer. It balanced glamour with decorum. It did not speak of Belgium or NATO, but it could well serve as a reminder of the global nature of fashion, creativity and style.
Mrs Trump continued in this manner throughout her international excursion. For her Thursday arrival in London, she opted for a form-fitting sheath by the London-based designer Roland Mouret, a brand that has been in the wardrobe rotation of the Duchess of Sussex, nee Meghan Markle. For dinner later that evening with Prime Minister Theresa May, she wore a yellow silk chiffon gown by the New York-based designer Gilles Mendel. He helms J. Mendel, which was founded in the 1870s in St. Petersburg as a furrier catering to Russian aristocracy. The house relocated to Paris after the 1917 revolution. Gilles took over the family business in 1981 and has since been inducted into the Council of Fashion Designers of America.
READ: Melania Trump's Inauguration Day Fashion
So the first lady's wardrobe is well positioned to tell a story about the global nature of fashion, its ability to speak to cultural and social shifts, the heft of its emotional resonance. It has the potential to speak volumes about empathy and cross-border friendship.
But does it? Can it ever?
Can there be fashion diplomacy after detonating the nuclear option? After the crude fashion equivalent of throwing up the middle finger? That, after all, is what Mrs Trump did in June when she flew off on a humanitarian mission to visit detained migrant children wearing a fast-fashion jacket inscribed with "I Really Don't Care. Do U?" Few garments have caused as much of a media storm as that Zara jacket with its dismissive white graffiti scrawl.
In response to the brouhaha, her spokesperson advised, "It's a jacket. There was no hidden message." Thus instructed, there was no reason to believe that there was any sly misdirection, no bitter irony, no mistaking the intent. Take the general message at its word.
The message was clear, after all. Recoil. Agree. Shrug. She does not care. About what, precisely?
About opinions. About expectations. About anything. "I Really Don't Care. Do U?"
Mrs Trump has made it plain. Her publicly expressed lack of concern wasn't focused on some specific aspect of her role — perhaps one with which the public could even empathise or at least understand. Her disaffection was writ large as she walked across the tarmac in clear view of photographers. She didn't aim her disdain with the precision of a sniper. She sprayed everything within range with scorn.
READ: Melania Trump And The Politics Of Airbrushing
How does a de facto diplomat recover from such rhetorical carnage?
It is a challenge to believe she was interested in the musical prowess of a couple of students at a Belgian music school. Or concerned about strained relationships between longtime allies. Or delighting in the creativity and business acumen of American companies. Or attentive to the protocol of a spouses' dinner. Or mindful of the historical resonance of a meeting with May. Is she even pleased to be there at all?
For her public appearances in Belgium and England, she filled her wardrobe with designers and brands that speak to the moment in ways that are both respectful and thoughtful. Without saying a word, she has offered a visual tale of international cooperation and collaboration. The question is not whether she is engaging in diplomatic outreach. Of course she is. That is what first ladies do. It is their silent strength.
But if Mrs Trump doesn't really care, why should anyone else?
— The Washington Post
Share this: