NZ Fashion Week Show Review: Wynn Hamlyn
A thoughtful offering from one of the country's most innovative designers
Thursday Aug. 30, 2018
DESIGNER: Wynn Hamlyn.

ATMOSPHERE/SETTING: Shown on-site at The Viaduct Events Centre in The Studio, Wynn Crawshaw, the designer behind the label, is making a name for himself for clever clothes that speak for themselves. Guests were standing amongst coloured light plinths created by artist Angus Muir and the space had a hushed, gallery vibe with dim lighting — all the better to showcase the colour of both Wynn and Angus' work.
MUSIC: Ambient and brewing.
IN A FEW WORDS: Trippy artful elegance.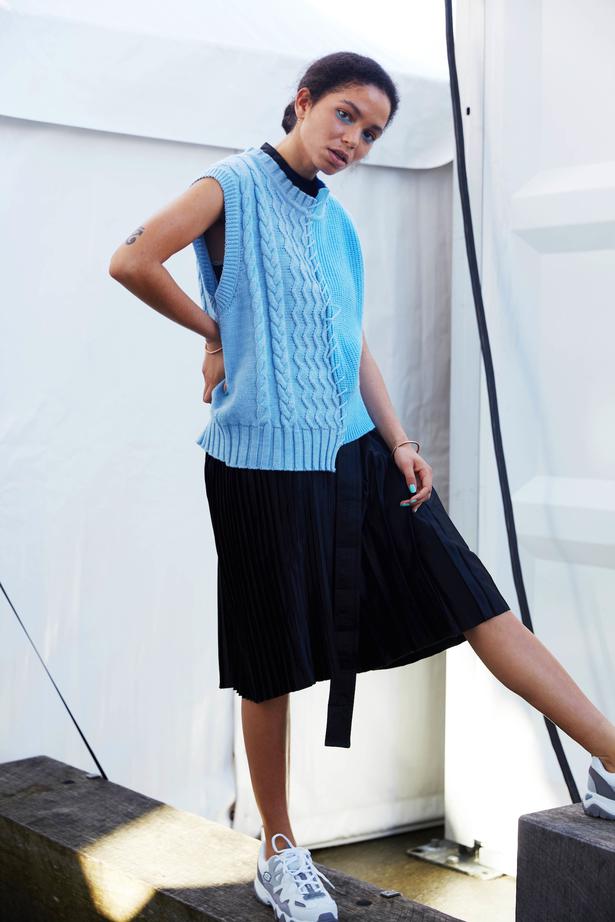 Mid-century modern but with a subversive kick, this had all the hallmarks of what the Wynn Hamlyn woman's wardrobe has shaped up to be in the young designer's burgeoning career thus far — innovative knitwear, elegant day dresses, tidy tailoring. As if plucked straight out of Agent 99's closet in Get Smart this resort collection featured structured coats with oversized resin toggles made by his mother and suiting that riffed on day jackets from the 60s.
Boxy blazers teamed with crisp trousers and dresses were standout outfits, as was the blazer and denim jeans look worn with heels, an outfit that offered a clear insight into the chic attitude the label has harnessed since it launched in 2015; a mix of Wynn's own zen personality combined with an artful sensibility.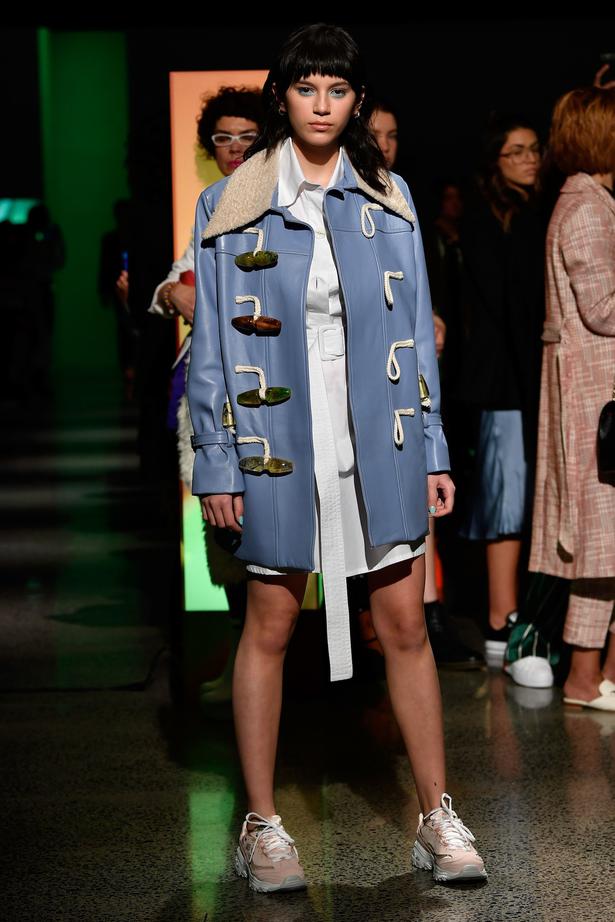 Stand out pieces for this collection included cable knit jumpers featuring peace sign motifs and the yin and yang symbol, along with tidy denim jackets and jeans; and a psychedelic print with a tie-dye effect making its way on sharp tops and pleated dresses. 
What Wynn does well is showcase his collections with a sense of something brimming underneath — whether it's the surprising (and confident) use of colour (forest green, ivory and sky blue, red) or an organic detail like a handstitched collage sweater with contrasting coloured panels, there's an underlying sense that beckons you to take a closer look and admire the subtle quirks that have become his signature. 
The collection is a sophisticated offering and will no doubt appeal to the resort wardrobes for many northern hemisphere clients, particularly in Hong Kong where the range has been picked up by department store Harvey Nichols and will deliver in December. Along with the guiding hand of Jo Knight, whose work as a fashion consultant has helped many fashion brands focus on achieving both global and commercial success, the future looks bright for one of New Zealand's most confidently designed fashion labels. 
Share this:
More Fashion / NZ Fashion Week 2018