NZ Fashion Week Diaries: Commercial Editor & Beauty Writer Ashleigh Cometti
Go behind-the-scenes with the team on the ground at NZ Fashion Week 2018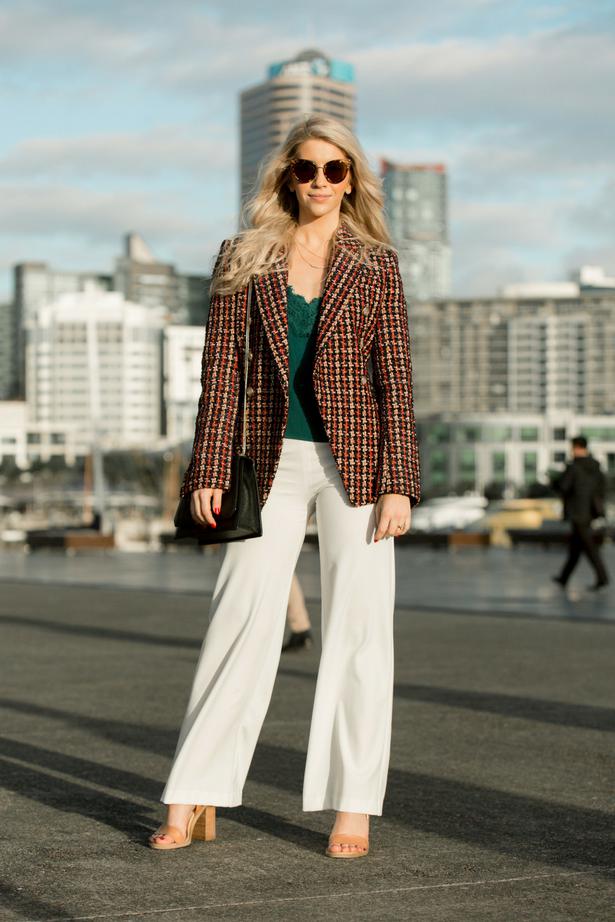 Friday Aug. 31, 2018
5.30am: My alarm goes off and I instantly regret setting one for this early. The gym and I haven't been very well acquainted for the last couple of weeks, and I'm aware my Europe holiday is looming. Because I'm terrible at hitting the snooze button, I slept in my active-wear last night (note: I don't do this often) so I could roll out of bed and into my sneakers. I mix up some pre-workout and drive to the gym.
6.30am: I'm a sweaty mess after my cardio session, so I have a power shower and start thinking about my beauty look for today. I prep my skin with DMK's Beta Gel to give my tired skin a hit of hydration. I follow this by dropping DMK's Herbal Pigment Oil onto my cheeks, and spray their Herb & Mineral Mist over the top as the oil requires transdermal absorption.
Next, I prime my skin with M.A.C's Prep + Prime, which helps create a smooth, pore-less base on which to apply foundation. I've been using Revlon's Colorstay Foundation for as long as I can remember — their Combination/Oily formula is longwearing and offers the kind of full coverage only someone with a face covered with hyperpigmentation would understand. Next, I dust on Antipodes Translucent powder to set my foundation (especially my under eye area — my eye bags have just started carrying their own luggage), followed by Revlon Colorstay Pressed Powder in Medium Deep.
READ: NZ Fashion Week Diaries: Writer & Fashion Assistant Rosie Herdman
To create the illusion of just-pinched cheeks, I roll some Too Faced Sweet Cheeks Blush over the apples of my cheeks, and pat M.A.C's Strobe Cream over my cheekbones. I'm convinced the shade Pinklite has magical powers — it works a treat when you're severely hungover and have somewhere to be. Fluffy brows are continuing to be the look du jour, so I brush mine up with Benefit's Gimme Brow mascara. I'm more than a little bit obsessed with iridescent eyeshadow at the moment, and Stylishly Merry from M.A.C's Snowball collection is my current go-to.
I create depth to my eye crease with Urban Decay's Toasted eyeshadow. I finish my look with lashings of Lancôme's Monsieur Big mascara. Voila! Not quite so pale or zombie looking anymore.
7.30am: I live in the middle of nowhere, so my daily commute is a bit of an adventure. When I'm not catching the ferry, I like to leave home early enough so my drive isn't too hellish (it always is — I'm plagued with road rage).
9.00am: I always eat my breakfast at work, and to save time this week I made a vege-laden frittata to keep me going during longer days. I drizzle from tahini on top and start clearing my ever-growing inbox. We've already got four Viva Daily's under our belt, and our last one is being sent today. Our daily deadlines are almost over! I do a little victory dance in my head, then consult our flat-plan and check in with our designer Lucy to see how she's tracking. We've got a handful of behind-the-scenes and street style pics to add into the mix from our photographer Rebecca, so I make sure she's going to have those to us well before our 4pm deadline.
11.00am: Life doesn't stop just because it's Fashion Week, and I have a number of commercial projects to manage for some of our luxury beauty clients. I book in a meeting with our sales reps to talk through some of our bigger pitches — we've got plenty of exciting things on the boil which means I'm one busy lady! I'm going to be in and out of the office this afternoon, so I make a start on writing a series of advertorials that are set to go live in our bumper Weddings issue on September 12.  
2.30pm: I collect one of my work wives, Sarah, and head down to the Viaduct Events Centre for our first show of the day — Miromoda. I always love attending this show; it's a great opportunity for budding Maori designers to demonstrate their incredible creativity and design prowess. One of my best friends, Pia Boutique, made her runway debut at the Miromoda show, so I guess it'll always have a special place in my heart. What surprised me most at the show was the incredible hairstyling — every female model wore a backcombed coif with tightly curled strands pinned up around the nape of their necks. Up until this point, it was one of the most creative approaches to hair I'd seen at Fashion Week. I'm planning on road-testing some of the beauty looks I've spotted on the runway next week, so make a mental note to try and recreate this dynamic hair look from home.
4.00pm: I forgot to eat lunch today, so I'm grateful I was sitting front row at Miromoda and nabbed a goodie bag. I nosh on the Tasti Smooshed bliss balls as I zoom back to the office (sans Sarah — she's watching the Jockey show).
5.30pm: It's been a massive couple of weeks for the Viva team — having produced a whopper of a Fashion Week issue, a gloss issue going out next Wednesday, and five Viva Daily's in the space of a week and a half. We're all in need of a drink. Viva editor Amanda gleefully shouts: "Tools down!" and we pile into the car and make a beeline for 16Tun. We work hard, but we play even harder.
6.30pm: A glass of rosé later, we make our way to the VIP Champagne lounge at the Viaduct Events Centre to imbibe a little more before the Trelise Cooper show.
7.00pm: Trelise's show was every bit the spectacle I'd hoped. Neon lights illuminated the holographic plastic which hung from the ceiling, while a DJ set played on a stage that separated the main runway from The Studio. Every model would be walking down runways in both settings. What followed was a flurry of glitter, sequins, feathers, and embellishment. It's Trelise Cooper, what do you expect?
READ: NZ Fashion Week Diaries: Fashion Editor Dan Ahwa
I live for this shit, so I was in my element. Pretty sure I sat there with my mouth open the entire team (apologies to my seat buddy, Viva deputy editor Jo, for the mouth breathing). I had high hopes for the beauty look at this show, and boy — it didn't disappoint. The hair was big, the eyeliner was graphic, and the sassy attitudes were rife. Models wore Dallas-inspired, back-combed 'dos created by L'Oréal Professionel ambassadors Grant Bettjeman and Sasha Lenski, perfectly offset by the mod-inspired makeup created by Liz Hyun and the team from M.A.C.
8.30pm: The Viva Divas and I pile back into the car post-show, and make a beeline for the Powerstation for the Huffer show. We blast Desiigner's 'Panda' all the way there — getting hyped to see the man himself perform later tonight. Fun fact about the Powerstation: A boy once asked me to be his girlfriend at a Boyce Avenue gig at the Powerstation on this exact date. Four years later to the day, I'm married to that boy and now I'm back here again, to celebrate without him lol.
9.00pm: The Powerstation is absolutely heaving with people. It feels way more like a gig than a fashion show, but in a really good way. It's not stuffy, it's dynamic and it's different. We're downstairs close to the runway, ready to cheer for every model that'd been styled by Viva's own fashion editor, Dan Ahwa. Amid all the cheering and cranking beats, Huffer's show was a blur of Gen Z yellow, puffer jackets, hoodies, and caps. Everything you'd expect from New Zealand's original street style giant and just so damn good.
9.30pm: The show closes and High Beams' set starts. They're pretty good at amping up the crowd, but everyone's waiting for Desiigner to take to the stage.
10.30pm: I've got a bloody long drive ahead of me (and yes I whinge to anyone and everyone who'll listen), so decide it's best for me make like Tom and Cruise.
11.30pm: Desiigner's set starts, but I'm already safely tucked up in bed. #nanalife.
Share this:
More Fashion / NZ Fashion Week 2018