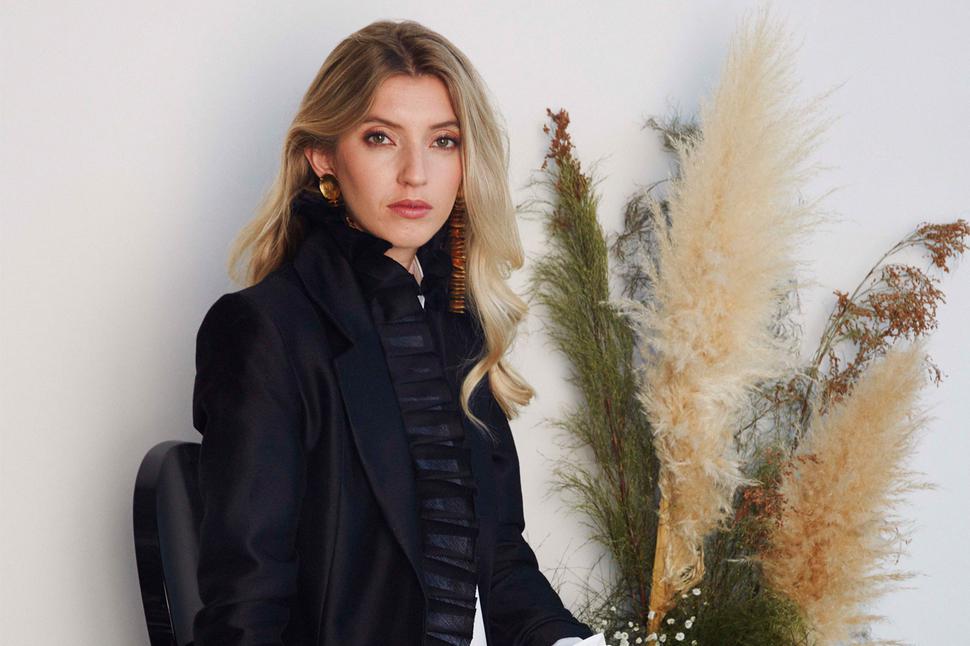 How Local Label Maggie Marilyn Is Taking Ethically Made Fashion To The World
Designer Maggie Hewitt's label isn't just about looking good, it's about doing good too
Wednesday June 6, 2018
Two years after launching her label Maggie Marilyn, Maggie Hewitt is ready to give people a closer look at the inner workings of a global luxury brand made entirely in New Zealand. Dan Ahwa catches up with the optimistic designer to discuss the brand's unwavering sustainable and ethical point of view.
Maggie Hewitt exudes a quiet confidence in the way she interacts with people. Softly spoken, but always with self-assuredness, there's a conviction behind every word she says. And her small team of mostly under 25-year-old staff pay undivided attention.
"Although I'm quiet and naturally introverted, I'm also a no-bullshit type of person. No one can really tell me what I should do if it doesn't feel right to me. I'm big on intuition and gut instinct — that's something you have at any age."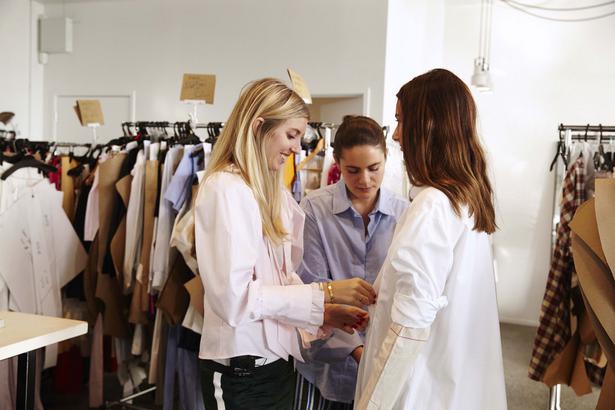 Maggie Hewitt in her Newton workroom. Photo / Rebecca Zephyr Thomas

Yes, she's 23, but don't make a big deal out of it. Age is nothing but a number in Maggie's world, and given the brand's rapid trajectory in the space of two years, from graduate collection to endorsements from former Teen Vogue editor and journalist Elaine Welteroth, poet Cleo Wade, Kate Hudson and Kendall Jenner, the sky's the limit.

Her first resort collection was quickly picked up by luxury e-tailer Net-a-Porter, and since then she's managed to amass an impressive portfolio of stockists, particularly in the United States, her biggest area of business. Next season, her new collection will debut on the racks and shelves at Bergdorf Goodman, an accomplishment most established designers spend a lifetime dreaming about.

READ: The Fashion Star: Designer Maggie Hewitt of Maggie Marilyn

Just last year, she impressed judges as a shortlisted finalist for the prestigious LVMH (Louis Vuitton Moet Hennessy) prize; and when we meet, she's preparing to judge this year's iD Dunedin Emerging Designer Awards, then heading off to Dallas, before returning home to shoot her season six look book and campaign.

Despite the accolades, she remains grounded, finding inspiration in the women who buy her clothes. "It's important to me that the brand isn't put on some pedestal. I don't profess to know everything, and my team are still learning every day. And while it's such an honour to see these beautiful celebrities wearing my designs, it's equally, if not more satisfying, for me to see a girl walking down the street wearing it her own way."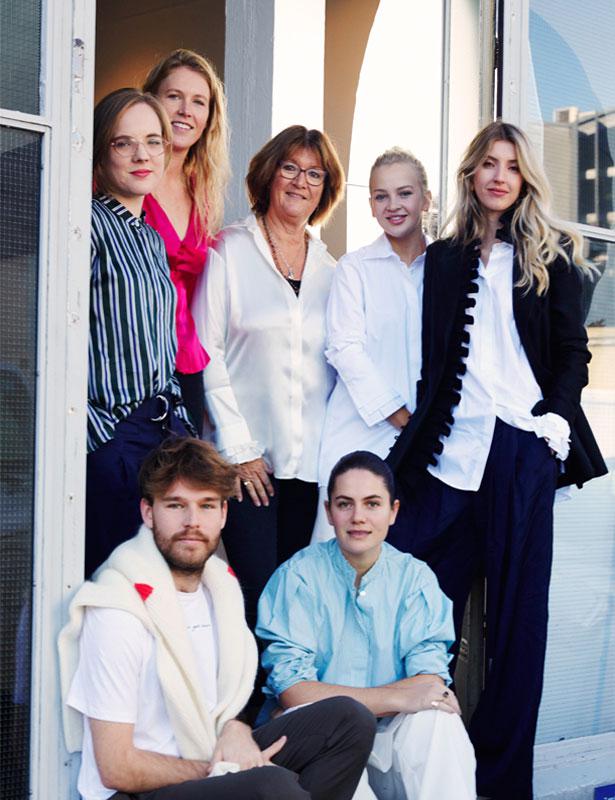 Maggie Hewitt (far right) and her team. Standing from left to right: Charissa McGrath, Georgia Lloyd, Noelene Slaughter, Ella Jones. Sitting: George Carey, Olive Cashmore. Photo / Rebecca Zephyr Thomas

We meet during Fashion Revolution Week, an important week for any fashion brand with a conscience, and Maggie is no exception.

Sitting in her Newton workroom we're surrounded by creative chaos — cutting tables strewn with fabrics, patterns hanging from every corner, boxes of orders to be dispatched and mood boards tacked to walls. Among it all are flourishes of Maggie's now-familiar sense of whimsy — ruffle neck samples on hangers in a riot of hot pinks and yellow; ferns and toitoi plants sprouting from elegant vases.

READ: How to be a Conscious Clothing Consumer

"It's so important to have greenery around you," she says. We sit drinking coffee at a sleek marble table, discussing an opinion piece published the night before about why millennials say they care about sustainability, but aren't necessarily shopping this way. It's a conversation Maggie is well-versed in.

"It goes back to that whole discussion around sustainability. Do people care enough that it will influence how they shop? The straight answer is probably no," she says.

"As a society I don't think we are there yet. I don't know if it's getting through to people enough; maybe it's not tugging at their heart stings or maybe it's not confronting enough. For most people, how would they know where to start researching things like fast fashion's effect on the environment and the people locked in the supply chain. Not everyone is reading in-depth articles about the issue."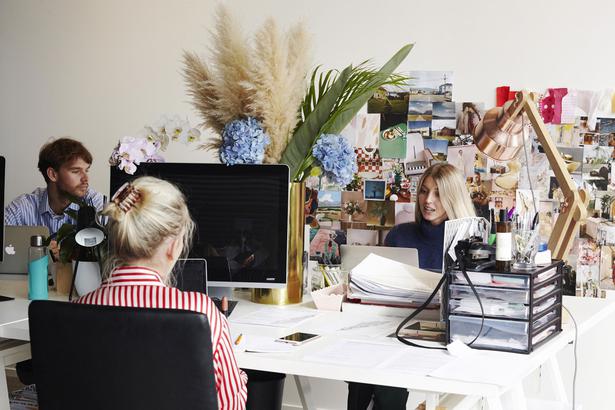 The workroom is surrounded by creative chaos. Photo / Rebecca Zephyr Thomas

Given the fashion industry's ongoing challenges around creating ethically made and sustainable clothes, up until now, it's an aspect of the brand's message that's only scratched the surface.

A short film released this week by celebrated director Bruce Morrison (notable for his work with Gary McCormick on the popular 90s TV series Heartland), aims to highlight the label's inner workings from design to fully produced garment. It's an opportunity to press pause on the rapid speed of fashion and highlight to customers what goes into making each garment.

"There's a lot of greenwashing out there so the time is right to educate our customers on what being an ethical and sustainable brand even means. It's always evolving, and I would never want to say 'oh we're 100 per cent sustainable. Thank you. Goodbye. We're perfect'," laughs Maggie.

READ: How The Formary is Reimagining Textile Waste

"By no means are we anywhere near perfect. When I first started I just wanted to be noticed for my designs, and for purely being a brand that made our women feel great and empowered. Of course, being sustainable was just how I wanted to do business," she says. "Being sustainably made in New Zealand was always a non-negotiable. Therefore, it didn't feel like it had to be spoken about."

While the film touches on Maggie's family home in the Bay of Islands and its influence on her designs, the key storyline is spotlighting the makers and people responsible for bringing her designs to life.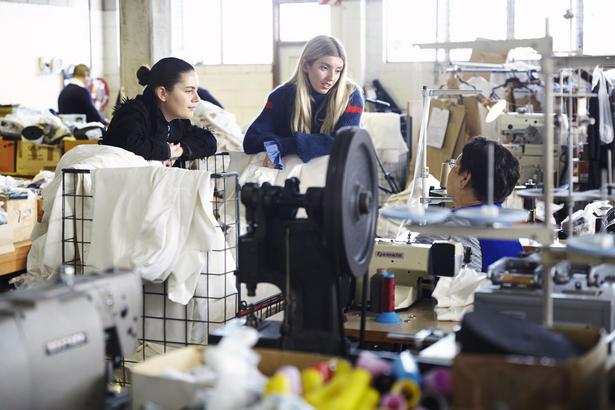 This global luxury brand is made entirely in New Zealand. Photo / Rebecca Zephyr Thomas

"One of my favourite stories is the shirrer," says Maggie. "There's not enough people who want to get their things shirred (a gathering/pleating technique using elastic). So we have this great story of a woman who does our shirring with coffins! When you go to her studio there are these coffins intermixed with our shirts. It's such a funny sight. Even better, her name is Shirl! This to me is such a Kiwi story and I love sharing it with some of our stockists, who find it hilarious," she says.

READ: Sustainable Designers To Know Now & Conscious Clothing To Shop

In the tradition of brands doing well on an international level, the label has played up its 'New Zealandness' throughout its imagery. "For sure, we've capitalised off the fact that New Zealand is beautiful. It's a way for me to show New Zealand to the world. When I started the brand, I knew I wanted to be a global and international brand, but it never felt right to export as an international brand and manufacture overseas. It doesn't contribute anything to the country that I've come from. That just felt really wrong to me."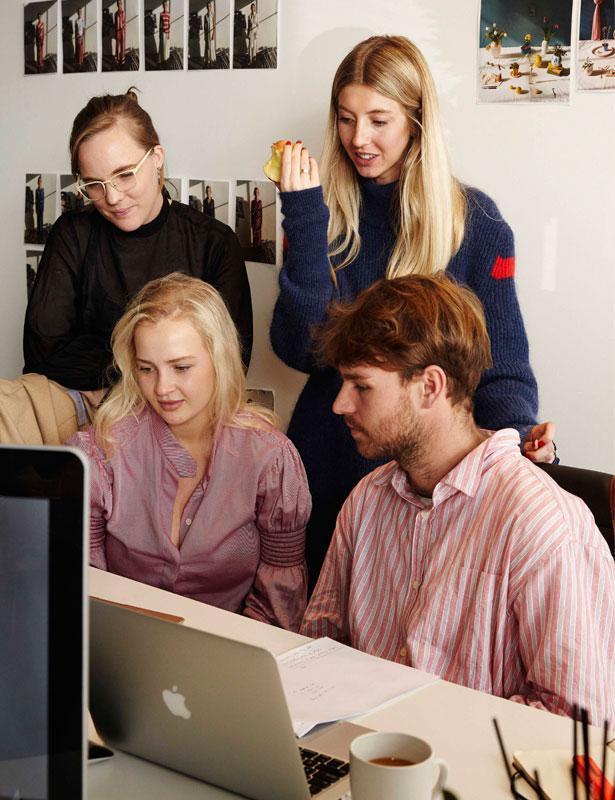 With the help of former managing director Jo Knight, who was instrumental in the brand's early success ("she's been really important to the brand since we started the business, fostering young talent and getting them off the ground," says Maggie), as well as a sales agent in Sydney and a PR Agency in New York (under the guidance of influential PR guru George MacPherson), the label's international success continues to surprise its designer and her young team.
READ: High Society's Robyn Hall Celebrates 50 Years In The Fashion Business
"Even though a huge amount of our business is done overseas, the fact that we're involved in our community, trying to support as many small businesses as possible from this funny little studio in Newton, where we ship thousands of units from each season, is not only rewarding, but it's also crucial to the local economy. There's something about doing this together that's perhaps relatable to our customers. As a designer, I would never become too unrelatable to a generation I'm trying to speak to and design clothes for. Being young and having a young team is also part of the magic of the brand. There's this real undeniable sense of optimism amid so much cynicism in our industry. There's definitely a beautiful sense of naivety in trying to change the conversation and make a difference — and I feel like we can."
Share this: