Why Everyone's Wearing Off the Shoulder
The business behind the off the shoulder trend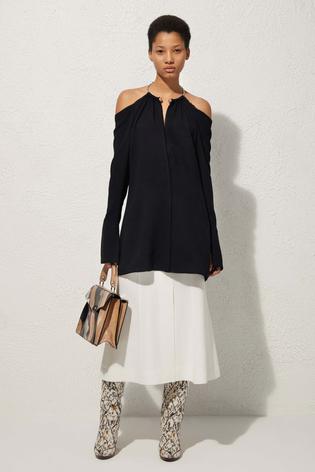 If you've hit up a bar on a recent Saturday night, you've probably noticed: Any place that is teeming with style-conscious women these days is also teeming with off the shoulder blouses.
The silhouette is seemingly everywhere, and it's taking many different forms. There are Carmen Miranda-esque ruffled styles and 90s-inspired clingy ones.
A variation known as the 'cold shoulder top' - which leaves skin bare between strap and sleeve - has also been flying off shelves. The look has been translated into dresses, jumpsuits, and even bridal gowns and swimwear.
Making a trend catch fire like this is the fashion industry's constant quest, but it can be an elusive one. Glossy magazines once were the agenda-setters for the apparel business. Today shoppers take their cues from the vast and fragmented landscape of social media - and they have micro attention spans.
Apparel companies depend on "it" pieces to get customers excited about visiting the mall and their websites, and with the bare-shoulder look, there are signs that they've hit the mark.
In the first quarter of 2016, there was a 110 per cent year-over-year increase in the number of off-the-shoulder tops and dresses arriving online, along with a 218 percent boom in arrivals of cold-shoulder tops and dresses, according to Edited, a fashion analytics firm. A dramatic spike in Google searches in recent months for "off the shoulder" and "cold shoulder" suggests shoppers are on the hunt.
"To me, this is the best thing that's happening right now in women's apparel," said Geoffrey Henning, a divisional vice president of design and fashion at American department store J.C. Penney.
In other words, this style is a welcome hit for an industry that is badly in need of a score. It's been dark times in the apparel business. Unseasonable weather has taken a toll. More entrenched issues include consumers choosing to spend their money on experiences instead of goods.
So how did retailers turn this piece into a must-have at a time when shoppers aren't spending big on clothes? And how did they scramble the jets to wring more sales out of these styles when they realized they had a hit on their hands? We asked several retailers - ranging from startup to stalwart and value-oriented to luxe - about how they've strategically managed the rise of the off-the-shoulder top. Their answers add up to something of a blueprint for how a trend ends up in your closet.
The craze is sparked
For Sarah Tam, the first glimmer of the bare-shoulder craze was from an unsurprising place: On the catwalk. Tam is senior vice president of merchandising and planning at Rent The Runway, an upstart site that rents designer garments.
She scours fashion shows each season to identify looks that might appeal to customers. Last September, after seeing New York runway shows from designer labels Proenza Schouler and Prabal Gurung, she said it hit her.
Meanwhile, at J.C. Penney, Henning said the garment came to the fore because it was at the nexus of a few bigger trends percolating in the fashion world. Pieces with a 70s-era vibe have been hot for several seasons, and off-the-shoulder pieces - especially flowy, diaphanous ones - fit into that.
Plus, 90s-style knitwear seems to be mounting something a comeback, and the J.C. Penney team was also looking to Cuba for inspiration on color palettes and silhouettes. Off-the-shoulder and cold-shoulder pieces could check all of those boxes.
SHOP THE STORY:
The business case
Brooke Jaffe, fashion director at Bloomingdale's for women's ready-to-wear, works with her team to put together an extensive trend report at the beginning of each season to guide the upscale department store's buyers. Off-the-shoulder pieces were in the No. 1 spot this season. Why? "I don't know many women who hate their shoulders," Jaffe said with a laugh.
In other words, it's a style that flatters a wide range of body types, a contrast to other recent fads such as crop tops and culottes. That was a reason not just to dip a toe in the trend by offering a few pieces, but to really run with it.
Henning of J.C. Penney echoed that sentiment, saying he realized early on that it was a look that could be adapted to appeal to nearly the full spectrum of the retailer's female customers. Teens and millennials might go for a full-fledged clavicle-baring style, while older, more traditional shoppers might like a split-sleeve iteration that shows just a sliver of tricep.
At Shopbop, fashion director Caroline Maguire said the off-the-shoulder blouse meshed well with other trends she was trying to push, such as cropped flare jeans. By merchandising the pieces together, perhaps each trendy piece could give the other a boost.
Getting the goods and riding the wave
Both Shopbop and Rent The Runway said they first gambled on the trend by buying some poplin tops from Tibi, a label known for sophisticated silhouettes that was early to make this style available to retailers. It didn't take long before customers responded.
To start the season, Tam's team at Rent the Runway bought 12 tops, 12 dresses and 5 jumpsuits with that neckline, a relatively wide selection to offer around one trend.
"In early March, we saw the bookings were happening so soon and so quickly - even prior to the weather warming up - that we reordered six out of the 12 styles" of tops, Tam said. "It was insane."
Initially, they bought 75 to 100 units of each item. Then, Tam said, "we went out and reordered as many as we could get our hands on."
This kind of on-the-fly adaptation is fast becoming table stakes in the apparel industry, with many retailers pushing to implement real-time analytics and to adjust their supply chains to react to trends more quickly. 
Showing customers what to do with it
At Bloomingdale's, it was now time to enlist the "army of mannequins." This is Jaffe's term for a relatively new tactic the chain is trying with its visual merchandising. Instead of a single mannequin here and there, or a few grouped at the top of an escalator, the store is clustering 12 to 15 of themto show off several variations of a particular style. The idea is that such a big, grabby display will send a signal to shoppers that this look is a must-have.
Rent the Runway turned to social media to lure its customers to the shoulder-baring bandwagon. About a month ago, the company shared on Instagram a photo of pop singer Katy Perry on the sun-drenched shores of the French Riviera in which she was sporting an MSGM off-the-shoulder dress that the retailer had available for rent.
Tam said that within that week, the dress was "100 per cent booked," meaning that all the rental slots - at US$115 a pop - were taken. And, Tam said, when customers found they could no longer book that particular piece, many rented other off-the-shoulder items. So interest in that one dress drove a bump in rentals of similar garments.
Evaluating shelf-life
When a trend takes off, merchants have to ask themselves: How long can this last? "I think the style is going to stick with us through fall," said Katie Smith, senior retail analyst at Edited. "We haven't started to see shopper fatigue. We haven't seen heavy discounting."
Indeed, J.C. Penney expects to sell the trend in the fall, but in different fabrics and colors. Bloomingdale's plans to stick with it as well, but will try to offer different styling ideas such as adding a choker necklace. But at ShopBop, Maguire said they've moved on. "We've been registering this trend so long now, we're kind of already on to the next," Maguire said.
Yes, you read that right: The trend you may have just noticed is old news for a retailer that caters to women who follow every nano-shift in fashion. For that crowd, trends move even faster than they do for most.
Shopbop is still bursting with off-the-shoulder and cold-shoulder pieces, but Maguire says her shopper now thinks of them as a basic, a closet staple, rather than a trend. Now, she and her trendspotters are going hard after the off-the-shoulder top's close aesthetic cousin: The one-shoulder top.
"We still love that effect," Maguire said. "It's fun, it's flirty. But it's kind of like, let's give her a newer version."
- The Washington Post
Share this: