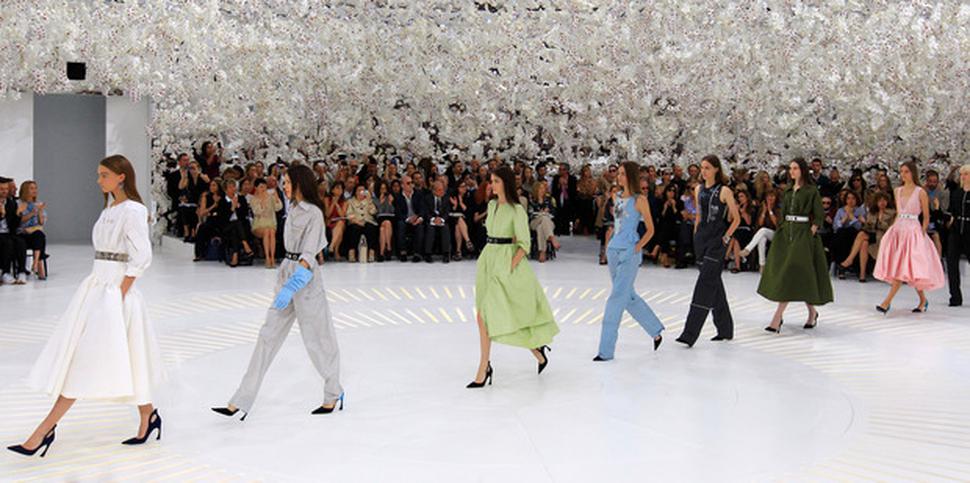 One-on-one with Raf Simons, one of the most important designers working today
Wednesday July 16, 2014
I first meet Raf Simons in New York City, which is unusual for a number of reasons. It's unusual because every facet of what he does feels European. His own label draws on the clothes of disenfranchised Mitteleuropa youth: skinny suits like Kraftwerk dummies, Gabba-influenced prints on slimy synthetics, slouchy, oversized layers patched with artwork from bands like the Sisters of Mercy or Manic Street Preachers. And he designs womenswear under the Dior label, the most quintessentially French of all fashion houses, the name alone redolent of a distinctly European luxury, and showcased his winter haute couture collection this week.
Simons is European, of course. He was born in the town of Neerpelt (population about 16,000) in Belgium in 1968, the son of an army night-watchman and a cleaner. In an odd way, Simons' preoccupations seem born from his parents' careers: there's a militaristic precision to what he does, and a certain cleanliness.
Simons' Flemish accent still sits heavy - slightly phlegmatic, guttural sometimes, there's a harshness to it that's entirely untainted by his success. That's because he is located for much of the year in Antwerp, where he lives and where the studios of his eponymous business are based. Nevertheless, he's been commuting for a decade, first to Germany and Italy for Jil Sander, where he designed the men's and women's lines from 2005 until February 2012, and latterly for Christian Dior. We meet in May, when Simons presented his pre-spring 2015 collection for Dior in Brooklyn's Navy Yard.
Simons may be decidedly European, but his work has a global impact. He is one of the most important designers working today. His own label, which turns 20 next year, has helped define the contemporary menswear landscape. The slender, fitted suits with narrow shoulders Simons designed in the mid-1990s were enormously influential, as was his co-opting of sportswear, and the raiment of popular youth movements. A pair of collections shown in 2001, dedicated to urban guerrillas and featuring veiled faces and slogans inciting riot and societal collapse, have a power that still arrests. They're fiercely sought after by collectors.
In recent years, his womenswear has proved just as pivotal. At Jil Sander, Simons' use of neon-coloured synthetics (better to take the dye), and silhouettes inspired by the mid-century creations of Cristobal Balenciaga and Christian Dior, influenced high street and haute couture alike. His inheritance of Dior's label may have increased the prominence of his aesthetic, but the power was already there. Mirroring the impact of the original Monsieur Dior's 1947 New Look across the spectrum of fashion, few collections are shown today that are not in some way a reaction to Simons' designs. His subtle but unusual mixes of colours, his abstracted, almost aggressive embroideries, the asymmetry he often employs to lend movement to his garments: all can be seen across a multitude of shows, but can be traced back to his hand.
Simons is often characterised as a minimalist. He's not: he's a realist, who wants his clothes to be worn. "I'm trying to bring a lot of reality [to Dior]," says Simons, "which relates to how women live their lives today." That reality has wrought a revolution in the salons of 30 Avenue Montaigne, hitherto a house renowned for catwalk theatrics that often distanced the clothes from the everywoman. Simons is determined to create something pragmatic, even in the most unusual of circumstances.
Witness his spring/summer haute couture show, where the ease of an Air Max trainer was translated to perforated layers of silks smothered with those modernist embroideries Simons so loves. There was something dynamic about those clothes, air flowing through the minute holes and embroideries as the models moved swiftly through an all-white space. It didn't feel staid, or stuffy, or old in any sense. After a deferential series of collections that quietly began his Dior tenure, it felt like it was saying something new.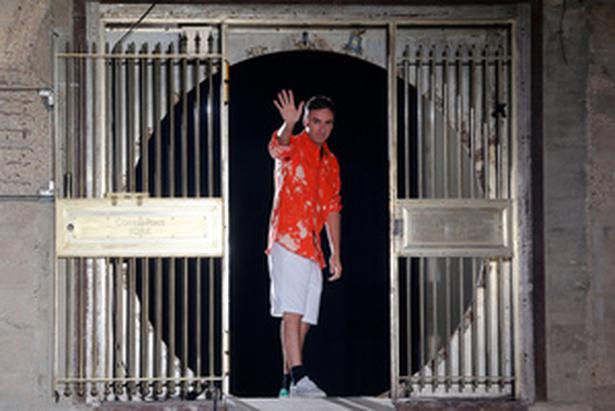 Taking the reins of Dior was - and is - a challenge. It's one of the biggest houses in the world, with a prodigious array of products. Simons oversees two ready-to-wear and haute couture collections a year, alongside the increasingly important pre-collections and commercial ranges to keep about 235 worldwide boutiques stocked. That size, however, was part of the pull. "Jil is a niche brand. It wouldn't have been a challenge to take on a lot of niche brands," says Simons of his post-Sander move. "It's not only the style or the aesthetic, it's where it sits in the fashion world ... communicating with so many women. With a lot of people, you say Dior and they know what it's about. Even if they don't really know what the clothes are about, or who's doing the clothes."
But, for the fashion world, it does matter that Simons is designing these clothes. Some people find it difficult to ally his Dior work with his own label. Dior, after all, built dresses (note the verb) for mature women with fecund hourglass shapes, and Simons is renowned for stitching whippet-thin, sombre and rebellious suiting for teenagers. Yet, there are connections - not just the superficial, like his use of bold, vertical bands of colour, sleeveless tailoring or fusing formal with sports. Simons' menswear is obsessed with the other, with youth cults and closed, obsessive music scenes - his 2001 ode to Richey Edwards of the Manics, for instance, or his 2003 collaboration with Peter Saville titled "Closer" - and he talks of the world of Dior, and the world of women as a whole, as if they had a cultish appeal for him, too.
"I like very much when women group together. It's something I find fascinating," he allows. "Even at Jil, with the beauty salon collection [spring/summer 2011], where it was women taking care of each other. But there's this thing: men cannot enter."
The same is true of haute couture. It is a female-dominated world, a world of women lovingly hand-crafting garments for other women. Simons may play the lead, but it's otherwise an all-girl cast of atelier workers and moneyed clients. There are more than a few parallels between Simons and Dior. Both are shy, private men who seem uncomfortable in the spotlight. The title of Dior's autobiography -Christian Dior et Moi - indicated how the private man felt he was separated from his public myth. In it, Dior described press conferences as a "ghastly ordeal ... like being a prisoner in the dock before a terrible tribunal".
Simons describes facing the barrage of backstage interviews following his first Dior show as "like Marie Antoinette". At the start of his career, Simons would not even bow after his shows. "It's not in my interest to be a star," he says. "I prefer not to see people. I just want to do something that will change something."
Both Simons and Dior also came to fashion late. I ask Simons when he became interested in fashion - but it soon becomes evident that it was clothing first. "I come from a village - they have no cinema or galleries," states Simons. "When I was very young, 12 or 13, I didn't know what a gallery was. The only thing we had that could relate in some way to culture was a record store. When I got older - okay, there was a cinema ... but boutiques didn't exist. The connection with clothing, though, began "when I was 13, 14 I think. It had nothing to do with fashion, only with music. Dark, black, Depeche Mode, Kraftwerk".
It feels like Simons is reeling off the references that formed the basis of his first shows in the late 90s - the shows that defined his aesthetic. "I didn't see Depeche Mode as fashion, it was the music. Then you connect to the way they look - which was uber fashion, actually. So that's how it started. But until I was quite far into my industrial design education, I could never think of fashion as something that could eventually interest me to practise. Never. Actually, the opposite."
Nevertheless, when Simons was an 18-year-old student in Genk, he began buying high fashion by Helmut Lang and Dirk Bikkembergs: his circle of friends included fashion students from Antwerp's Royal Academy of Art, most notably his ex-girlfriend, the designer Veronique Branquinho, as well as Olivier Rizzo (now a stylist) and Willy Vanderperre (a photographer). Simons collaborates with them both at his own label, and at Dior.
The switch from consumer to creator came suddenly, Simons says, He was interning with Belgian designer Walter van Beirendonck, who took him to a show by the then-young Martin Margiela, in Paris. It was only the designer's third show. "Three girls came out," recalls Simons. "It was a split second - I knew I wanted to do fashion."
Margiela's anti-fashion aesthetic - including dresses made from plastic bags, shredded army-surplus socks and discarded fabric - is an odd link to the rarefied world of Dior. At least, on the surface. But Simons is never preoccupied with the surface of things. I suggest that that emotional connection - the tenderness of people hand-crafting clothes for other people - mirrors that emotional reaction. Simons nods. "That's mainly what inspires me," he states. "Unfortunately, not for a lot of the audience, except the women who are still wearing couture. Especially a younger crowd, they really see it as spectacle. They don't see it as a thing which is about that relationship between people."
In Simons' universe, that isn't limited to couture, to women, or to the rich. "I wanted to make clothes for kids, in the beginning," he says. "We were young, we were going out."
* Read our interview with the director of the new documentary Dior and I here.
Initially, after his industrial design degree, he wanted to follow in Margiela's footsteps and study at the Antwerp Royal Academy of Fine Arts. However, Simons' early designs were sufficiently strong for him to leapfrog the education system, with buyers immediately wishing to order the pieces. "I went to show them to [his professor] Linda Loppa and she sent me to Milan to the sales agent for Helmut Lang. There was a weird moment where, a week ago, I was trying to make clothes to make Linda believe I could be her fashion student, and the week after I had to borrow money from my mum and dad to buy a fax machine because this guy was calling me to say that he wanted to send orders. I got, like, nine orders."
Simons figured out how to produce the clothes, the buyers bought, and his business was born.
Is the Dior woman the Raf Simons woman? "No." Short, and emphatic. "The Jil Sander woman is not the Raf Simons woman; the Dior woman is not the Raf Simons woman. My persona comes in the game all the way, of course. I also see my role very differently. When you're your own brand, and when you're a creative director, it's two different worlds and two different mind sets. It doesn't mean one is more or less important."
Simons continues: "My opinion is that a creative director in a huge institution is ... how do you say? You enter, and you're going to go out. I could never take the attitude that this thing stands or falls with me. No. My brand, yes, but Dior or Jil, no. What attracts me is the curatorial aspect of it. When you step into a mind-blowing, huge institution, and you're given the opportunity to try and do something great and meaningful there. That's how I experience it. I don't experience it as something that I have to make mine. It's not mine. It's just something that I think could mean something for women."
Ultimately, that's the impact of Simons, and his Dior. It seems modest, but it's all-important. In a fashion landscape over-populated with insignificant, irrelevant designers, Simons is a rarity: a designer who really matters. A designer whose clothes actually mean something.
* See highlights from the Dior Fall 2014 couture show here:
Share this: