Sexy Confidence at Oscar de la Renta
A confident, sexy look at Oscar de la Renta at New York Fashion Week, as new designers Laura Kim and Fernando Garcia redef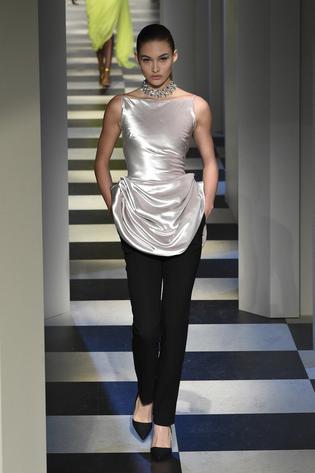 The new designers at Oscar de la Renta, Laura Kim and Fernando Garcia, debuted with a doubleheader. First, they presented their own collection, Monse - a line that garnered them buzz and attention within the fashion industry for its deconstructed shirt-dressing and easy luxury. And then, after a pause in the action, they unveiled their first collection at Oscar de la Renta - the house where they began their careers.
Although the show notes explained that Monse would be presented first, there was really no need for such clarification. It was immediately clear from the first look exactly when the Oscar de la Renta portion of the show began. But it was also immediately clear that the brand had changed.
Unlike labels such as Ralph Lauren and Calvin Klein that are so rooted in Seventh Avenue's legacy of sportswear, Oscar de la Renta has always been more formal, more polished. It has always looked rich and vaguely regal - which is why so many first ladies have historically relied on it for large parts of their public wardrobes.
But even close followers of fashion probably couldn't recall a particularly dynamic daytime look from the brand. Oscar de la Renta was known in the popular imagination for its evening gowns. They are regularly worn on the red carpet and fill gala ballrooms from Washington to San Francisco. They had a timeless, fairy-tale quality to them, satisfying the desires of young brides as well as sophisticated matrons by tapping into a universal desire to be "pretty," however one might personally define that.
Jenna Bush was married in an Oscar de la Renta gown. So was Amal Clooney. Laura Bush wore Oscar to her husband's second inauguration. So did Hillary Clinton.
Just before the designer died in 2014, he hired his replacement: Peter Copping. But after only a handful of seasons creating pretty dresses with lingerie flourishes, Copping was gone.
But now, Garcia and Kim are giving the house a new definition of pretty. It is one that is more contemporary, more in sync with the ways in which it is defined in the broader culture. Pretty is sexier, tougher, more coolly confident.
At Oscar de la Renta, pretty is no longer epitomized by a frothy dress. The focus in on pants, punchy colors and a more relaxed sensibility. Of course, there are ballgowns - with big, wide molded skirts. The dresses are technically beautiful, with their lavish embroidery and luxurious fabrics. They aren't especially interesting, but they are there for a woman's charity circuit needs.
Slim trousers - in black, or in gumball shades of fuchsia and kelly green - dominated the runway. They were worn with perilously high pumps. They looked unbelievably uncomfortable - but they also looked fabulous. So pick your poison.
The trousers looked smart and lean paired with cocoon-like cashmere coats as well as tailored ones in dyed or sheared mink. But the designers dressed their trousers up even more by matching them with draped, panne velvet tops. As the models walked with their hands resting casually in their pockets, the effect was of a lustrous top that had been gracefully pulled up to rest easily along the hip.
Oscar de la Renta is no stranger to pants. But these are not merely serviceable pantsuits. They are not a new version of a power suit. Not a just a nod to America's sportswear history. They are pretty.
- The Washington Post
Share this: