Meryl Streep Hits Back at Karl Lagerfeld
The Chanel designer falsely claimed that the actress passed on wearing a dress because she wouldn't be paid - and Meryl has hit back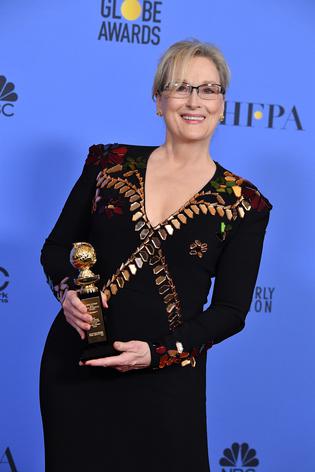 Meryl Streep is mad at designer Karl Lagerfeld.
Last week, the designer claimed to WWD that the actress had passed on wearing a Chanel gown to the Oscars when the brand would not pay her to do so. 
Pay for wear has become a commonly accepted practice, as the red carpet industry has boomed and become lucrative.
READ: Red Carpet Celebrity Stylists to Know
But a representative for the esteemed actress, who is nominated for her 20th Oscar this year for her role in Florence Foster Jenkins, told The Hollywood Reporter that the claim was false and that it was "against [Meryl's] personal ethics to be paid to wear a gown on the red carpet".
Meryl's stylist Micaela Erlanger - who has dressed her in the likes of Givenchy, Valentino and Marni - told The Business of Fashion, "At no point were there any conversations regarding monetary compensation. Nor were any other brands considered based on their willingness to pay for placement. This is not how my company operates and is very much a practice in conflict with Ms. Streep's personal ethics. Any reports or quotes stating otherwise are a complete fabrication".
Chanel then issued a statement to explain.
"Chanel engaged in conversations with Ms. Streep's stylist to design a dress for her to wear to the Academy Awards, with the full understanding that she was considering options from other design houses. When informed by the stylist that Ms. Streep had chosen a dress by another designer there was no mention of the reason. Chanel wishes to express our continued and deep respect for Ms. Streep."
GALLERY: The Coolest Oscars Red Carpet Dresses of All Time
But Meryl is not impressed, and has followed up with her own strongly worded statement released to WWD:
"In reference to Mr. Lagerfeld's 'statement,' there is no 'controversy': Karl Lagerfeld, a prominent designer, defamed me, my stylist and the illustrious designer whose dress I chose to wear, in an important industry publication. That publication printed this defamation, unchecked. Subsequently, the story was picked up globally, and continues, globally, to overwhelm my appearance at the Oscars, on the occasion of my record-breaking 20th nomination, and to eclipse this honour in the eyes of the media, my colleagues and the audience. I do not take this lightly, and Mr. Lagerfeld's generic 'statement' of regret for this 'controversy' was not an apology. He lied, they printed the lie, and I am still waiting." 
Share this: