Our favourite fashion reads right now
Add these stylish new tomes to your bookshelf.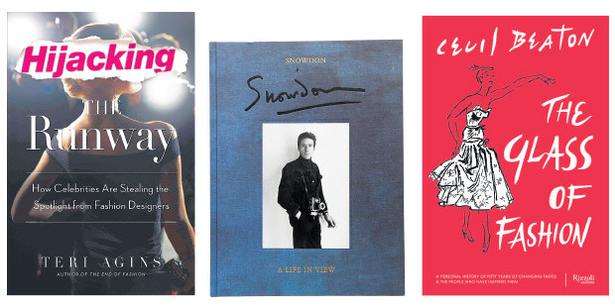 Thursday Nov. 27, 2014
Hijacking the Runway, by Teri Agins. Published by Penguin, $40 (available December).
In 1999, Wall Street Journal reporter Teri Agins released The End of Fashion, an insider's look at how mass marketing changed the business of fashion. It's still an important and fascinating read today. Agins finally follows it up with Hijacking the Runway: How Celebrities Are Stealing the Spotlight from Fashion Designers, looking at the fame-obsessed fashion market today through the lens of the red carpet and social media, as well as the celebrity designer versus the designer celebrity.

Snowdon. A Life in View. Published by Rizzoli, $149.
A coffee table book that fashion, photography and royal fans will adore, presenting the influential work of Antony Armstrong Jones, known as Lord Snowdon, alongside an exhibition at the National Portrait Gallery in London. The retrospective features 175 iconic images from the photographer's varied body of work: a young Prince Charles and Princess Anne in 1956, designers Gianni Versace, Azzedine Alaia, John Galliano in 1990, his "breaking down barriers" series from hospitals in the late 1960s.
Friends and fans also share their comments and stories, from Grace Coddington to Graydon Carter, Suzy Menkes to A.A. Gill, plus Snowdon's memories, unpublished Polaroids, private scrapbooks, and letters from his archive.

The Glass of Fashion: A Personal History of Fifty Years of Changing Tastes and the People Who Have Inspired Them, by Cecil Beaton. Published by Rizzoli, $55.
Known for his beautiful portraits, Cecil Beaton was also a compelling writer. The re-issue of this 1954 classic presents his poetic prose to a new generation, with Beaton's witty commentary on fashion, history and style ("You can lead a woman to Dior, but how she will look in it is another matter") paired with line drawings of stylish women through the ages. Think of it as the original style guide, much of which still feels relevant today.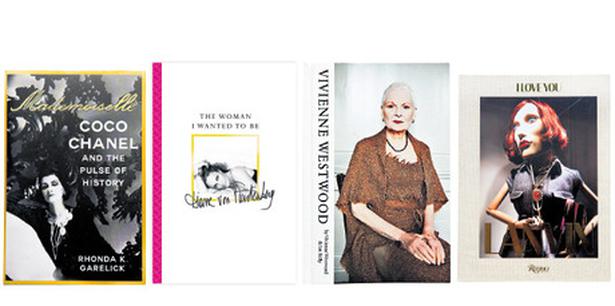 Mademoiselle: Coco Chanel and the Pulse of History, by Rhonda K Garelick.Published by Macmillan, $44.99.
The cult of Chanel means that much has been written about its founder, Coco, whose own story continues to fascinate biographers. This new offering looks at the visionary in a historical context rather than through the narrow focus of fashion: how she interpreted the key moments around her into her designs, and how her own life was affected by the events of the 20th century.

The Woman I Wanted to Be by Diane von Furstenberg. Published by Simon & Schuster, $32.99.
Dividing her memoir into two sections - the personal and business - designer Diane von Furstenberg writes passionately about her fascinating life, career and business; sharing her journey in becoming the independent woman she wanted to be. From the ongoing influence of her mother, a holocaust survivor, to the business decisions, good and bad, that have made her one of the most influential designers in the world, von Furstenberg opens up about a remarkable life that most of us can only dream of.

Vivienne Westwood, by Vivienne Westwood and Ian Kelly. Published by Picador, $44.99.
A brick of a book that tells the incredible story of the designer, activist and living legend. Written with Ian Kelly, Vivienne Westwood's autobiography spans her pre-fashion life as well as her five-decade career. With photos of past collections, childhood and old campaigns throughout, Westwood talks freely about Malcolm McLaren, her role in the rise of punk and how she believes she is still punk ("Same attitude, but with ideas more developed, more solid and, hopefully, more earth-changing than we managed first time around").

Lanvin: I Love You, by Alber Elbaz. Published by Rizzoli, $139.
A gorgeous monograph that celebrates the work of Alber Elbaz for Lanvin by showcasing the unique, often surrealist, window displays created for the Rue du Faubourg Saint-Honore boutique. It's an interesting update for a fashion book, publishing more than 200 scenes created for the Paris store and one-offs shown around the world, rather than the usual brand archives or inspirations. Elbaz writes that windows are the most direct way to communicate with people, and he uses them to extend the ideas behind his runway shows.
Share this:
More Fashion / The Latest