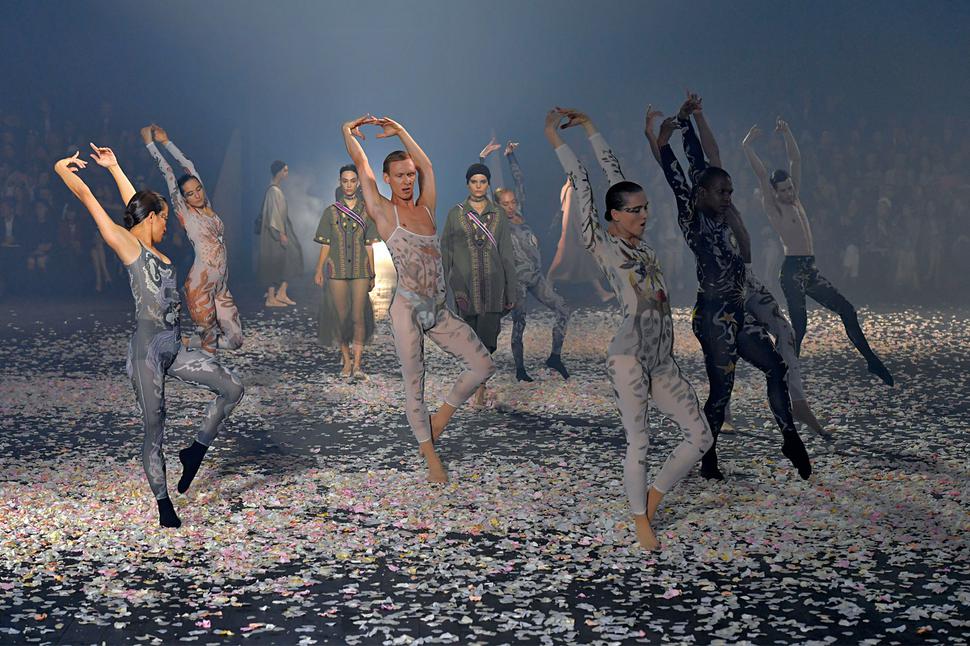 'Outside There Is A War,' So Dior & Gucci Offer The Fashion Equivalent Of Self-Care
Fashion has a choice: to reflect the madness or offer an alternative, says Robin Givhan
Thursday Sept. 27, 2018
The Spring 2019 womenswear collections opened in Paris with a dance: an exploration of beauty and grace on stage at Dior. It began with a singular body in a form-fitting catsuit rising up like the tide under a spotlight in the middle of a darkened Hippodrome de Longchamp.
Choreographed by Sharon Eyal, the solo dancer was soon joined by seven others — both men and women — who moved in unison and yet with individual aplomb. The dancers were both tall and petite, some as perfectly etched as "VItruvian Man" and others with the gravity-defying heft of a Mark Morris star.
Each body throbbed to the rhythmic music, their intake and exhalation of breath transformed into full-body poetry. They strutted on their toes like some exotic runway bird — backs arched, tushes tucked under, arms beating the air like powerful wings.
The dance was a thing of beauty. A kind of human witchcraft in which the body is transformed into pure grace and emotion. They are mesmerising when they move individually. But when they flow in unison, they are almost a miracle.
Lord knows a little human grace is needed right now. We need a reminder of what can be accomplished when chaos gives in to harmony. Is there a need for an accounting of all the turmoil, the many storms? No. Everyone knows. They are personal, societal, political, existential. They are the monsters that haunt our dreams, that turn social media into a cesspool of bad news and recriminations.
Fashion has a choice: to reflect the madness or offer an alternative. The spring collections opened here by focusing on the power of alternative narratives.
At Dior, creative director Maria Grazia Chiuri offered a kind of meditative poetry, a distillation of the human body to its essential beauty of lines, angles and curves. Her palette of blush tones and desert landscape neutrals, along with the midnight blue of the night sky, was soothing balm in a world that has become a red-hot firestorm.
There were not many new design ideas in Chiuri's collection. There were familiar flowing dance skirts and form-fitting tops, blazers cinched with slim belts, berets and ballet slippers. But this time, Chiruri's argument for why these clothes are needed now was more convincing than it has been in past seasons.
These are not the clothes for marching in the streets or storming the corporate boardroom. These clothes epitomise self-care. If they have a message, it is about taking a moment to shut out the noise and listen to the quiet.
READ: Must-See Dior Fashion Illustrations
In her show notes, Chiuri includes a quote from choreographer Eyal about dance: "It's not a question of bodily perfection, but of flexibility and strength of movement." It is a tenet that could be used in a host of circumstances. We shouldn't hold ourselves or others to the standard of perfection but instead honour the work and recognize human flaws, stay strong but not at the expense of flexibility.
"Fashion is more powerful than you think," says Alessandro Michele, creative director of Gucci, during a conversation with journalists after his show. Fashion can take you to a different place; it can change your mindset, he says.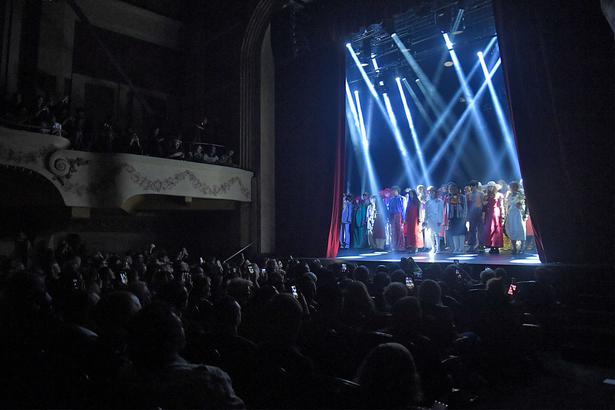 The Gucci Spring/Summer 2019 fashion show was staged at the Theatre Le Palace, a famed Paris nightspot. Photo / Jonas Gustavsson — The Washington Post

The Italian designer had decamped from his usual venue in Milan to present his collection at the Palace Theatre, a place that once had the buzzy vibrancy and cast of characters of Studio 54. Staged as more of a theatrical production than a runway presentation, the Gucci show opened with jarring, static-filled clips of experimental Italian cinema. The parade of models was interrupted at its midpoint when the actress Jane Birkin rose from her seat in the audience and began to sing.

READ: Inside the New Gucci Garden in Florence

"We stopped the fashion show with her performance because in our life we have breaks," Michele says. He wanted to recreate that herky-jerky rhythm in the theatre. The show ended with his cast of misfit models lined up on stage in his signature mix of high and low style, extravagance and kitsch, sequins and Glen plaid, fringe and knife pleats.

His soundtrack was cacophony. The distorted voice of Maria Callas was sometimes drowned out by the sound of helicopters, sirens and traffic. "Outside there is a war," Michele says. "Not a real war, but a metaphorical war. There's chaos. But inside, time stops." In Michele's world, there's no screaming Twitter feed, no constant news alerts.

"My way of seeing fashion is very personal," he says. Michele presents fashion as a swirling world of creativity from which everyone can draw. What we choose and how we assemble it is an expression of our individuality, but the fact that we are all drawing from the same pot of ingredients is what connects us.

The power of Michele's vision is not in the single eccentric that he sends down the runway. It's not the lone figure in the ivory turban and the spangled fuchsia and red dress. It's not the one man in the ivory jacket with the fringe and the red sequin embellishment. It's the two of them together and standing alongside the girl in the orange jumper with the black and white harlequin patterned shirt, who's shoulder-to-shoulder with the person in the sequined Gucci print suit who is situated alongside the guy in the pastoral-printed dress.

READ: Gucci's Subversive, Gender-Fluid Brilliance at Milan Fashion Week

It's all the weirdness and quirkiness together that makes one realize that it's the kaleidoscope of eccentricities and oddities that make everything so interesting and beautiful and worthwhile.

Yes, fashion is about the numbers. Musings about the resurrection of the Jean Patou fashion brand and reports of Michael Kors buying Versace for $2 billion have taken up a lot of oxygen here. And let's not forget that this is an industry struggling with labour practices, copyright protections and tariffs. But what distinguishes it from other businesses is epitomized by that motley collection of Gucci characters on stage at the Palace Theater and in the glorious dancers at Dior. Fashion has the ability to help us inhabit our body in a manner of our choosing.

 — The Washington Post 

 
Share this: