Paloma Elsesser on Lonely, Confidence and Creativity
Model, writer and Instagram star Paloma Elsesser stars in Lonely's new campaign
Tuesday Feb. 9, 2016
New York-based model, writer and student Paloma Elsesser has unwittingly become a role model for body positivity through her popular Instagram account, where she actively speaks out about embracing her identity. Paloma is championing that message of self-love as the star of Lonely's latest campaign, which reinforces the idea that Valentine's Day should be a celebration of one's self. Here, the model talks about confidence, shooting the campaign with Mayan Toledana and Zara Mirkin, and respect.
What stimulates you creatively, where do you gain inspiration from in personal projects or life in general?
I am constantly inspired by my emotions. My place in the world and the reference in which I understand it. I am stimulated by the world and how people interact with each other, how people interact with the world it self.
The locations of the Lonely shoot look amazing, can you tell us a bit about what it was like to be there, and the general vibe of the locations you were in? Did you connect with any setting specifically?
The locations were surreal. This insane mash up of beauty and repugnance. For instance, the salton sea. It's an intensely impoverished area with a looming stench of pollution where fish carcasses line the beaches and people never leave. At first, you're totally grossed out and then you see the sunset hit the flat, still "sea" and the reflections of pink and blues layer up into the sky and you're in awe of the beauty that is surrounding you.
We also went to this crazy old hotel in Dessert Springs. It has so much history. It was once this happening tourist spot and then over the years was never updated because people stopped coming. The locals who have been going forever sit in the hot spring pools with leathery skin and lite beer. It's like being in a movie. So awesome.
READ: Lonely Captures Our Hearts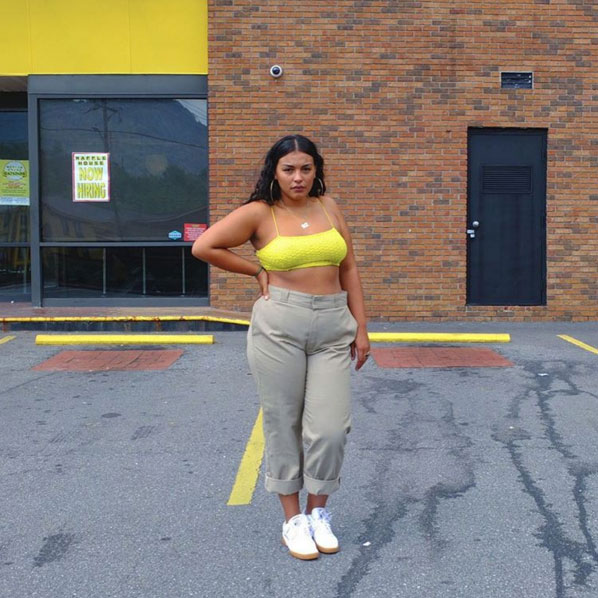 Paloma Elsesser. Picture / @palomija.
What was the connection between yourself and Zara and Mayan, who shot this campaign?
Zara and Mayan are friends and inspirations to me. I've shot with Zara before a while ago and we have a million friends in common. Mayan is a friend I've known for a while and have always admired both of their work. This trip wasn't work at all. It was a fun girls trip where we took photos along the way. I love Zara and Mayan so much and their adoration towards women (all kinds) is really reflected in the way they take photos. Real, honest photos that show the beauty in difference. Femininity captured in a way that is not only modern but also timeless.
Where or what do you gain confidence from — is it something you have always had?
I gain confidence through experience. Evaluating how I maintain in the world with strength allows me to feel good and safe in myself. I've never fit the 'ideal' model of beauty but I accepted it. I accepted that I am who I am and the only way to live as wholly as possible is to understand that and work on loving yourself despite the differences we've been taught to despise.
What body part do you love and celebrate the most?
Well, I celebrate my face a lot.
How best do you show love and respect for yourself and your body daily?
I acknowledge the negative thoughts I have and let them float away and replace them with a positive action.
What message or ideas do you hold close that you would pass on to other women?
There is room for everyone.
Share this: