5 Things to Know from Paris Fashion Week
The atmosphere in Paris may remain subdued after last year's attacks, but the fashion powerhouses served up standout provocative collections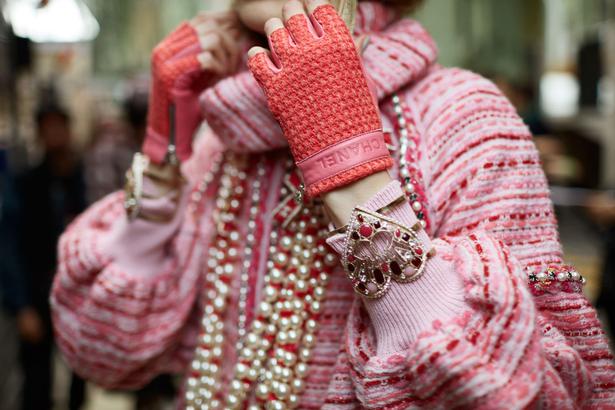 Friday March 11, 2016
If each era gets the fashion it deserves, some of us have been misbehaving. Awkward proportions, clompy boots, dour colours and Millet's-inspired outerwear were all present on the Paris catwalks. We might be comfortable and warm, but we may not want to keep the photographs.
But the week's main talking points - Balenciaga, Loewe, Vetements and Saint Laurent - gave opposing, jagged impressions of the City of Light. Since the attacks last autumn, Paris is gradually, notionally, returning to normal. But one constantly encounters people who knew someone who was at the Bataclan on the evening of Nov 13, or who should have been at Le Petit Cambodge, the Cambodian restaurant on the Rue Bichat. The bistrots don't echo emptily as they did in January. But beneath the bustle, the atmosphere is jittery.
The economy is stagnant. That traditional Parisian surliness has lost its swagger and acquired a despondent aftertaste. All of this is eerily mirrored back from the reflection of those shiny catwalks. At some of the crown jewels of French fashion, it appears there is no one to do the polishing. Dior and Lanvin still have not found new creative directors.
This has been making retailers mighty anxious, especially now that China seems to be reneging on its potential as an insatiable luxury market.
1. Balenciaga is back in fashion
Balenciaga has found a new designer: Demna Gvasalia, a Georgian, who also heads Vetements, a collective of seven designers, whose canary-yellow, $385 T-shirts emblazoned with DHL (did they breach a copyright there?) and $1890 frayed jeans have become bestsellers. Gvasalia previously worked at the avant-garde French label Martin Margiela and his provenance shone in his Balenciaga debut, with compellingly strange Margiela-esque tailoring that pushed the models' shoulders forward slightly, and made some of the thinner, slouchier ones look as though they had scoliosis. Presumably this will be "modified" for commercial purposes.
The resolutely utilitarian, but luxurious parkas and duvet jackets with Balenciaga logos on the back are clearly hits in the making.
Not everyone is convinced (there have been comparisons already with Gap's adventurewear collections and a new popular name for the label thanks to the shopper-style bags: Balenciasda). But there is no doubt that Balenciaga is once more a talking point. The retailers' relief was palpable. They have found their new cash cow.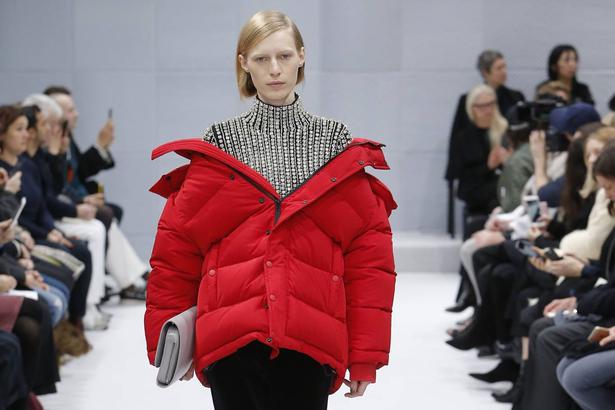 2. Searching for Hedi
With Gvasalia now occupying the role of Fashion's Rebellious Spirit and Gucci's Alessandro Michele creating waves in Milan, Saint Laurent's designer Hedi Slimane (previous holder of Fashion's Rebellious Spirit title) was rumoured to have flounced off. No one expected Monday's show to go ahead. Then came word that only a 100 guests had been invited.
For the clothes, Slimane looked to Saint Laurent's Eighties archives. Teeny metallic mini skirts, one-shouldered tops with huge bows, or one sleeve trimmed with shark-fin ruffles, pleated black leather trousers, wide belts, furry chubby coats with vast, built-up shoulders and classic, sky-high pumps. In their sheer black tights, pin-thin stilettos, with lacquered-red lips and eyes orbited with dark powder, the models look as though they were on their way to Le Palace, the fabled Paris nightclub, long since closed. These are old-school Saint Laurent hallmarks, though with far more black than he went in for.
It's a brittle aesthetic, exacerbated by the models' extreme skinniness, but the audience loved it, as will legions of young women who don't remember it from first time round. It represents a distinctive strand of classic Parisian glamour, from a decade when the city was still culturally confident. After repeated complaints that Slimane's ready-to-wear often looked cheap or didn't fit the models properly, this was technically impressive. The crowd loved it - applause for previous Saint Laurent shows has been nowhere near as enthusiastic. Even so, Slimane cannot help but attract speculation - probably because he refuses to comment. "So," said my American colleague, when the clapping died down, "I suppose this means he's going out on a high."
GALLERY: Inside Paris Fashion Week
3. Details, not trends, please
No one talks about trends any more. We must now refer to details. These are the ones that count for 2016: frayed hems (all jeans must now feature this embellishment); high waists and wide hems, glittery, fuzzy textured knits (worn day or night, a ruffled jumper is the new jacket); top stitching, wide capes, bandolier bag straps (rule #974, the smaller the bag, the wider the straps); mid-height heels rather than flats; and hemlines that almost graze the ankles.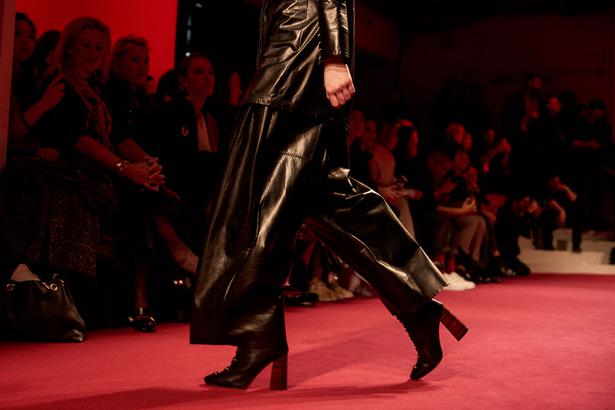 4. The mighty Chanel
Thanks to its continuing policy of buying up otherwise unsustainable craft enterprises, Chanel has tremendous resources. This week's spectacle, which brought the entire audience on to the front row and centimetres from the clothes, placed every detail under another (megawatt) spotlight.
But first the big picture. Karl Lagerfeld is having fun with layers and proportions. The tweed skirt flares gently below the knee or grazes ankles. Jackets, as you might expect from the House of Jackets, are from waist to hip length, but most elegant when they are cropped.
Freshest were those with short sleeves, layered over slender tweed, long-sleeved tweed or knits sleeves and under shrunken cape-scarves. Capes will be everywhere come autumn. Chanel's A-line, cape dresses, with signature contrasting trims, were a cosy variation on a theme and a neat take on the fashion's obsession with shrouds. The mania for quilted jackets made it to Chanel, not surprisingly, since quilting is a house speciality. Oyster satin, with embellished cuffs and scarf, this is the Monaco version of polar-exploration clothing.
As for the details. Lashings of pearls - as necklaces, cuffs and embellishment. Flat boots, some with tweed chaps. Velvet 2.55s, some with Karl's cat, Choupette, peeping among the floral embellishments. Others with small umbrella compartments. This is function and frivolity in a gilt-chain trimmed delicious package and the proximity of it all made sense of the set-piece fashion shows. How good was it? Phenomenal.
GALLERY: See Every Look from Chanel FW16
5. Everything is oversized
Perhaps the Kardashi-fication of fashion is slowing, says Victoria Moss. While Kendall Jenner opened the Balmain show strapped into thigh-high boots and apuffball mini skirt, against this is a comfort revolution.
On the other side of planet fashion, the British triumvirate of chic in Paris - Stella McCartney, Phoebe Philo and Clare Waight Keller of Chloe - who consistently come up with the clothes we want to wear - were all talk of how to ease our busy lives with no-brainer dressing.
Thus, everything is baggy and oversized with androgynous overtones, slipping off the figure in a languid fashion, all too casual to care.
Philo's answer came in chunky bobbly knits worn over splice-fronted wide-leg flares; oversized trench coats and jackets were held together by cross-body bags and belts because, frankly, who has time to do up a zip? McCartney took duvet dressing to new levels with ginormous velvet puffa coats, while super-sized grey coats had giant pockets, and trousers flowed over rubber soled pointed flats. At Chloe, Waight Keller proved the fashion adage to "never rule anything out" by bringing the Millet's stalwart, an outsized fleece worn with loose culottes, to the catwalk. And against the odds, it worked.
— The Daily Telegraph
Share this: