Paris Fashion Week: How The City Of Lights Faced Its New Reality
As lockdown rules loomed in the French capital, the city's designers rallied with shows full of optimism. Here's a wrap up of some of the highlights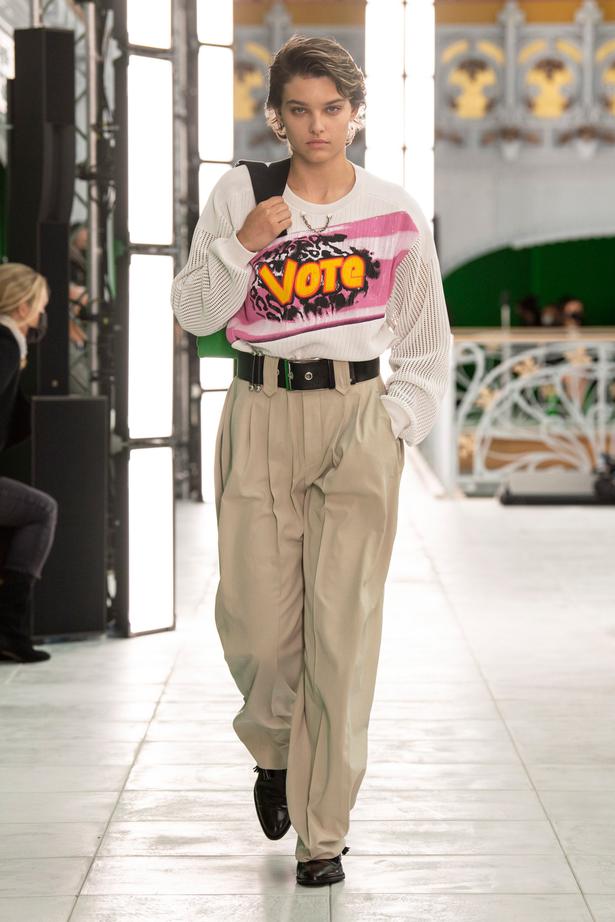 Sunday Oct. 11, 2020
Loewe
Rather than climbing the walls during lockdown, Jonathan Anderson has been dressing them. The designer's collection for Spanish house Loewe was all developed remotely from his home in London, prompting him to create a 'Show-on-the-Wall'. Journalists and customers were sent life-size posters of items in the collection, as well as a roll of Anthea Hamilton-designed wallpaper, pastes and brushes.
A surprising number of followers were game for redecorating (those who pledge allegiance to Anderson's school of thought do so wholeheartedly) and now a scroll through Loewe's Instagram page shows efforts by bloggers who papered their downstairs loos in a print which had been applied in the collection to a suit with balloon sleeves and trouser legs.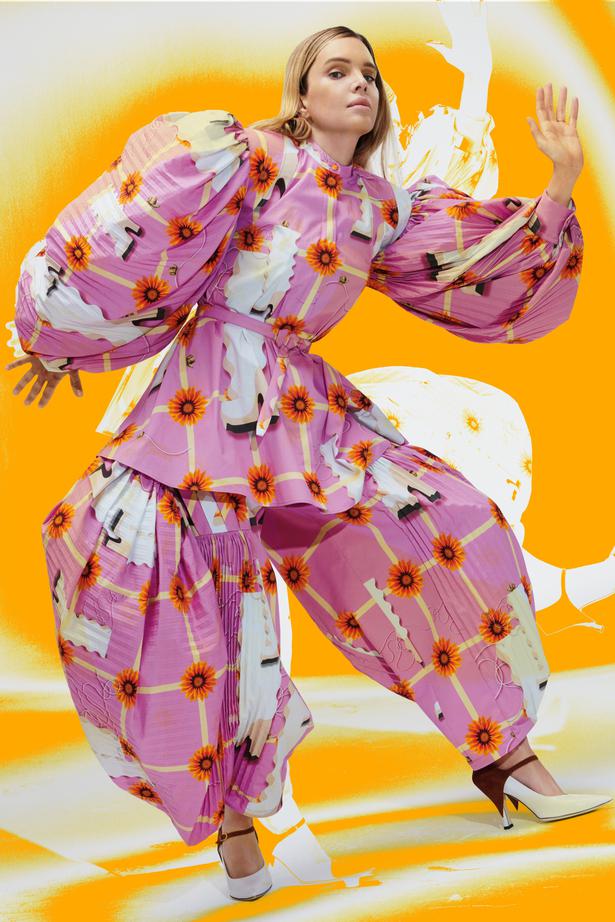 Anderson's art was certainly multidisciplinary and the clothes he showed were sculptural. Corset boning was manipulated to create theatrical crinolines and dresses featured giant fabric knots, or puffball hems. He was doing it all, he explained, to remind people of 'the art of fashion'. — Caroline Leaper
In a nod to both the prevalence of unisex designs and his own desire for a trimmed-down fashion calendar, Dries Van Noten showed his men's and women's collections together for the first time, shooting them with Dutch photographer Viviane Sassen on a wind-swept, big-sky beach near Rotterdam.
READ: Dries Van Noten Looks To Pioneering New Zealand Artist Len Lye For Inspiration
It is no surprise that Van Noten, who has been vocal in calling for changes to the frenetic fashion schedule, chose not to host a live show, but his aesthetic came through even without the pomp and ceremony of a catwalk. The clothes were carefully considered, with colours, prints and layers used boldly in some designs and sparingly in others: think a white cotton shirt worn with loose dark shorts and a dazzling gold anorak or a plain black coat thrown over a scarlet cut-out skirt. The combination of these low and high energy pieces with the cool sunshine of a Dutch beach was strangely dynamic and resulted in a collection more youthful than anything we have seen from him in years. - Melissa Twigg
Chloé
In 2020, pavements and parks have become our catwalks. With fewer proper events to dress up for, a walk to the shops or a picnic has become as exciting as a wedding or birthday party might have been before.
I'll admit, I was confused when I tuned into Chloé's spring/ summer 2021 show. Were the models just milling around nonchalantly on the street before it began? And who was this elderly couple shuffling across the screen obscuring my view? It was soon clear this was the show… the joy of people watching translated to virtual fashion show format.
MILAN: Versace's 'Versacepolis' Was A Glorious Celebration Of Size
It was a bit like David Attenborough-does-fashion-week; 'the girls were in the wild, we couldn't control what was happening… we just decided to embrace the risk,' said Chloé's creative director Natacha Ramsay-Levi.
As for the clothes, they had all the effortless boho elan for which Chloé is known. There were updates on the '70s shapes in which the Chloe look is rooted; shirts with pointed collars, subtly flared trousers and long, languid maxi dresses. Just the sort of look you might walk past in the park and want to emulate. If you lived near a very stylish park. — Bethan Holt
Hermès
You're the world's most famous purveyor of luxury leather goods, how do you react to a year which has upended how we live entirely? Create the most sumptuous, beautiful clogs the world has ever seen, of course. They came in shades of conker, chai latte and an optic, surgical white, and instantly seduced the fashion crowd watching from home.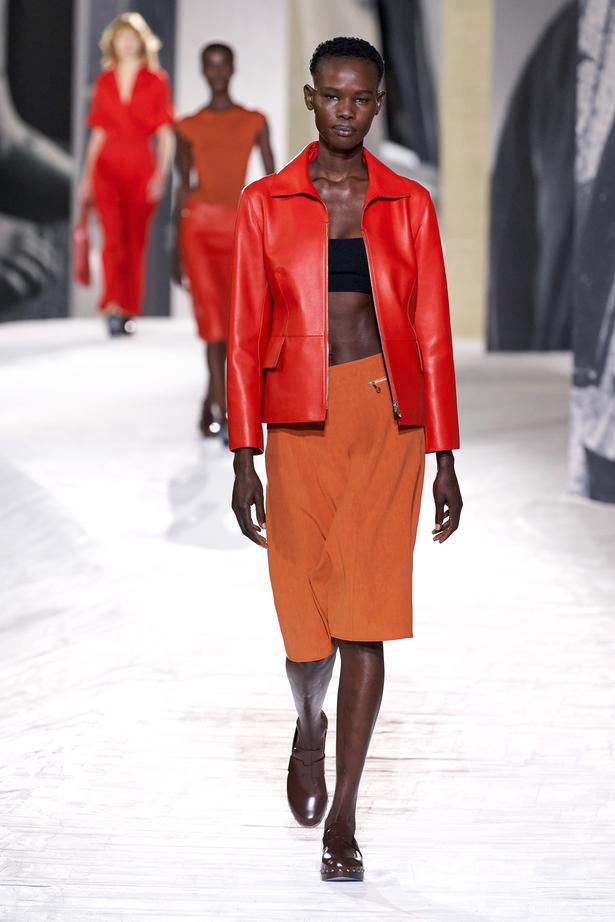 Creative director Nadège Vanhee-Cybulski was offering hugs in fashion guise in this collection via the obvious routes - buttersoft leather pinafore dresses and enveloping cashmere coats — and in more intelligent, nuanced forms; who wouldn't want to snuggle their neck into the rolled-up collar of a relaxed sweater or coat? It's a solution ideally suited to Hermes' constantly travelling clientele. And if they're grounded for a while, it'll be just the thing to rest one's head against while we wait.
The big colour news from the show that you could do now: try pairing soft baby blue with the palest beige. Those clogs, after all, are bound to have quite the waiting list. - Bethan Holt
Kenzo
A particularly wholesome form of face-covering was on display at Kenzo - offering protection not from a virus, but from bees. With chiffon material in colourful prints draped off wide-brimmed hats, the collection brought to mind the sort of bucolic countryside activities we were briefly obsessed by this summer.
READ: Innovative Fashion Designer Kenzo Takada Dies Aged 81
Flowers - necessary for the bees of course - were a staple, with the show set in a Parisian rose garden and florals covering larkspur-coloured jumpsuits and oversized lilac three-piece suits. The poppy and hortensia patterns of the '90s were also revived, dotted across everything from shirts to boiler suits, but faded and blurred as if they were being looked at through a rainy window. The eponymous Kenzo died last week, but designer Oliveira Baptista keeps the flame burning. - Melissa Twigg
Giambattista Valli
Is Giambattista Valli auditioning for Karl Lagerfeld's old post at Chanel? The clues were there; from a freshly minted interlocking GV logo on accessories, to sure-seller piped boucle jackets.
Typically, Valli is Paris's authority on froth - his enormous tulle dresses capture the attention of the Instagram audience, and the custom of the red carpet set. But in 2020, there haven't been many galas to go to. It was time, the designer said, to make it "chic to talk about business".
Good business is what Lagerfeld excelled in at Chanel (he created a legacy at a brand so solid that it flew past £9 billion in sales in 2019). So why not pursue the same line of thought? For Valli, though, it was the ruffle tiered day dresses and the pretty, botanical print separates that felt like the most natural winners - pieces that his woman can wear on a low key holiday, or as a guest in the new era of small weddings. — Caroline Leaper
Dice Kayek
Sometimes a collection is so packed with prettiness it makes you feel like a child in a sweet shop. My mouth definitely watered at Dice Kayek, which was filled with buttery yellow brocade trouser suits, tangerine-orange pinafore dresses with ruffles on the hem, and bow-strewn mint-green skirts.
The Turkish born, Paris-based designers and sisters Ece and Ayse Ege shot the collection in Istanbul and were inspired by the idea of girls being homeschooled and using their imaginations to transform into princesses in doll-like clothing. And while dresses that come with balloon sleeves and Christmas-present-bows are undoubtedly designed to make us dream, the majority of the collection is actually very wearable.
Yes, 2020 might not be the year for them, but it is difficult to look at clothes like this and do anything other than smile. And really, what could be more necessary than that? - Melissa Twigg
Dior
Maria Grazia Chiuri, Dior's Creative Director, has been on a mission to soften Dior's totemic Bar jacket since she joined the house almost four years ago. 2020 provided her with good reason to design her most deconstructed collection to date with calf-length skirts in soft, pre-washed fabrics and embroidered or African-inspired wax-printed wrap jackets. The latter, which could be cinched at the waist or worn open, were inspired by the "home" jacket Christian Dior introduced in 1975, based loosely on the kimono.
SHOPPING: Dior Beauty Opens Luxurious New Store
This was Dior's famous New Look from 1947 reconfigured for now. Filmy chiffons, ballet pumps, and white lace dresses became prettier and prettier as the cameras zoomed in but delicate and finely wrought as this was, none of it looked as though it should be saved for best. When no one knows when that might be, "for best" begins to seem an archaic concept. - Lisa Armstrong
Balenciaga
Balenciaga took its summer '21 collection out for a nighttime stroll in rain-slicked Paris streets. In a cleverly produced video that felt more MTV than Fashion TV, sunglasses models stomped intentionally toward the camera wearing dramatically oversized coats, shorts layered over tracksuit bottoms, leather jackets and trousers treated to resemble denim jackets and jeans. There were distressed sweatshirts printed with melting smileys or faded words reading 'PARIS FASHION WEEK'. There were fluffy utility sandals and high-heeled hotel slippers, and a new trainer, the X-Pander.
Almost everything was oversized, possibly because most pieces were unisex, a new direction that the house said would "diminish the environmental impact of a gendered production mode." In fact the sustainability of the collection was the main thing the house emphasised in a statement, citing that "93.5% of the plain materials in this collection are either certified sustainable or upcycled. — Emily Cronin
Louis Vuitton
Like the Chanel show, this one was screened live, from the deliriously OTT Art Nouveau department store opposite the LV HQ in Paris. Live invariably entails a few glitches. It was 25 minutes late starting and the sharpness of the images varied depending which platform you watched it on.
On the plus side, it had an immediacy other pre-filmed efforts lacked. Certain guests could also scroll around to see whom they would have been sitting next to if they'd made it to Paris. As for the collection: creative director Nicolas Ghesquire had clearly thought hard about the kind of clothes that might resonate now; that meant baggy trousers, often high-waisted, cocoon-shaped coats, blouson jackets, oversized jumpsuits and tank tops, all served up with a crisp, luxurious flourish that made this one of his most relevant shows to date - Lisa Armstrong.
Gabriela Hearst
Gabriela Hearst is both dogged and creative in pursuit of sustainable luxury. Everything from cardboard hangers and compostable plastic to chrome-free dyes; from humanely farmed leather to supporting mainly women collectives of artisans in South America is thought through.
The clothes for Sunday's show came to Paris by train rather than plane. Don't expect hair shirts however. Her tie-dye recycled cashmere, tassel-trimmed ponchos and shirt dresses painstakingly constructed from old pieces of individually silk trimmed lace are as desirable as they're virtuous.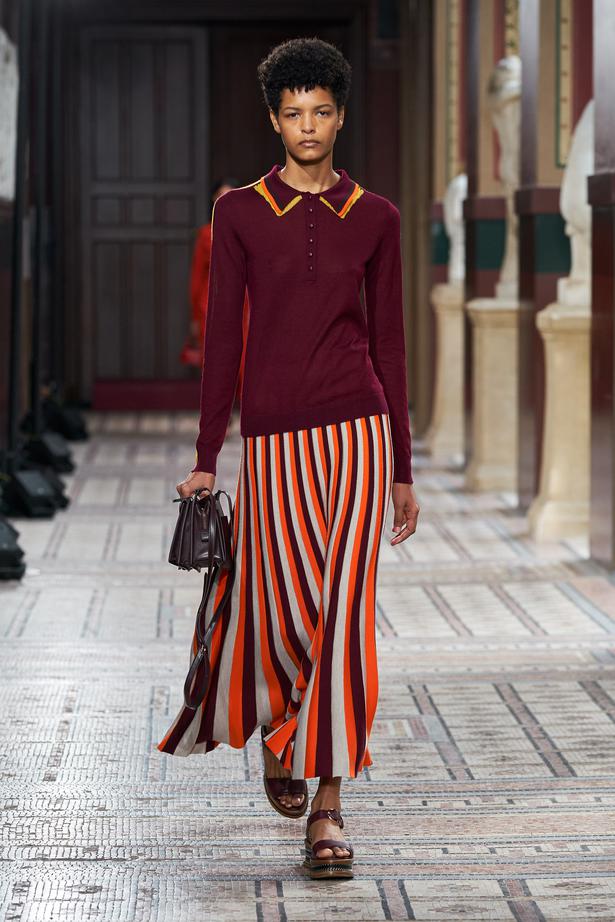 This tiny (by Chanel standards) label is an incubator of ideas and practices that are setting the agenda in luxury and becoming a go-to for women who realise that clothes have to semaphore more than mere taste, viz the Duchess of Cambridge who recently wore a blue Gabriela Hearst shirt-waister to meet David Attenborough. — Lisa Armstrong
Givenchy
Matthew M Williams, who has just taken over from the British designer Clare Waight Keller at Givenchy, is typical of a new generation of creative directors, billed as a creative and an entrepreneur as well as a designer. Born in Illinois, he began his career as a costume designer, producing stage outfits for Kanye West and Lady Gaga before working on their eponymous collections.
READ: Every Look From Prada's Spring/Summer 2021 Collection
Along the way he learned about tailoring: this debut was strong on boxy jackets with cutaways, drop shoulders and loose trousers, as well as athleisure. In a zoom preview, Williams was keen to highlight a reworked slouchy version of the Antigona bag (designed by Waight Keller's predecessor, Riccardo Tisci, now at Burberry) and the sole of a croc trainer that had been injected with 108 shots of air (three is around average). Literally walking on air. Williams' appointment is a volte-face for a brand that most recently dressed the Duchess of Sussex. This was more Gaga than Meghan. — Lisa Armstrong
Every Chanel collection has its Marmite moments and that's as true of Karl Lagerfled as it is of his successor Virginie Viard. The halter neck stretch catsuits and the red blouson metallic front cardigan with matching tweed bermudas are surely this season's contenders. The cropped tops and bare midriffs also split the jury.
READ: Every Look From Chanel's Spring/Summer 2021 Collection
However, Viard is slowly but surely finding her groove with subtly updated Chanel classics such as this tweed biker jacket and matching skirt in pink (pink is turning out to be a key for spring-summer 2021). Wide sailor pants, soft raglan sleeve jackets, men's waistcoats and a drapy tweed, sleeveless "pinafore" dress all hit the mark nicely.
Viard doesn't seem to relish kitsch as her predecessor did but she sure leveraged those ker-ching Chanel accessories into most outfits - plenty of jet and pearl jewellery and a square-toed, low block heeled sandal that should do the trick with anyone who hankers after a Chanel talisman. - Lisa Armstrong
Cecilie Bahnsen
Cecilie Bahnsen is one of Copenhagen's most exciting exports of recent years. Her marshmallow light (in look and feel) creations are the stuff of dreams for women who share a predilection for the delicately pretty and escapist. It was Danish painter P. S. Krøyer's image of two women walking on the beach at Skagen, Jutland which inspired her latest offering. In their frothy white outfits, the characters, if they existed now, might well be Bahnsen fans.
Although this collection was ostensibly part of Paris Fashion Week, the new digital world order means that designers have the freedom to experiment, so the clothes were photographed in windswept seaside setting, the featherweight silk and cotton poplins a light contrast to the elements. Pink was one of the most prolific colours in the Paris collection - something to do with sweet, sweet optimism? Bahnsen's dose was one of the most delicious… pink beads embossed on white created a raspberry ripple effect and more practical knits were a highlighter swipe on the blacks and whites which dominated. — Bethan Holt
Trust Miuccia Prada to devise a way to reconstitute the people-watching delight of a fashion show online. For Miu Miu's collection video, part of digital Paris fashion week on Tuesday, the designer convened some high-profile fans for a virtual front row. Projected onto a wall of the show venue were Alexa Chung, Karen Elson, Chloe Sevigny, Elle Fanning and other such starry friends… You had to wonder if there was any jockeying over positioning in this home row, or if everyone was just happy to be invited to the Zoom party.
READ: Watch: Miu Miu Spring/Summer 2021 Live Stream
But we weren't 'there' to people-watch, of course; we were there for the clothes. What we saw on the runway were clothes to suit you at work and at play. It was full of Miu Miu signatures: the beading and paillettes all over shoulders and iridescent slip dresses, the bows, the super-bright but slightly off colours (lemon, tangerine, shocking pink), the high-heeled trainer mules. There were colourblocked blazers and zip-up jackets that looked like luxe, retro tracksuit toppers, but shown with neat knee-length skirts. It was all about "polarity", Mrs Prada said after the show.
Oh, and there were stars on the catwalk too, with Lila Moss, Kate's daughter, making her runway debut. She opened the show in a boxy, stripe-shouldered blazer and closed it in a pink paillette-paved halter top with a tangerine micro-mini skirt, two outfits that encapsulated the having-it-both-ways appeal of this collection. — Emily Cronin
Share this:
More Fashion / The Latest