Why Joy is Back in Fashion
After some bleak times, fashion is ready to make you smile again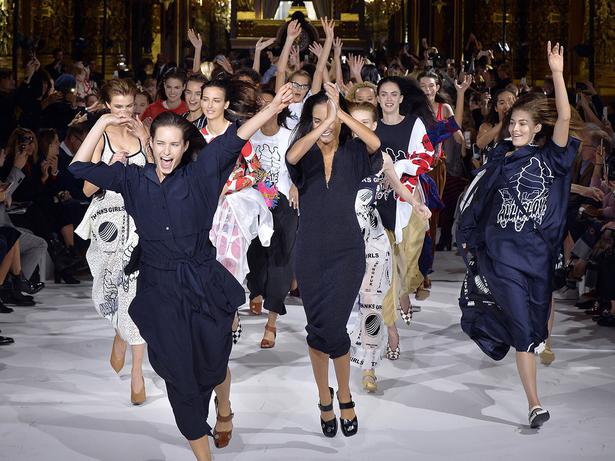 Tuesday Oct. 11, 2016
Joy. Is it so hard to come by?
Not contentment, which implies something more enduring, something that comes from within (although perhaps with the help of a therapist). Joy comes in a jolt, a sudden flush of pleasure. It may be momentary, but it's real. This is the business of fashion. It should put a smile on your face.
Lately, though, it has been a struggle. So as the internatoinal Fashion Week shows came to a close recently, applause goes to designers such as Dries Van Noten, Stella McCartney, Miu Miu's Miuccia Prada and Louis Vuitton's Nicolas Ghesquiere. They made folks smile.
GALLERY: Highlights from Paris Fashion Week
They sent out great clothes that were easy to wear, but interesting and distinctive. There was sharp tailoring and breathtaking colours and prints. Breezy caftans, ruffled dresses, men's shirting, shades of yellow and pink. And sparkles.
Fashion let down its guard, at least in some quarters. It stopped trying to be fierce, bad-ass and cool. At the finale of McCartney's show, the models danced. They clapped and howled as they ran down the runway in a dance that was choreographed but not awkward, and their delight in actually being able to take a deep breath and laugh was evident. At Vanessa Seward, the models looked happy. It was not a strained smile, like a TV pundit who spews vitriol while maintaining some zombie grin. The models simply looked pleased to be there.
READ: Stella McCartney's Best Quotes
Like other industries, fashion has its difficult times. Lately it has struggled to balance creativity with pragmatism. Sales are flat in the luxury business or sliding downward. Designers are grappling with diversity on multiple fronts — both race and body shape.
They have seen the aesthetics of fine collections buried under public outrage because they cast too homogeneous a group of models in their show or gave them the wrong hairstyle. Yes, yes, the models are too thin, too young, too white. But it's getting better. Last season, Balenciaga was taken to task for not featuring women of colour on the runway. For spring 2017, it was a far more diverse group of models. Things are improving. Too slowly, but fashion is moving forward.
Yes, yes, the clothes on the runway are too expensive for the average person. But fashion lovers will save up for that one perfect indulgence. And rich folks are still eagerly handing over their credit cards. Everyone else will benefit from the trickle-down, the spiraling outward of ideas and trends. They will find beautiful floral prints, breezy caftan-style dresses and broad-shoulder blazers at the mall. Just remember to give a shout-out of thanks to Ghesquiere, Van Noten, Phoebe Philo at Celine and Givenchy's Riccardo Tisci, among others.
But fashion still can't get a break. Cynics still take aim at the pure bliss it may conjure. One more time: Buying an expensive frock is no better or worse than the four-figure foodie meal you just had, the fancy car you keep in your garage or the exotic vacation you can't stop talking about.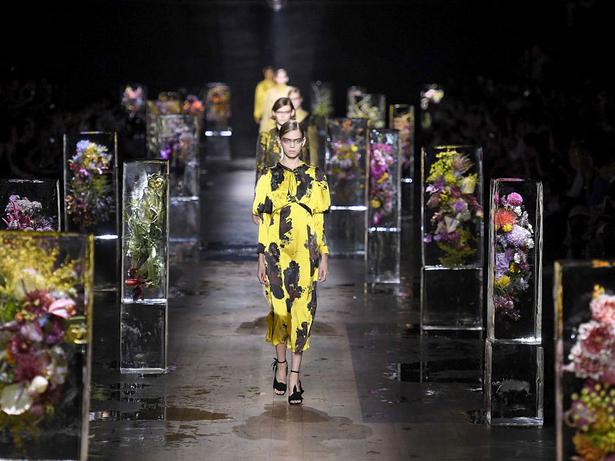 Fashion can be political and provocative, which means that sometimes it's disturbing, hard to look at. Especially right now, because politics, no matter where one lives in the world, seems about as ugly as it can get.
This season, fashion here has had to carry on under heightened security — bag inspections, identification checks and bomb-sniffing dogs. And then it contended with the unnerving report of the armed robbery of Kim Kardashian in her guest residence. The assault gave everyone pause. But fashion has pressed on, commenting on street culture and our state of being and attempting to show us a good time.
It has been a season of debuts, with new designers taking a bow at Saint Laurent, Dior and Lanvin. And at Valentino, Pierpaolo Piccioli flew solo for the first time. This didn't represent just a shift in aesthetics but also a moment of business upheaval. These companies have billions of dollars in revenue. And there's nothing frivolous about that.
There's money to be made in silk, organza and tulle. Indeed, there may be no more tulle left in the world; there was so much of it on the runway. It was embroidered and beaded. It came in every colour under the sun — a rainbow seemingly spun from sugar. And like sugar, best consumed in small doses.
But after 10 days of shows, a few linger in the imagination. The Dries Van Noten collection certainly does. He decorated his endless runway with ice installations. Beautiful bouquets of flowers were frozen inside enormous cubes of ice that slowly melted on the runway. If there was a message in the setting, it was about how time moves forward, nothing lasts an eternity, beauty fades. So seek your flowers now. The clothes were such beauties. The floral prints — both abstract and realistic — were breathtaking, not too precious or garish. Dignified.
There were beautiful prints at Givenchy as well. They evoked the swirling interior of quartz and marble. Slim dresses in contrasting blocks of colour skimmed the body. It was a collection that felt lighter and less brooding than it has in recent seasons.
And finally, Sarah Burton, whose Alexander McQueen collection was inspired by the Shetland Islands, sent her models down a runway covered in traditional rugs. Lush embroidery distinguished the clothes. And several dresses looked like they had been assembled patchwork-style. But the most delight aspect of the collection was her note that the patchwork was inspired by a Shetland tradition: When a couple marries, two Taatit rugs — bed coverings given as wedding presents — are stitched together as a symbol of love and unity.
A simple gesture, but a beautiful one. And in fashion, it delivers a spark of joy.
— The Washington Post
Share this: