Strange Signs of the Time at Paris Fashion Week
A new beginning at Givenchy, Crocs at Balenciaga and strength at Celine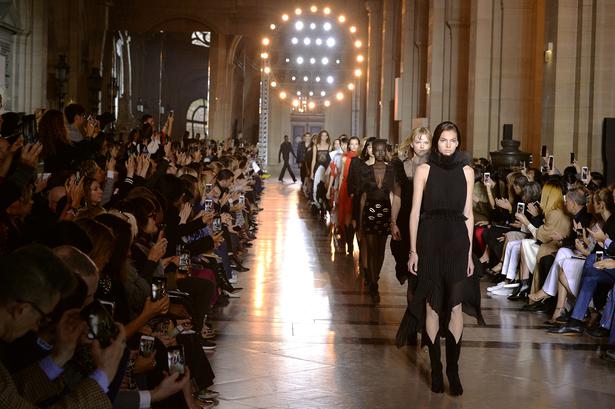 Monday Oct. 2, 2017
The Givenchy insignia was mounted on rather elegant metal scaffolding in front of the Palais de Justice. A crane-operated camera swooped high and low, causing the assembled crowd to cheer. The building's central hallway, with its domed and coffered ceiling, was the definition of majestic.
It was the setting for Givenchy's spring 2018 collection and the debut of new creative director Clare Waight Keller; and the monumental architecture served as a silent declaration of the importance of the occasion.
Indeed, on Sunday morning, the city was accidentally given over to fashion. Personal cars were banned from Paris streets for the day with the aim of reducing pollution. So aside from the bus or tourist shuttle, the only vehicles snaking through the misty streets were chauffeured cars and taxis, most filled with editors and retailers. And fashion created its own little traffic jam in front of Givenchy, which only heightened the sense that this industry exists in its own little world.
And yet, when it's at its firing-on-all-cylinders best, fashion does reflect the world back at us. It magnifies those details that might be easily missed but which define a particular moment in time. It turns an emotion or a mood into something visual.
So when fashion shifts, particularly at brands that are so engrained in the culture - Givenchy, Balenciaga - take notice. For better or worse, the winds of change are blowing.
In a season, Givenchy has transformed from former designer Riccardo Tisci's gothic passion to Keller's dispassionate populism.
READ: Dior Designer Causes a Stir at Paris Fashion Week
The first model down Keller's runway wore what appeared to be a midnight blue coat dress with metallic buttons. It called to mind the history of the house and suggested that, perhaps, Keller would find kinship with its classic past. But no. Soon the rhythms of rock 'n' roll style - more Rolling Stones than break-out indie band - appeared on her runway, with leather mini-skirts and trim striped pullovers.
Keller showed menswear alongside the women's clothes on beanpole young men whose backs seemed curved into permanent slouch, with looks of studied boredom etched on their faces. They wore fitted blazers with sharp, exaggerated shoulders, pants so skinny they might as well be leggings and the occasional motorcycle jacket.
The women's clothes included lace tanks with a long skirt, and dresses with a modest slit that revealed a burst of contrasting pleats. It was the kind of collection in which any fashion lover could probably find a thing or two to buy. And appealing to a customer's desires is a designer's duty. But where is Keller in all of this?
The collection had a hint of this designer and that designer. Ideas and inspiration are always floating in the air, but who, exactly is Keller? What is her point of view? What is her take on the culture at this moment?
For a lot of people, despite the decades that have passed, Givenchy still calls to mind perfect little black dresses, Parisian chic, Audrey Hepburn in Breakfast at Tiffany's and Sabrina. It hasn't been those things in a generation or two, but it takes a heck of a long time for fashion to worm its way into the popular imagination and once it does, it takes a lot of dynamite to dislodge it.
Designer Riccardo Tisci spent a dozen years at Givenchy blowing thing up. He built its reputation as a house with a dark romanticism. And he attracted his share of 21st century celebrity clients, notably Kim Kardashian.
Tisci gave Givenchy a renewed sensibility, focused on a bold visual language. He stumbled through false starts and a good bit of criticism. (Would anyone want to be forever judged on their very first attempt at, well, anything?) His aesthetic was a far cry from what Givenchy was at its inception. But it was right for the times, with its diverse range of influences, its openness to street culture and its flair for the visual provocation.
Whether one ever purchased a single Givenchy garment, Tisci's work still told us something about who we are and how we see ourselves in this moment.
The show notes left on guests' seat included a personal greeting from Clare to your-name-goes-here. It was a lovely touch and an intimation that her goal was to speak directly to the individual not to a faceless crowd. That is a fine starting point for a collection and one hopes that she ultimately translates that sentiment in silk and cotton. Because at a time when so much of our lives exist in a virtual reality, being treated like a living, breathing individual is no small thing.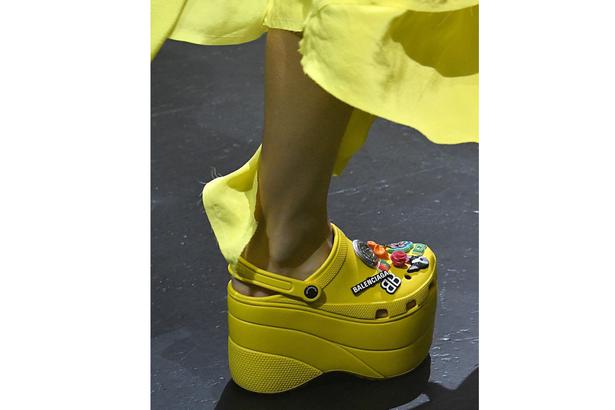 That sense of individuality is what has propelled Demna Gvasalia to Balenciaga. His collections exude a quirky exceptionalism. His models are both the traditional beauties as well as women who might be described as: striking, eccentric or jolie laide. His runway was diverse in both ethnicity and age. And his clothes are studiously unattractive, with their garish colors, oversize shapes and embrace of such aesthetically maligned brands such as Crocs.
Gvasalia embraces the oddball and the outsider and declares each an every one of them welcome on one of fashion's most rarefied runways.
His collection for spring was filled with pencil skirts in colorful bouclé, oversized striped shirts left half-untucked, trousers in a collage of fabrics or photo-printed in the seering orange and red of a sunset.
Coats were attached to coats like front-to-back conjoined twins. Handbags had their own little rain ponchos, and he collaborated with Crocs to created platform versions of the aesthetically challenged rubber clog.
Gvasalia relishes in elevating the banal and the poor into the realm of desirability and luxury. He believes there is an inherent beauty in the misbegotten. He not only remembered the forgotten, he celebrated them.
But now, have we moved beyond recognition and admiration into fetishizing? Is his self-conscious, pointed fascination with the most maligned products still moving the cultural conversation forward - or is it just giving people permission to not care, and to walk into brunch in grubby old slippers?
READ: Underwhelming Debut From New Lanvin Creative Director
Perhaps we have a responsibility to try putting aside individuality to participate in the social contract of aesthetic civility. I wear shoes to brunch; you wear shoes to brunch. Fair?
For spring, Gvasalia has put a polish on Balenciaga. It's not so aggressively un-charming. And in return, he has given you Crocs.
Celine may be just the right collection for this moment.
It exudes calm and strength without chest-thumping or bragging. Phoebe Philo's collection of oversized double coats that seem to fold up and onto themselves look tricky but intriguing. The roomy blazers and pleated skirts that wrap around the body in shades of pink and yellow have an ease and joy that is inviting. The clothes are big but not unwieldy. Philo never loses control of her silhouettes, and her models never look overwhelmed.
They are women owning their share of space in the world. They are not cinched and compressed. In this moment, they are expansive. They are grounded. And they are present.
- The Washington Post
Share this: