Paris Georgia Reveals A Sensual Capsule Collection With Ssense
A new collection of 15 separates considers a loyal international clientele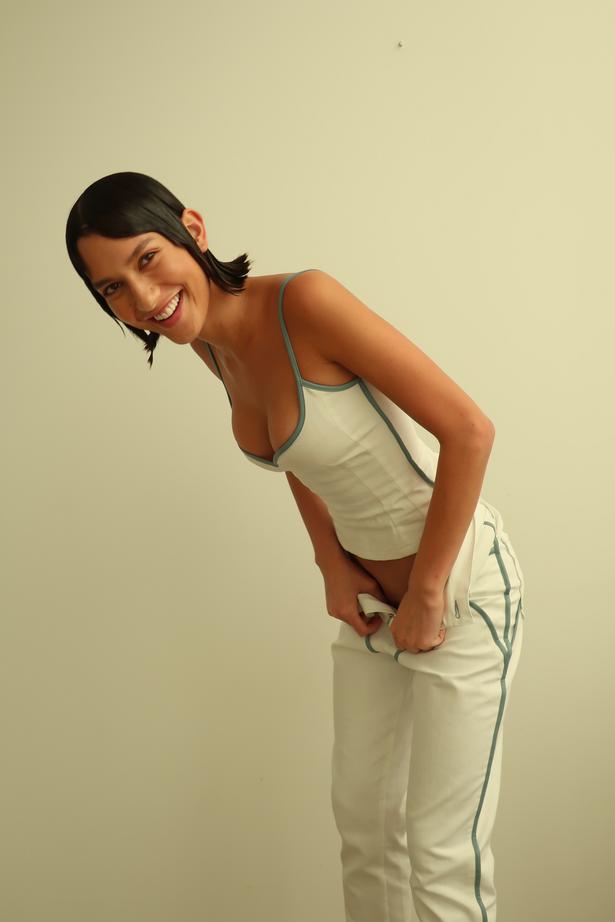 Wednesday Nov. 17, 2021
When local fashion designers Paris Mitchell Temple and Georgia Cherrie launched their Paris Georgia label with Viva six years ago, little did they know the rapid trajectory their label would experience.
Worn by the likes of Lorde, Andie MacDowell, Dua Lipa, and Kim Kardashian to name a few, the brand has carved out a signature with sensual dresses, crisp tailoring and coquettish separates, like its bosom-enhancing bustier tops and dresses.
PARTY DRESSING: Glamorous Party Looks For A Boost Of Optimistic Eleganza
On the back of its international popularity, Paris Georgia has now launched a new collaboration with Montreal-based multi-brand e-com retailer Ssense.
Featuring 15 styles, the collection highlights the perfect little black dress, soft shirting and a silky green versatile blouse for every occasion.
To mark the collection launch, the label has tapped muses Viva cover star Manahou Mackay (pictured), Emna Sellimi and Maria Bernad to help celebrate the unique partnership.
"The way they shoot and style the collection inspires us — it's an honour to see them in Paris Georgia and representing such a special capsule collection.
They're uniquely themselves and we want to inspire our PG community to in turn channel this energy — celebrate their truth."
The Paris Georgia x Ssense collection is exclusive to Ssense, coming soon. 
The designer pair talk about their new partnership and how they're rejecting the traditional fashion calendar to create timeless garments and smaller runs so they can deliver to their customer base in their own sweet time. 
What about the Ssense customer and community appeals to you?
Ssense has been a stockist we've dreamed of for a long time. There is an effortless nonchalance about the Ssense customer. No-fuss or frills and never afraid to push the boundaries. They approached us to create an exclusive capsule collection, which we designed with the Ssense customer in mind, reworking some of our signature designs with new colour ways and hardware.
WATCH: Paris Georgia Muse Lili Sumner's Short Film 'How Fat The Bees Are' Is An Ode To Hometown Memories
What are your personal favourites from the capsule collection, or pieces you would wear almost every day?
Paris: The Slinky Knit Skirt, the fabric is sourced from Italy. It has the most beautiful weight and dry texture to it. The rust colour feels intrinsically Paris Georgia with an element of the Ssense woman.
Georgia: The cowboy trouser made from Japanese Selvedge Denim and a custom dusty blue vegan leather. This style has always been a favourite of mine, but I especially love them in this exclusive offering.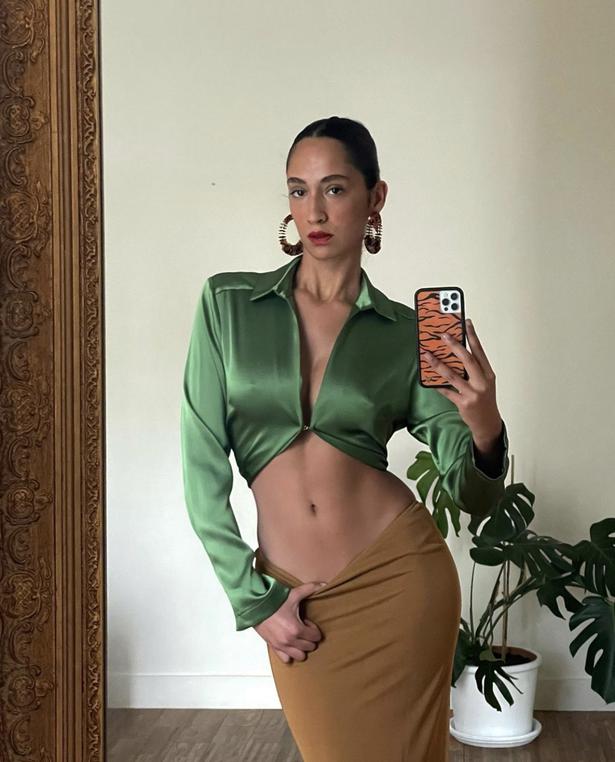 Paris Georgia x Ssense muse Emna Sellimi wearing pieces from the new collaborative collection. Photo / @emnitta
What regions are performing well for Paris Georgia when it comes to your e-com offering?
Our sculpted silhouette designs have become a signature for us, they're all about empowering women and praising the form.
We believe everyone should feel beautiful and comfortable no matter what their body shape is.
Elemental, our loungewear offering which we only offer via our online store as we wanted to ensure the price range was more accessible, has also been an exciting new chapter for us. Being able to design elevated, comfortable pieces that can be worn day to day felt important to us. 
To mark the collection launch, you've teamed up with Paris Georgia Muses New Zealand model Manahou Mackay, Emna Sellimi and Paris-based stylist Maria Bernad. What about these three represent the Paris Georgia woman?
They are modern women living their feminine truth. The way they shoot and style the collection inspires us — it's an honour to see them in Paris Georgia and represent such a special capsule collection.
They're uniquely themselves and we want to inspire our PG community to in turn channel this energy — celebrate their truth.
Since you launched Paris Georgia in 2016, you've been thoughtful in who you choose to collaborate with. What are some of the key criteria for you when it comes to a suitable collaboration that fits the Paris Georgia ethos?
The conversation has to be natural, it's important to trust each others vision. it's exciting to get experimental and be taken out of our comfort zone but keeping the core Paris Georgia woman at the heart of every design is so important to us and the Ssense team really understood that.
How are you responding to the times and how your customer is wanting to shop now?
It's taken us five years to become comfortable and confident with the fashion calendar, simply because we finally made our own.
Fashion is such a fast-paced industry that is constantly changing. We used to feel like we had to keep up, keep trying new things, keep pleasing buyers. We're in a confident place with our main collections and our Elemental Loungewear range has complemented our e-com offering so beautifully.
When the time feels right we'll expand again but there's a lot to be said about moving slower and doing things in your own time — we think our PG customers can see that in the way we work.
THROWBACK: New Online Shop The Mercantile
You've both overcome various obstacles over the years working together, what are the key traits that you have learned about each other over the years as friends, as creative collaborators and as business partners?
Paris: We respect and trust each other wholeheartedly, which is so important in any partnership. Georgia's intuition, eye, generosity and kind heart have been invaluable to our business. With a small team it's meant we've overseen every part of the business together but with becoming a new mum recently we've learnt to divide roles more clearly. It's an exciting change for us and has enabled Georgia to move to London soon too! I'll miss her but can't wait for the next phase of our business.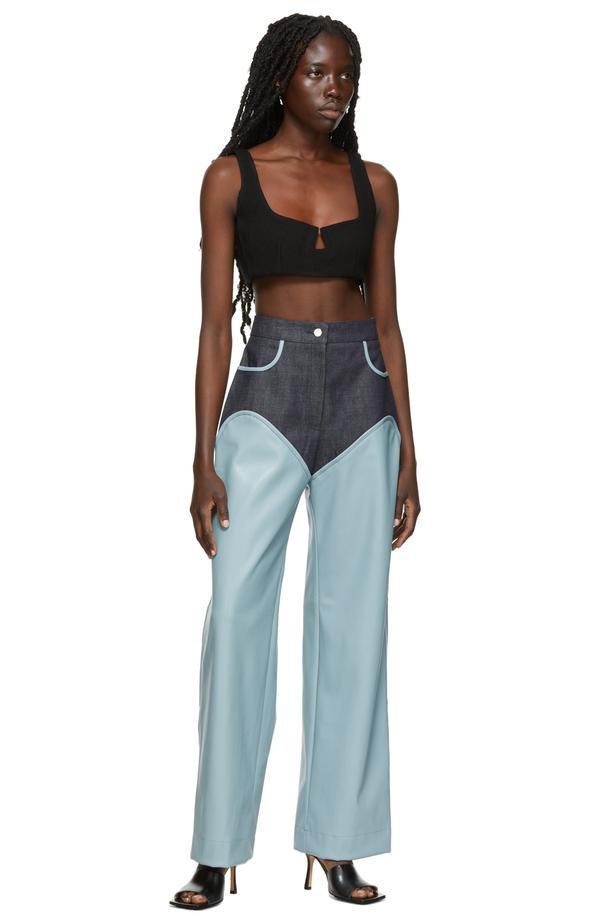 Paris, you've recently become a new mum – how has it been working from home in lockdown as a new mum?
Paris: I've had my challenging moments like all the other incredible lockdown mums. I've been trying to be kind to myself, embrace the chaos and know my daughter will be proud of PG one day. I'm grateful for the support from my husband Henry, Georgia and Mum.
What else can we expect to see in the near future as we head into 2022 from Paris Georgia?
We're launching the third Elemental collection in March, we are working on two pairs of shoes we can't wait to release in 2022 and with Georgia opening a London office there is so much to look forward to!
Share this: