New Opening: Tailoring Boutique Doran & Doran
Paul Doran's minimalist bespoke tailoring focuses on sustainability and versatility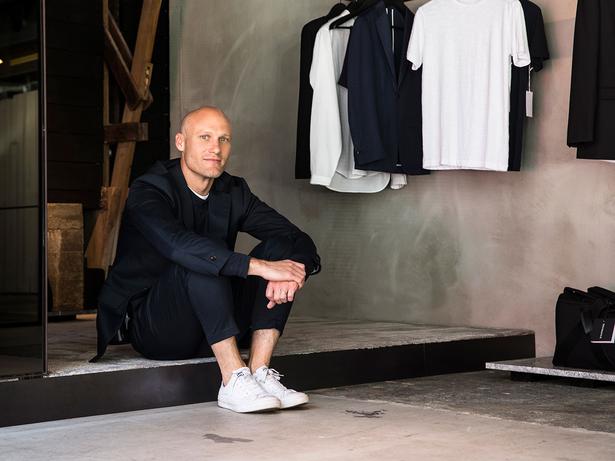 Friday March 3, 2017
Entering the discreet space of Paul Doran's recently opened bespoke tailoring boutique in Parnell's Faraday St, you'd be forgiven for thinking you'd stepped into someone's elegantly designed walk-in wardrobe.
Plush grey carpet, sleek black cupboards neatly tucked away and glossy railings support equally well thought-out clothes — think relaxed blazers, beautiful cotton T-shirts and crisp shirting hanging singularly on black hangers.
Doran & Doran, designed by upstairs landlords Tim Hay and Jeff Fearon of Fearon Hay Architects, is in keeping with the industrial look of the overall building it inhabits — exposed brick walls and robust beams, minimalist and unfussy. Paul's vision for a perfectly formed and compact wardrobe clearly extends to the precision of the label's new home.
Officially opening its doors in October last year, the space highlights a new lease of life for Auckland's oldest suburb. "When looking for a space it was more an emotional response versus crunching numbers.
We wanted a beautiful shell and really wanted something small to keep the intimacy that our previous space had in Ponsonby," says Paul. "We've known Tim and Jeff for a few years and we had been in discussion about securing a space in their building for the past year.
"It's great to have landlords that are willing to take the risk and be really supportive throughout the whole ride."
It's been a natural progression for Paul who was brought up in Mt Maunganui, studied law at Auckland University and spent five years working with top Savile Row tailors in London, including Gieves and Hawkes and Richard James, before returning to New Zealand and quietly accumulating a loyal client base.
GALLERY: The Best Blazers You Can Wear Everyday
"I think Auckland is having a really good moment right now. There are new pockets of the city coming alive and people seem interested in exploring their city again." His training as a lawyer has also helped shape the type of versatile wardrobe he's drawn to, the majority of his clients requiring clothes that work overtime in multiple situations. Take, for example, the black seersucker blazer he's wearing during our chat.
It's a sartorial solution for the changing way men are working today, a tailored but unstuffy blazer that works straight off a flight and into a meeting, dovetailing into an after 5pm cocktail function, whatever the temperature. It's this versatility in cut and fabric that Paul is excited about.
"The first thing anyone says when they put on one of our bespoke jackets is 'it's really light' followed quickly by 'it's really comfortable'. When we started developing our own shape the first thing we did was remove a lot of the unnecessary weight from the jacket, not just in the lining but also the heavy Melton [the heavy felt fabric that goes underneath the collar of the jacket]."
Hanging nearby is a grey jersey blazer with neat shoulders, which epitomises Paul's love of versatility. Made from Japanese fabric, it catches the corner of my eye thanks to its lightness in both weight and colour. "We found the knit fabric in 2014 but it took us two years to find a manufacturing partner to help us produce it. Most people we approached said it would be impossible to make a suit jacket out of a fabric like this."
A line of ready-to-wear tailoring which launched in January has been a labour of love over the past few years. The recent delivery of suiting, made from Jil Sander deadstock wool from the late 90s, highlights Paul's passion for fabrics and bespoke tailoring as a sustainable act.
The store also stocks brands such as local knitwear stalwart Standard Issue alongside a handful of carefully selected imports, including hand knit ties from Italy, pieces from the London-based luxury bag maker Troubadour Goods and New York-based utility wear label Unis.
"Being well dressed for a guy used to mean exclusively wearing a suit, shirt and tie. It's been great to see people's attitude change — a suit is still a great option but so is a really good knit and well-cut trouser in the right circumstances," he explains.
"Of course, the suit and tuxedo are going to always have their place at formal events but if you are going to a meeting on a Saturday morning (and let's face it, pretty much no one works a Monday to Friday, 9 to 5 anymore), is pulling on a jacket and tie really going to always be appropriate?"
GET TO KNOW PAUL
How I relax: I love running. I have completed a couple of marathons and hope to do two more next year. It's such a great sport — you don't need much to get started and when travelling it's a great way to see a new city.

What I'm currently reading: I just finished The Truth About the Harry Quebert Affair by Joel Dicker, which took an embarrassingly long time to get through. In between I read Supremacist — it's a pretty uncomfortable vision of a particular internet-obsessed person that we all know and has more in common with Less Than Zero-era Bret Easton Ellis than I think we'd like to acknowledge.

The last song I downloaded: Nao's Inhale Exhale.

Personal style I admire: I have been travelling to LA more frequently and I love the West Coast style of great laid-back pieces changed for Tom Ford when you dress up.
What is inspiring you at the moment: The new pockets of Auckland coming alive — people seem interested in exploring their city again. Eating out is incredible right now, and there's heaps of interesting, world-class retail happening. Arts and architecture also seem really strong right now.
• Doran & Doran is at 7/15 Faraday St, Parnell, Auckland.
Share this: