SPONSORED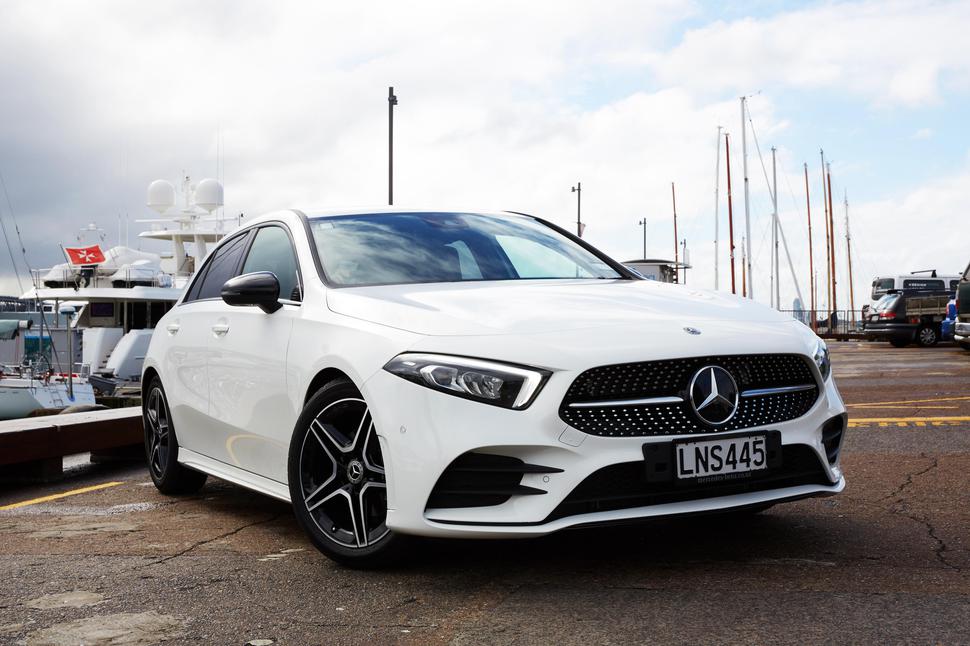 Pedal To The Metal
Viva commercial editor and beauty writer Ashleigh Cometti took the new Mercedes-Benz A-Class for a spin during one of her busiest workdays in the lead up to NZFW
Wednesday Aug. 29, 2018
As a beauty writer, people are surprised to learn I'm also a bit of a car buff. Growing up with a car fanatic father, and marrying my petrol head husband, I know a lot more about cars than someone with a 60-strong lipstick collection would care to admit.
Imagine my delight, then, upon being introduced to the stylish new Mercedes-Benz A-Class. I took this chic new addition to the Mercedes line up for a spin, during what proved to be a rather busy day prepping for NZFW.
9am: Weekly WIP meeting
My morning starts with a WIP meeting with Viva editor, Amanda Linnell. Today, I let Amanda know I'm going to be in and out of the office all day, dashing between meetings in the all new A-Class. Driving around the city centre can be stressful at times, so I'm grateful the A-Class is kitted out with the full suite of driver assistance features, which will monitor my surroundings and detect danger even quicker than I can, braking autonomously when needed. Fitted out with high-tech sensors, and a 360 degree camera, I'll be able to monitor my speed, steering, blind spot, and lane changes with ease.
10am: Planning my day
The first thing I do when I arrive at my desk is check my calendar for the day. Today is going to be a bit more hectic than usual, with a lunch date and a few meetings to attend. Normally, I'd note down the addresses of every appointment, but today I can relax knowing the all new A-Class features a head-up display, which projects navigation information into my field of vision while I drive. No more having to pull over to check the map on my phone!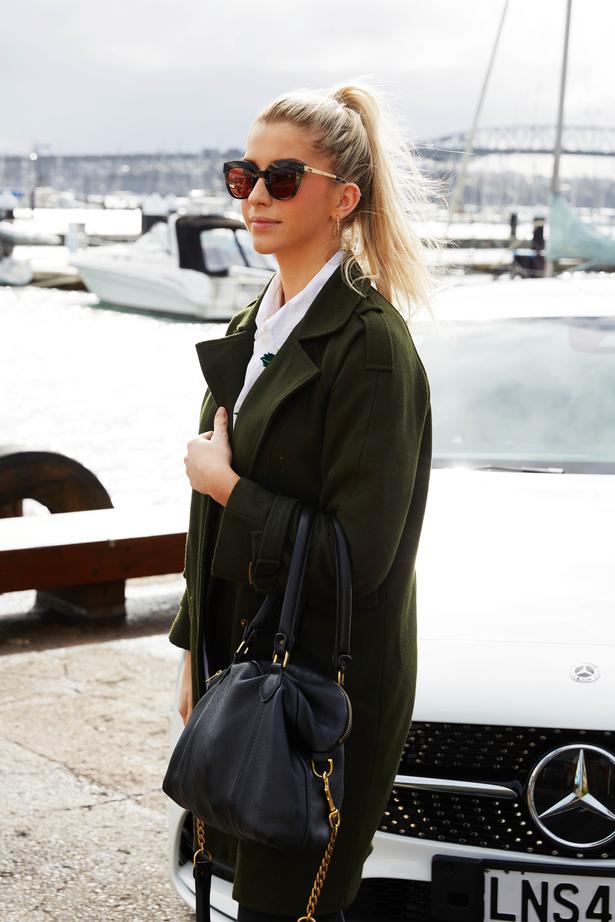 Viva Commercial Editor, Ashleigh Cometti. Picture / Rebecca Zephyr Thomas

12pm: Lunch at Rude Boy Eatery

I'm off to meet a girlfriend at the newly minted Rude Boy for lunch. Usually, I'd walk down to Sale Street as it isn't all that far from Viva HQ, but today I want to try out the new 'Hey Mercedes' system on my way there. I start, "Hey Mercedes", to which the car replies "What can I do for you today?" like something out of Knight Rider. I blurt out "Navigate to Sale Street", before the A-Class starts reading out directions on how to get there while I drive. I've been told I have quite a thick Kiwi accent, but the natural speech recognition means the vehicle recognises my commands with ease. This clever system allows you to adjust settings totally hands-free, like changing the radio station, turning on air conditioning, or asking about the weather. There are more than 600 commands to try out. I arrive at Rude Boy in record time (the A-Class has navigated the fastest route), where my friend has already ordered me the Mushroom Medley – she knows me too well.

1pm: Borrowing garments from RUBY for NZFW

The team at RUBY has kindly offered to dress me for NZFW, so I leave Rude Boy and ask the A-Class to navigate me to Grey Lynn. Far more chic than arriving to their showroom in a pool car, the redesigned A-Class features a sporty aesthetic, and is longer, wider and taller than previous models. Plus, the luxurious interior, complete with suede and leather trim, makes it decidedly more fashion forward than its predecessors. I chose to wear heels today, so was appreciative of the additional leg room while driving. One very full garment bag later, I loaded my haul into the A-Class' large boot, which boasts a bigger opening to ensure no snags when loading things in or out.

2pm: Meeting with a beauty client

The afternoon is certainly getting away on me, and it's time for my next meeting. I'm feeling a little stressed, so I use the touchpad in the centre console to scroll through the menu options until I find 'Comfort'. Here, I can adjust the Seat Kinetics for either the driver or front passenger side, during a short, medium, or long distance trip. I choose short distance, and allow the light movement of my seat and head rest to help me to relax. By the time I arrive at the Viaduct for my meeting, I'm a new woman.

3pm: Back to work to hit deadlines  

School's out and traffic is hectic. I enable MBUX, the new Mercedes-Benz User Experience, and utilize the AI technology to show me a faster route back to work, and play my favourite songs while I drive. I've got a lot of work to get through this afternoon, so time is of the essence.

5.30pm: Time to sweat it out at the gym

I manage to get through all my work for the afternoon, which is lucky because I need to go for a training run for the half-marathon I'm meant to be running this weekend. I always run to music, so I place my phone on the wireless charging station in the centre console while I make my way to Les Mills. During my short 10-minute drive, I'm back up to 50% battery power.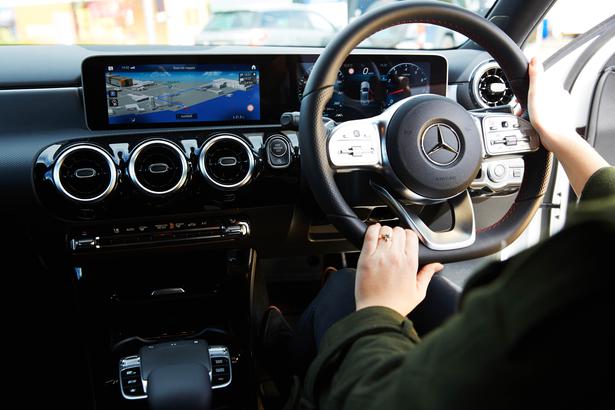 6pm: Heading home to Maraetai 
A run straight after work has meant I've skipped the 5pm traffic, so I use the first Mercedes-Benz touch screen to set my navigation home. The checkered flag tells me it'll take about 45 minutes, which is quicker than usual. I'm excited to give the A-Class some full throttle action as I navigate the open road. With its 1.3-litre engine, the A-Class is surprisingly powerful, and yet uses less petrol than other models. There's only one petrol station on my way home, so not having to refuel as regularly gets the thumbs up in my books. I set my theme to Efficiency, and check out how much petrol the car is consuming as I accelerate or brake.
Without sounding too gushy, I must admit driving the A-Class made easy work of what could have been a very stressful day. Every thoughtful setting adjusted to my needs, and was fully adaptable to what I required of the vehicle – from sitting in traffic to cruising the open road. 
Share this: