How to Dress like a Princess
Princess Charlotte seems destined for a youth of traditional sartorial choices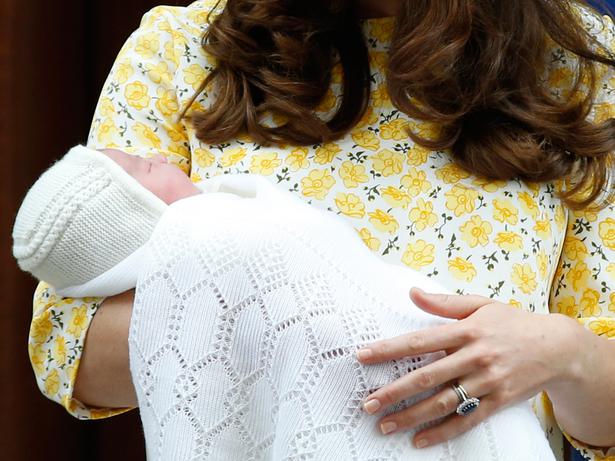 Monday May 11, 2015
Only two people - three, if you count Pippa - know for certain how Princess Charlotte will be dressed in the years before she begins to express her own opinions on the matter (if memory serves, her mother has approximately 16 months of absolute autocracy over the princessy wardrobe before battle commences). Yet if we must put money on it - and, post-election, we need something to bet on - I'd say we won't be seeing Princess Charlotte in "My Other House is a Castle" T-shirts or miniature boob tubes any time soon. If she attends Pembridge Hall, the sister school of Wetherby, where her father went, then she'll be in red-and-white gingham and a boater in summer, with the option of a cashmere cardigan (about six years ago some Pembridge mothers decided the existing wool and cotton version was too scratchy for their little darlings, thereby proving that princessy dressing is flourishing, even among unofficial princesses).
The Duchess of Cambridge, an instinctive traditionalist who, probably wisely, steers clear of ironic sartorial statements, will be greatly aided in her quest for old-fashioned baby clothes by the fact that they're actually rather fashionable. Or perhaps they're beyond and above fashion.
Let's pause for a jiffy, because that's a bit rogue: surely nothing these days is immune to fashion's influence. Yet - for the upper and aspiring classes - little girls' clothes seem to be precisely that. If Prince George is unusual, even among his friends, for being dressed in the kinds of clothes that had begun to look quaint even by the time his father was wearing them 30 years ago - the bonnets and crocheted shawls; the smocked, checked or sprigged dresses; the puffed sleeves; Start-rite Mary Jane shoes; hand-knitted cardigans; broderie anglaise trims; Harris tweed coats; lace collars and velvet party frocks - Princess Charlotte's Little Princess style will be right on-trend.
This is true not just among Princess Charlotte's similarly aged cousins (even Kate's stepsister-in-law, the fashion journalist Sara Parker Bowles, dresses her daughter Lola in straight-down-the-line classics) but among the Bonpoint and Boden crowd. Come to that, Gap frequently does runs of ruched dresses, as do Marks & Spencer, Cath Kidston and Zara, although the smocking is less likely to have been made by Granny's hands than by state-of-the-art machinery in Guandong province, and the frocks will be reserved for special occasions.
Even with those caveats, it's striking how little Little Princess dressing (as distinct from Grown-Up Princess dressing, where it can all start to go horribly wrong) has changed over eight decades. The Princesses Elizabeth and Margaret Rose wore clothes in the Thirties similar to those lapped up by customers at Trotters, Caramel, Marie-Chantal (the children's boutique owned by Princess Marie-Chantal of Greece) and Amaia (allegedly Kate's favourite children's shop). By the way, the PRs were doing their worst back then, too: if Princess Elizabeth wore yellow, aged seven, there was a rush on it.
Perhaps the longevity of Little Princess dressing is down to the fact that it appeals not just to adults but to the children who wear it. Even an angelic-looking Princess Anne was corralled into sweetly pretty empire-line dresses with lace sleeves in her childhood - and frankly she's never looked better. Dame Vivienne Westwood loved the way royals dress their children so much that she based her 1987 Harris Tweed collection (and many subsequent) on a photograph of Elizabeth and Margaret in double-breasted tweed coats. This was when Margaret was still dressed by her mother, a woman who once remarked that she didn't want to be a leader of fashion. "But I do," piped up Princess Margaret. And look what happened.
If we're being critical, Princess dressing is a circumscribed and upper-class uniform but, without its guidelines, just think what Fergie would have put Bea and Eugenie in. It's also twee. But better charmingly twee than hyper-sexualised. Besides, if you can't be twee when you're five, when can you be?
 — The Daily Telegraph
Share this: