Get to Know Penny Sage designer Kate Megaw
Kate Megaw, the designer behind label Penny Sage, is showing at Fashion Week for the first time today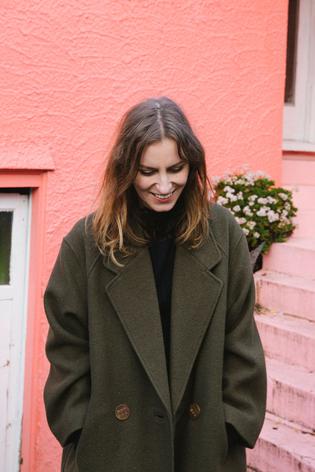 The brand Penny Sage is one that pops up frequently in editorials or as a favourite among fashion's inner circles, its careful, intelligent aesthetic a hit with many in their modest approach to dressing. But what of the quiet designer behind the label, Kate Megaw?
You could say she's the opposite of a show pony: someone who works hard behind closed doors, letting the clothes she designs for Penny Sage speak for her.
Kate grew up in Pukeokahu, near Taihape in the central North Island. She studied fashion design locally, at what was then Wanganui Polytechnic, before landing a gig working for Kristine Crabb at Auckland-based brand Miss Crabb.
"Kristine was a huge inspiration to me and always encouraged me to design my own pieces. I had some knit pieces from my graduate collection that she sold through the store. They were knitted rompers which my mum and nan knitted for me — one each in red, blue and black. Kristine bought one, one was shoplifted and the other one was the first thing I sold under Penny Sage."
Before getting stuck into her own label, Kate travelled to Antwerp, Belgium — "the place my heroes were from" — for work experience, and ended up interning for local designer Christian Wijnants, whose knitwear and prints she appreciated.
"Being part of the small team and seeing them all produce such beautiful work, with so much integrity, really motivated me to come home and set up Penny Sage properly."
Kate sees the clothing she makes as items that can be kept and worn for years. 
"Not necessarily in a classic way, but in a way that there's just something that makes you want to hold on to them. Maybe they are put to the side for one season, but reappear the following year."
She achieves that through investing time in creating special fabrics, improving the fit of a garment and adding finishing touches that make the pieces feel special.
This is the first time Penny Sage has shown at New Zealand Fashion Week, and Kate hopes it will be an opportunity to celebrate the success of the brand while introducing it to a new audience.
"I keep a pretty low profile, so I felt that doing something like Fashion Week here in New Zealand provided the perfect opportunity to share a part of the brand with all of the wonderful people who support and love what I do."
Inspiration for the collection started with the film Soylent Green, the 1973 American science fiction thriller directed by Richard Fleischer, and starring Charlton Heston, Leigh Taylor-Young and Edward Robinson. "I love bleak films with great outfits and that film really does have some wonderful inspiration."
Naturally, she's working with long-time Penny Sage collaborators for the show, including Zelda Murray, Marta Buda, Matt Nash, Melbourne-based Post Sole Studio and stylist Karamia Muller.
No doubt the tone of the show will be exactly in tune with Kate's vision for the brand, which, like the clothes, is careful, quiet and considered.
"I'm really enjoying my current pace of growth. I've realised I am most happy doing things at my own speed. I like taking my time to process things and making sure things are always on my terms.
"Penny Sage has been picked up by some wonderful stores in Australia and North America which is really exciting . . . I want to continue finding places that really love the brand and I want to nurture those relationships."
Share this: