#Fitspo with Actor Phoebe Tonkin
Why sweat pants, Thai food and a bath is her favourite way to unwind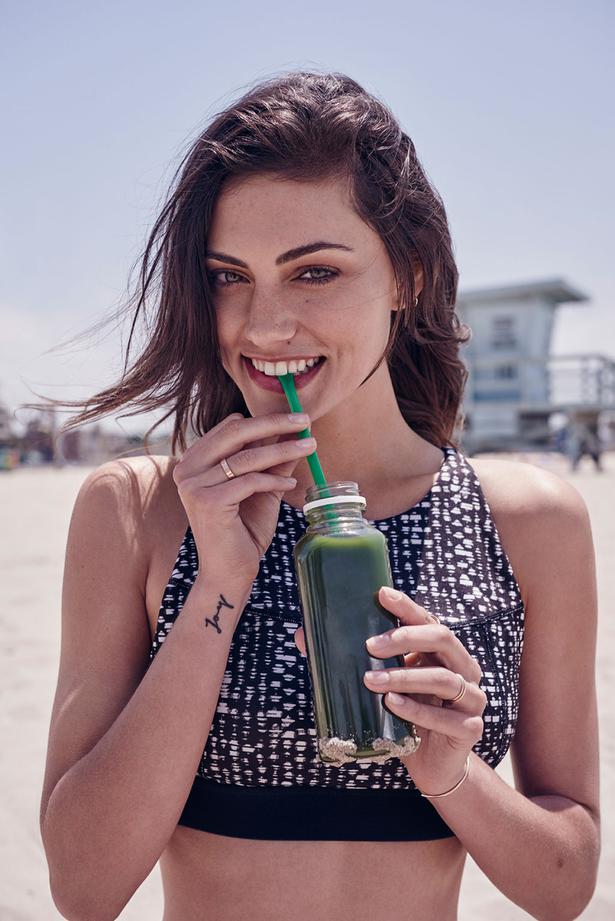 Wednesday Aug. 19, 2015
There's no escaping the fact that health is wealth and that weekend attire is often dictated by exercise wear — with a green smoothie being the No 1 accessory to have on hand. So it makes perfect sense that the Australian actor, model and health blogger behind website Your Zen Life, Phoebe Tonkin, was chosen to front Witchery's new active wear range, Balance.
The 26-year-old, based in the US, works up to 16 hours a day on set. She is currently in Atlanta, Georgia, shooting for the television show The Originals.
She says she works hard to find a balance between looking after herself, work, keeping healthy and being social. Her clothes have to accommodate her busy life, "clothing that can transition from Pilates class to a cosy night cooking and drinking wine with your girlfriends". Witchery's new collection consits of more than 30 pieces and is made from high-performance fabrics that can be worn for running or yoga one moment and to brunch the next.

What helps you stay motivated?
I really make it a priority to surround myself with positive people and not let myself get too stressed out about anything. I love the way I feel when I am eating well and getting enough exercise. When I am working 16 hours on set each day feeling good and having enough energy is very important.
What garment do you have more than anything else in your wardrobe?
I love basic tees with jeans.
What does your daily fitness routine look like?
I swear by a workout I do on my laptop called Ballet Beautiful. I work most days, so this workout is perfect. I do it four times a week and then twice a week I walk for an hour with hand weights.
Describe an average day? Any morning routines?
I always start my day with a huge glass of water and lemon. I like to sleep with coconut oil in my hair so I will jump in the shower and wash it out then head to work! I keep hand weights and a yoga mat in my dressing room so in between takes I can do a few exercises.
What is always in your fridge and pantry?
Brown rice, salmon, hummus, sweet potatoes.
What are you reading, watching and listening to at the moment?
I really love SOHN. I am obsessed! I just started watching Mr. Robot and another show called UnREAL. I don't watch a lot of TV often but sometimes I like to binge watch on a lazy Sunday. I am re-reading The God of Small Things by Arundhati Roy.
What do you use or do to keep your skin looking so flawless?
I have a magical facialist in LA called Shani Darden. She has a great product called Retinol Reform.
What is the most important lesson life has taught you?
Something I have learnt over the years is that everything happens for a reason. Staying positive, working hard and being a good, kind person will get you far.
How would you describe your personal style?
My style is very similar to the aesthetic of Witchery Balance. I definitely dress for comfort over anything else. I love basics like white tees, jeans, sneakers and trenchcoats.
Do you ever have days of feeling like you can't be bothered dressing up or exercising and what do you do or wear on those days?
I have those days very often! I love those days! I wear sweat pants and order Thai food and get in the bath. I think it's so important to listen to your body: sometimes you need a day like that to reset everything and to relax.
• Phoebe wears the Witchery Balance Namora top $79.90. Ph (09) 523 1335.
Share this:
More Fashion / Features & Profiles