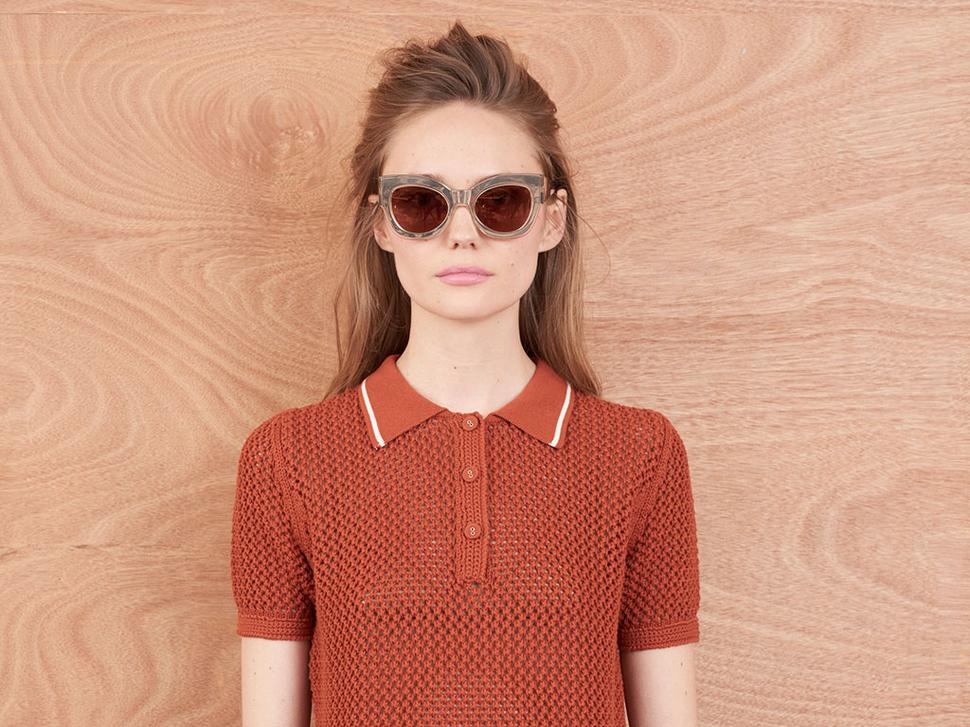 The Rise of the Polo Shirt
The humble polo shirt has gone from functional sportswear to fashion staple
Thursday May 14, 2015
These mornings we are waking to a definite chill in the air, and "what to wear?" is often a conundrum considering that by noon the sun will shine — sometimes with a strong sizzle.
But this week, while attempting to put together something chic yet capable of coping with the temperature shift, I discovered lurking in a drawer, as yet unworn, a very appealing black knit polo that I somehow felt I had to buy a few months back, made by those most acceptable creators of all things athletic, Icebreaker. And I had a Eureka moment.
Evidently, I am not the only one, because although the humble polo has held an undisputed place in American fashion history, it hasn't been in high-fashion history, given its associations with golf, prep schools and weekend wear.
But recent trend reports show this is a thing of the past and when such iconic designers as Alexander Wang, Jil Sander and even Givenchy send this shape strutting down the catwalk (admittedly as variations on a theme) we sit up and take notice.
The polo shirt has taken its place as acceptable dress by the hoi polloi for many a year — 85 years in fact. But during that time it has also had a bit of an identity crisis.
First, French tennis star Rene Lacoste put it on the court and made it de rigueur for any tennis player worthy of whacking the ball at Wimbledon. Then the polo world took over and the style swiftly became the uniform of every horseman and horsewoman playing a chukka.
Though definitely sported by those in the upper echelons of high society, the polo shirt could hardly be classed as the foundation of a fashion trend. What's more, when the golfing community got hold of it and it gained the additional moniker of "the golf shirt", it looked like any prospect of reaching a ready-to-wear runway was remote indeed.
But fashion, we know, is a mercurial beast. And what's more, when Ralph Lauren — who certainly knows a thing or two about setting a trend — decided to adopt it as his own, it had a certain future in fashion.
You'd have to have been born under a stone not to be aware of the Polo Ralph Lauren brand, which he founded in 1972, complete with its polo playing logo. The consequent association with the gloss and glamour attributed to the equestrian fraternity turned the humble short-sleeved knit shirt with triple buttoning, rib-knit collar and cuffs into an acceptable item in every fashionista's staple wardrobe. And made him a fortune.
It's also probably the most "knocked-off" style in Oriental flea markets complete with logo (somewhat adapted) and undoubtedly transported home in bundles of colours by any tourist who took the trek.
Interestingly, though every sweatshop this side of the China Sea supplies those flea markets, the polo shirt has also taken over from the Mao suit as "the" respectable dress code by upwardly mobile white collar businessmen in Southeast Asia. And it looks like women won't be far behind.
Those aspiring to a more fashionable slant may well be wearing adaptations of the basic shape, the slouchy knitted polo — worn buttoned up or not it definitely has a devil-may-care aura with something of the roue about it. Lotharios with a twinkle in their eyes and an untrustworthy air — usually found strolling round the country clubs of the Western world — come to mind.
Probably because of those very connections many variations of this sportswear were worn on the catwalks this season, from super-tight with cut-outs to retro colour-blocked styles and in anything from the finest cashmere to a see-through translucency of chiffon.
What's more, they were paired with anything and everything — from a full dressy skirt destined for the dance floor to high-waisted shorts (with a good stretch of tights to ward off the cold) to strut the streets of the Left Bank.
Me? I'm happy to slip on my very soft, basic, black merino wool with a wide-legged pant — the way the memorable Kate Hepburn wore hers. In my book you can't get a better look than that.
Share this: