Make Way for Plus-Size Male Models
Men's fashion is finally catching up with women's in embracing 'real' body shapes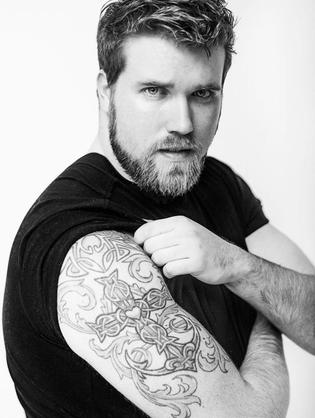 You could be forgiven for thinking the fashion industry's gradual embrace of larger body shapes was a matter purely for the female side of the catwalk. But as all eyes have fallen on the success of plus-size flag-bearers - such as Ashley Graham, size 16, and Tess Holliday, size 18 - the male fashion world has slowly been making room for bigger models, too.
Earlier this month, 26-year-old Zach Miko - a 2m bearded New York actor with a 101cm waist - made headlines when he was signed up by international agency IMG Models. It was a hailed as a milestone in an industry that, for years, has used just two distinct body shapes to sell its wares: rake-thin for the high-fashion runway, or gym-honed for the magazine shelf.
Denise Hatton, CEO of YMCA England, which helped create the Be Real campaign to change men's attitudes to body image, says: "When people think about body issues, they automatically think of women, and where we've seen some positive changes that are female-focused, we're only just seeing that happen for men, even though the same problems exist for them," she says.
"Many men won't go into changing rooms because they don't like the way they look. Now that Zach has been signed up, though, other places will hopefully take notice, helping us get away from the image of men needing to be very slim with a six-pack."
READ: Why Sera Lily Is Over Plus-Size
Despite the headlines, Miko is by no means the first plus-size male model. Several German agencies have long had larger-framed men (generally defined as being in excess of a 106cm chest) on their books, and last summer the rotund American comedian Josh Ostrovsky - better known by his Instagram name The Fat Jew - was signed to model agency One Management. During New York Fashion Week, Ostrovsky hosted a catwalk show that celebrated the "dadbod" - the softly-rounded physique that men acquire as they slip into their contented middle age.
In taking on Miko, however, IMG Models has not only produced a face for the male plus-size movement, they have given it a label, too. Deliberately staying away from the term "plus-size", the agency refer to their new signing as "brawny".
"It's only natural that the male industry should follow the women's, and about time there was a face," says Mpona Leboja, a booker at London-based agency Models Plus, which has so far signed up two plus-size male models of its own. "It is interesting they're insisting on 'brawny' rather than 'plus-size', though. In women's fashion, the official term is 'curvy' for bigger models, but people still just call it 'plus-size'."
As in women's fashion, the size of male clothing is entirely unreflective of the typical consumer. Research by menswear brand The Idle Man in 2014 revealed that the average British man has a chest size of 106cm (a 12cm increase from 1956) and 94cm waist. Going by the size guides of most high street retailers, that puts most men at the upper end of "large".
With that label, in addition to the society's habit of shamelessly mocking men for their size, it's no surprise that in a YouGov poll last year, a third of British men declared themselves unhappy with their body image. And while designers of women's clothes have been placed under scrutiny to reflect their audience better, the forms of male models have tended to remain staunchly fixed.
According to Toby Wiseman, editor-in-chief of Men's Health, Britain's best-selling men's magazine, market statistics are unlikely to change the way designers think, regardless of Mika's impact.
READ: The Coolest New Plus-Size Collection
"The objective of a model is to sell clothes," he says. "Normally that's achieved by selecting models who make clothes look good. A slim waist and broad shoulder will always showcase clothes better because it better exposes the cut and drape of fabric to create an attractive, flattering silhouette. No designer has ever dressed a model with a 42-inch waist because he thinks it will best flaunt his wares. [Mika's signing to IMG] is everything about jumping onto a PR bandwagon, and little about the business of selling fashion."
That isn't to say clothes for large men are unavailable, of course. In Britain, there currently exist nine High & Mighty stores - a specialist shop for "big and tall" men that offers XXXL clothing - as well as the Freddie Flintoff-fronted plus-size label Jacamo, which offers "fashion that men want to wear", with each item available in sizes up to 5XL (equivalent to a 157cm chest). As well as the clutch of plus-size lines at high street retailers, online fashion behemoth Asos now has a new larger-fit range for men.
Meanwhile, the Be Real campaign is working with brands to create more choice for plus-sized men. It's a challenge, though, since historically bigger has not meant better when it comes to clothing: the majority of those specialist brands could never be considered on the cutting edge, and the most fashionable brands are the most resistant.
Hatton says: "We're working on a code with a significant number of clothing brands to try and change the media and fashion industries so that they think about what they're portraying. The language needs to focus on being a healthy individual, not just looks."
Anybody who has followed the plus-size discussion in women's fashion knows that models such as Miko won't be without critics, many of whom will say that using large men is as unhelpful in promoting a healthy way of living as overly skinny models can be.
Wiseman says: "It's important to distinguish politics from health. Glamorising unhealthy images is not challenging a prejudice. I don't believe it's any less misleading, exploitative or dysfunctional to promote plus-size body shapes than it is to send a size-zero model down the runway."
— The Daily Telegraph
Share this: