Polka Pants: Stylish Chef Trousers for Women
Maxine Thompson has created chef's trousers with the female form in mind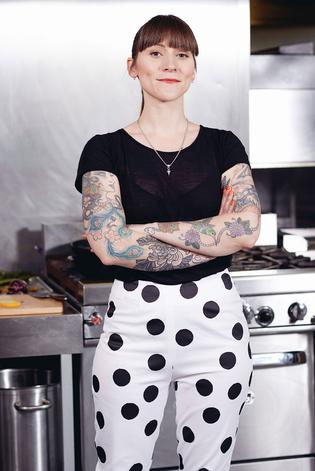 Female professional chefs are still a rare sight in restaurant kitchens, with uniforms often designed for men's bodies. A growing frustration caused by the unflattering cuts of chef's trousers motivated London-based Australian chef Maxine Thompson to create Polka Pants. Offering a functional and stylish chef uniform, the pants are tailored, slim-fit, high-waisted, cropped, and designed for a woman's body, and the demands of a kitchen.
The brand launched earlier this year with three offerings: plain black, classic houndstooth (for those in more traditional restaurants) and screen-printed polka dots, designed by Bristol-based artist Victoria Topping. Maxine knows what she's talking about, having worked in kitchens for 10 years, studied at The French Culinary Institute in New York plus completed a BA in fashion design. Polka Pants brings together her skills.
Inspired by the Utility Scheme clothing of the 1940s, the pants are made in a local factory in Tottenham from hard wearing, breathable and stretchable cotton, with large belt loops for tucking in a tea towel.
They have been embraced by the cool young chefs of London, including baker Jemma Wilson (pictured), cake maker Lily Vanilli, chefs Olia Hercules and Alex Hoffler and New Zealand-born Stacey O'Gorman of The Meringue Girls.

• Polka Pants, from about $90 for black and $180 for polka dots, visit polkapants.com
Share this: