Polo Ralph Lauren's Latest Campaign Stars Teeks & The Rugged Shores Of Aotearoa
Photographer Tom Gould leads the latest campaign for the Amercian heritage brand, taking a local cast and crew to the West Coast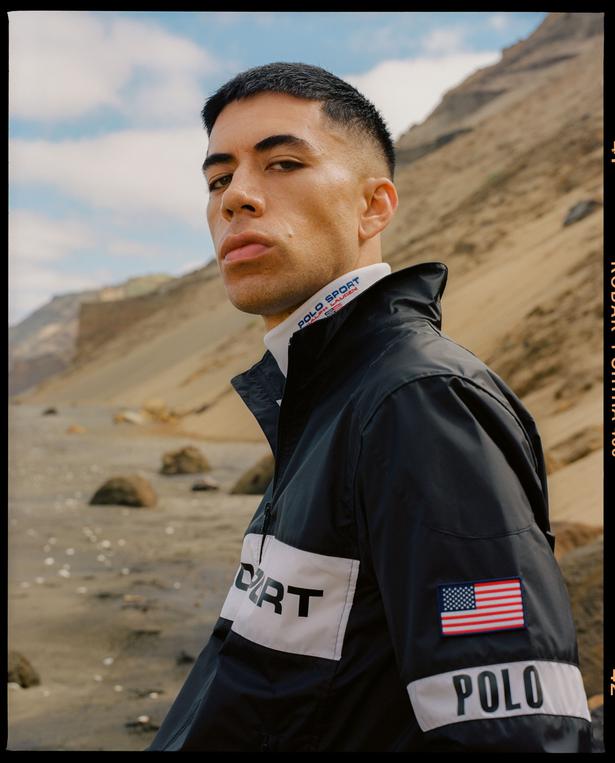 Wednesday Aug. 18, 2021
A helicopter, a sweeping black sand beach and singer-songwriter Te Karehana Gardiner-Toi, aka Teeks, are just a few of the cameo appearances seen in the latest global campaign for Polo Ralph Lauren's Polo Sport Submariner collection, photographed by one of the brand's longtime collaborator's, Tom Gould. 
Having recently returned to New Zealand after living in New York for over a decade, one of Tom's first projects back home was lensing the campaign in February.
"The team at Ralph Lauren knew I was back home in New Zealand — and while I was living in America, we would always talk about doing a shoot down here one day," says Tom. "So as soon as this collection came up and we started talking about the inspiration behind it and how it could work with the landscape down here, the team jumped at it and wanted to explore more."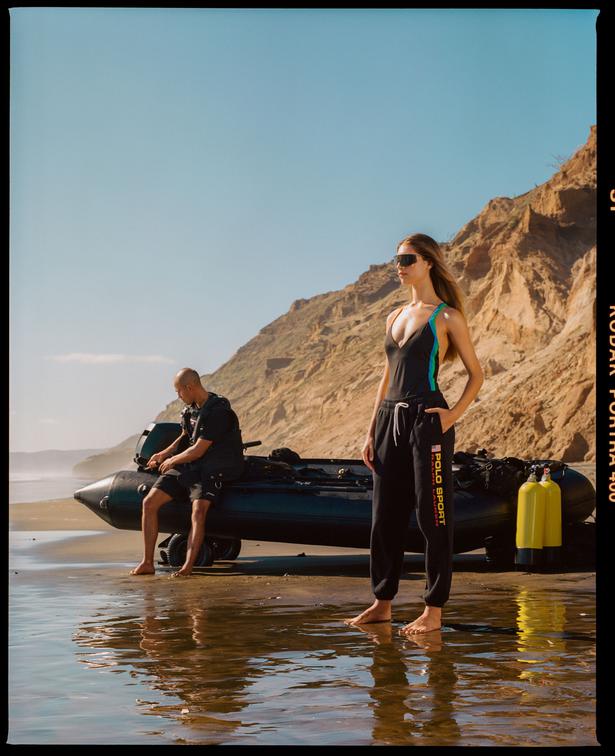 Focusing on menswear and kidswear, the collection features the brand's signature logo-heavy sportswear: 90s-inspired hiking boots, cosy sweatshirts, T-shirts and tracksuits in a graphic and energetic colour palette of white, yellow, black and blue. As a long-time fan of the brand, Tom's favourite looks from the collection focus on both style and practicality. 
"For me, the collection keeps that classic Polo Sport look but with a modern twist while planning for practicality — which I like. So, I loved everything that was waterproof, from the utility vests to the hiking shorts to the windbreakers. For the talent, I loved seeing them in the turtlenecks with the big Polo Sport on the collar — an elevated beach look, if you will."
Photographed at a quintessential New Zealand location, a black sand West Coast beach, the campaign is a unique first for the American brand. As a brand that takes inspiration from travel and far-flung destinations, this is the first time the label has brought its campaign shoots to our shores.
READ: How Ralph Lauren Has Defined Fashion For 50 Years
"The black, the yellow, and the tones of blue in the collection — that whole colour palette spoke to the black sand beaches on our West Coast," says Tom. "It would be one with the landscape there. The West Coast has this unforgiving, rugged yet beautiful look — something that is special to capture on film."
Featured alongside Teeks is third-generation surfer Dune Kennings, and budding photographer Tak Soropa. 
"The West Coast is so raw and powerful. It's truly humbling," says Dune. "Some days I can be surfing and just admiring the beauty and power; other days I'm pushed to my limit."
Both Tak and Dune's agent Ngahuia Williams of N Model Management says the opportunity to shoot a global campaign in New Zealand is special. "Polo Ralph Lauren is a global brand that has influenced here in New Zealand for many years, especially its relevance when it comes to 90s fashion," says Ngahuia.
"Shooting in Aotearoa is just super-cool, especially by a Kiwi photographer like Tom who grew up with this brand, like many of us did.  It's special to see faces that represent this country in a campaign like this, especially the talent we represent —Taak Soropa and Dune, two faces we are very proud of."
Fresh from his Something to Feel tour in June, Teek's inclusion as part of this global campaign is also significant. Also known for his unwavering support of te ao Maori and te reo, the 28-year-old singer has also expressed his love for our natural environment as part of the brand's digital magazine and app. 
"The land and sea provide us with sustenance, but also with a sense of identity and belonging," says the singer. "We personify our mountains and oceans, and see ourselves as custodians."
READ: Teeks On His New Music & Unpacking Toxic Masculinity
"I see Teeks as someone who is extremely talented across many things, and I love to support the journey he's on," adds Tom.  "Whenever we've worked together, it's always been on something meaningful, so I feel lucky for that. I feel the more people who can hear his voice and listen to what he has to say, the better."
The campaign has also been able to support local creatives and crew behinds the scenes, including Tom's assistant Matt Hurley, a film supported by cinematographer Raymond Edwards and product stills photographed by Fraser Chatham.
The campaign was styled by Viva fashion director Dan Ahwa, makeup and grooming by Kiekie Stanners and hair by Matt Benns. 
"The best memory from the day was seeing our talent shining!" says Tom. "To be able to cast some close friends and people who had never been in front of a camera before, to model for Ralph Lauren, was a huge highlight for me. To see them pose in front of a helicopter on a secluded beach at sunset, wearing head-to-toe Polo Sport, was a moment that had me smiling."
PHOTO ESSAY: Tom Gould Captures New York's Black Lives Matter Protests
"To be able to help give talented people opportunities that aren't always attainable because of geographically where we are in the world is the biggest highlight for me."
Tom's full-circle moment with the brand has been well documented. Before working with the label, Tom's 2016 book Bury Me with the Lo On documented the fascinating world of the 'Lo Lifes', a crew who stopped at nothing in their obsessive quest for Ralph Lauren clothing — and started a whole new subculture in the process. The book captured the wider conversation around wealth, status and the American dream.
"I've had a relationship with the brand since I was a teenager, trying to get hold of any items of clothing I could — it was the style of fashion that I loved growing up. Fast-forward to recent years and I have been lucky enough to form a working relationship with the brand, travelling the world and shooting dozens of campaigns together."
"But this campaign was definitely the most special, as it was taking something I've loved from America and bringing it to the shores of Aotearoa for the first time. It feels special to shoot something for a global audience right in our own backyard."
*The Polo Ralph Lauren Sport Submariner collection is available to shop online now
Share this: