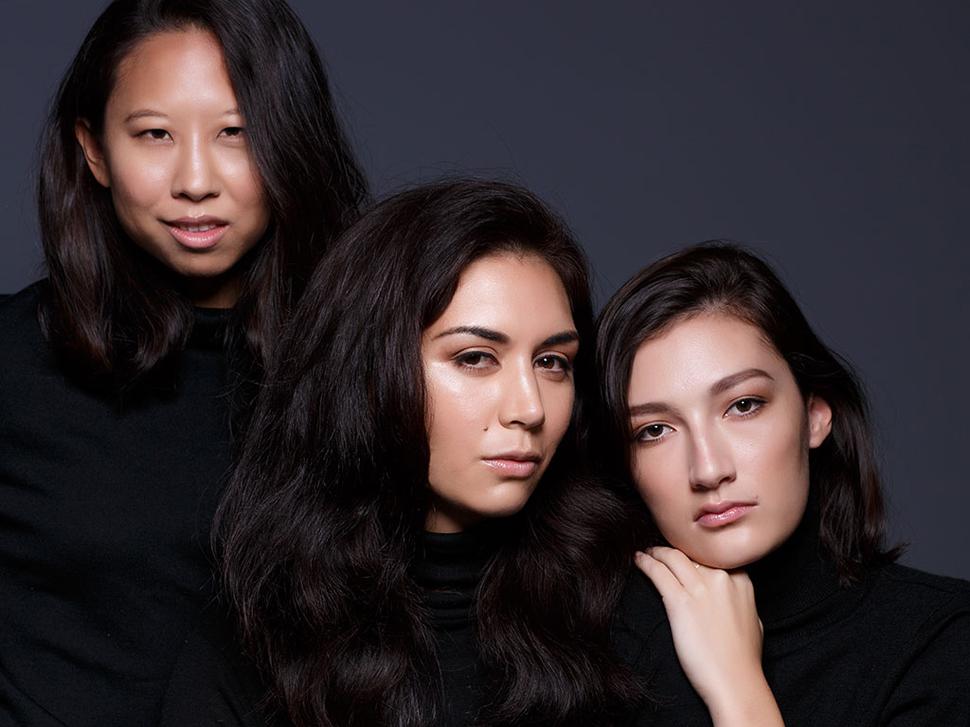 Fashion's New Power List
The need-to-know movers and shakers shaping New Zealand's fashion landscape
Wednesday April 29, 2015
There are many people who are fashionable, but these creatives are more than just headline makers. These are the established and up-and-coming powers who are changing what we wear. Here's our list of people influencing the New Zealand fashion landscape right now.
The Grown-Up Bloggers
Katherine Lowe, Leilani (Lani) Momoisea and Maddy Budd are helping shape what's considered cool. Read more
Georgie Clatworthy & Aubrey Cheng
As directors of boutique retail leasing consultancy Match Realty, the duo find store locations for local and international designers. Read more
The Gentle Women
Kate Megaw, Yasmine Ganley and Greta Van der Star are quietly introducing an intelligent, natural and vaguely 70s-inspired aesthetic to a new generation. Read more
Lucy Vincent
One of the most passionate and connected people in the business, Lucy Vincent embodies the simple, earthy aesthetic that has come to define an element of New Zealand's creative and fashion sector. The founder of internationally successful beauty brand Sans [ceuticals] and co-founder of The Department Store, Lucy and the Powder Room and Stephen Marr salons works closely with established fashion designers including Karen Walker, Zambesi and Kate Sylvester, as well as nurturing a younger generation of creative talent.
Jamie Whiting 
As the managing director of Barkers and a key investor who helped to bring Topshop and Topman to New Zealand, Jamie Whiting knows a thing or two about appealing to the masses. Read more
Michael Hooker
With more than 23 years in the industry as a successful model booker, scout and event manager, Hooker's ability to take a model and work with them to get them to the top has proved a winning formula. Read more
International Influencers
These three successful New Zealand women are shaping fashion at an international level in London, with high-ranking roles at influential brands.
• Greta Villiger is head of womenswear design at J.W. Anderson, one of the most buzzed-about brands in fashion right now. In 2013 global luxury conglomerate LVMH invested a minority stake; Villiger began soon after, following roles at Jonathan Saunders, another key London brand.
• Frances Howie is the model of discretion, having rarely spoken to the press about her international career. She has worked in Stella McCartney's close-knit design team for years, although would not confirm to us her current official role (and Stella's press office talks only about Stella herself).
• Emilia Wickstead's garments are stocked through department stores Harvey Nichols and Selfridges, and online behemoths matchesfashion.com and Net-a-Porter.com. The Duchess of Cambridge is her most well-known customer, but Wickstead's real influence lies in the way she sets the agenda on modern occasion dressing. 
Richard Nieper
Richard Nieper's influence in shaping what people are wearing comes through with his considered edit as one of the country's top fabric wholesalers. Read more
Lonely Girls
The international growth of Lonely Hearts and its successful lingerie offshoot Lonely makes it an obvious addition to this list, but it's the diverse range of women behind it who have come to truly embody the brand. Read more
Peter Cooper
With its fashionable boutiques and beautifully restored heritage buildings, Britomart is now the heart of New Zealand fashion. But it wouldn't exist without Peter Cooper. Read more
Ashleigh Good
Our top modelling export right now and muse to fashion heavyweights Karl Lagerfeld and Carine Roitfeld, Ashleigh Good is ranked as one of the world's top 50 working models on models.com. Read more
Donielle Brooke
In 2013 Donielle Brooke established Designer Wardrobe, a small Facebook group that allowed women to buy, sell and rent designer clothing — reflecting the changing way in which New Zealand women shop now. Read more
Jo Knight
After working as co-owner and director at British label Richard Nicoll for nine years, fashion consultant Jo Knight is helping match local designers with financial success. Read more
Dianne Ludwig
Dianne Ludwig's retirement from an accounting firm lasted all of about three months, thanks to requests from clients wanting to pick her brain for their businesses. Read more
Ella Yelich O'Connor
This stylish talent has given local brands such as Lonely Hearts and Eugenie an international boost by wearing their clothes on her many trips overseas. Read more
The Designers
• The Brand: Karen Walker Inc continues to grow with the recent launch of fragrance joining eyewear, jewellery, bags, homeware, paints — and fashion.
• The Young Guns: Valentin Ozich and Barnaby Marshall of I Love Ugly are impressively maximising the power of the internet to market their brand globally.
• The Go-To Labels: Kate Sylvester and Juliette Hogan make flattering, real-life clothes that women want to wear, weekday and weekend.
Mary Devine
Last year, this fashion retail power player joined Jamie Whiting, Karen Walker and Christchurch rich-lister Philip Carter to help bring the London-based mega brand Topshop, and its men's offshoot Topman, to New Zealand. Read more
Share this: