Four Prada Nerds Rank Their Favourite Shows Ever
Following Miuccia Prada and Raf Simons' game-changing collaboration, four local fashion experts take a closer look at the shows that resonated the most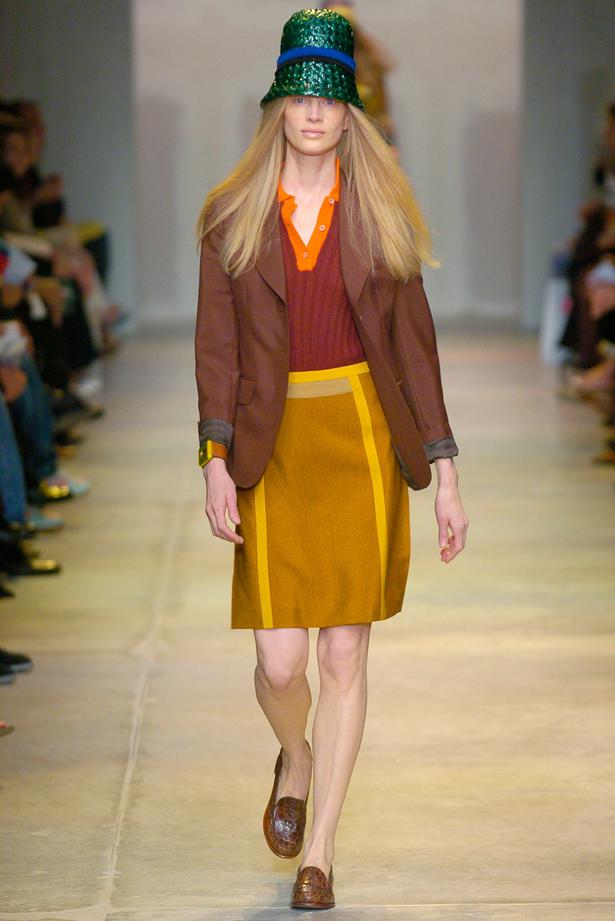 Sunday Oct. 4, 2020
This story was originally published on Ensemble
Last week finally saw the results of the hugely anticipated collaboration between Miuccia Prada and Raf Simons - a partnership announced in March to much idolisation from fashion nerds around the world.
Both designers have shaped the fashion sphere in their own unique ways and their collaboration as co-creative directors of Prada is set to do the same.
Miuccia Prada should need no introduction - the designer of the Italian brand since 1988, she is the patron saint of those who like their fashion with intelligence and whimsy (hello, Ensemble). Raf Simons is another icon of a thoughtful and slightly obsessive fashion fan. He has his own storied history, having worked at Jil Sander, Dior and Calvin Klein alongside his own influential fashion brand (which will debut womenswear in October; SCREAM!)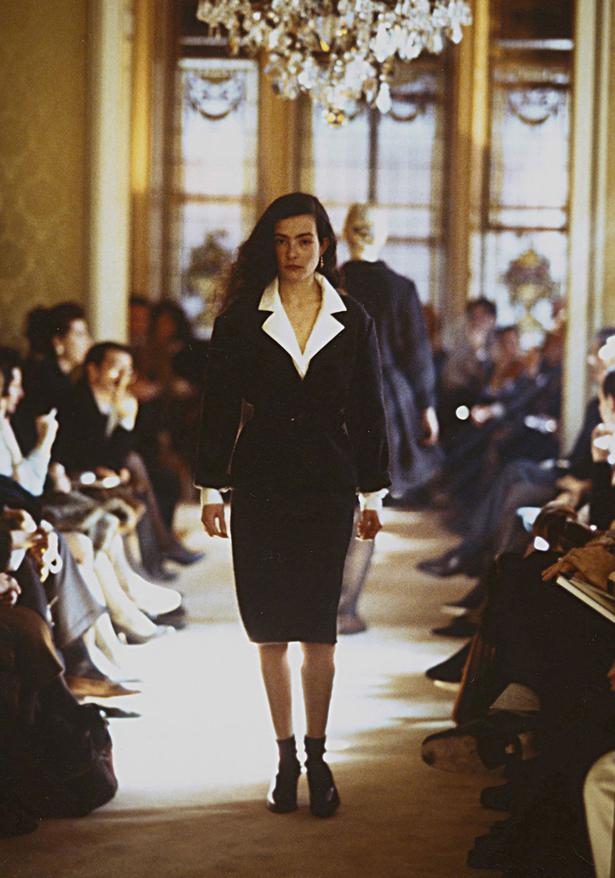 Ahead of the Miuccia-Raf reveal - which you can see in full here - four of New Zealand's biggest Prada nerds shared their all-time favourite shows.
DAN AHWA, fashion and creative director of Viva‍
My obsession with Prada started when I was 18 and living in the UK. Traveling to Italy during this time connected me closer with the philosophy of the brand. As a film student, I studied Italian films from neo-realist masters like Fellini, Antonioni, Visconti, and Pasolini - films and directors often referenced in Italian fashion, and especially by Prada. To see films and characters referenced in a beautiful suit or dress woke me up to the idea that fashion can have the power to move you in a different way.
I was never really interested in fashion, but rather in the way it reflected the social and cultural conversation, which is why governments should really consider its value like it does with visual arts. In fact, fashion is probably more important as people actually wear and engage with it every day (but this is totally other conversation).
The point is, Prada has been one of the greatest classrooms for me. I've spent hours researching the significance of the architecturally designed show sets or the subliminal meaning of a soundtrack.
It's one of the few fashion brands that gave me permission to indulge and enjoy in both high culture and low culture with equal pleasure.
It's always the greatest artists who polarise opinion with radical work that helps make you look at life differently. It makes you think critically not just about fashion, but about the wider world.
That's why I love Miuccia. She's uncompromising and unconventional. I think the most interesting people in life, and the ones you learn the most from, are those who don't conform. After inheriting the brand four decades ago, she continues to surprise every time.
It's totally thrilling to see her unite with another designer I love, and who shares the same principles around design. I can't wait to see what Miuccia and Raf do together. I have no doubt it will continue to challenge and move, and make us think about how we dress - especially in these extraordinary times. In a year where we've lost so many groundbreaking leaders in their fields, to see these two design pioneers come together makes me feel hopeful.‍
Dan's top five Prada shows:
1. Fall 2007
‍I remember downloading the song Blacken The Black after watching this because I really loved how manic it sounded. All the models kind of looked menacing. I love the madness of it, the frazzled hair by Guido and the way the glossy runway reflected their outfits. The curved heel and how in profile - with a bulbous tailored cape - this bizarre silhouette just felt super cool and modern. The collection is super interesting: the murky colours matched with the teddy bear fur really struck me and made me think how strangely well thought-out everything looked. The tailoring is also terrific, and the men's version of this season is quite amazing. ‍
2. Spring 1996
‍The crosshatch print, the 'ugly' colours the nod to the '70s, this show is a prime example of how much Prada continues to influence fashion today. An iconic collection and show that hasn't aged at all. ‍
3. Spring 2009
‍Elvis singing Crawfish really stood out for me while watching this show [on Youtube]. I'm also drawn to when designers are a little more primitive and organic, and this was a beautifully executed collection. The shoes with the little socks were hard to watch, as some of the models took quite bad catwalk tumbles (there really was no need to put those models through that) - but as a concept, it really stood out as one of my favourites. The fish tiles and set design by long-standing collaborator Rem Koolhaas was also memorable; again Guido's sculptural hair, the shell earrings and that whole organic buzz was really fascinating. No buttons, no zips, just grosgrain ribbon ties and this idea that you can wear clothes that mould to your body. ‍
4. Fall 1988‍
‍A show filled with smiles and gestures which I think will be something special with this new era with Raf, who is also all about the way clothes are worn.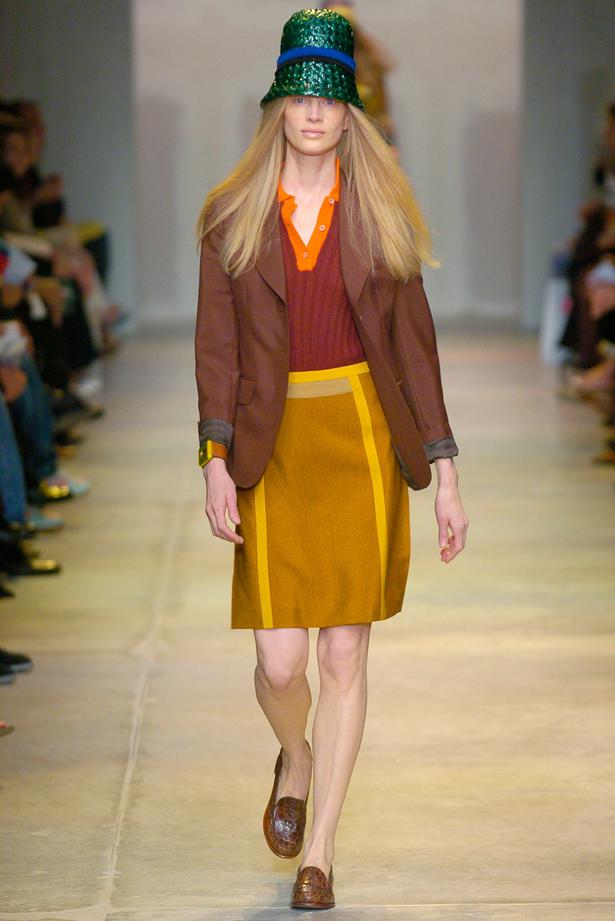 This show has well and truly stood the test of time; brilliant casting and just the way the clothes have been lit in natural light gives a really romantic vibe to this mostly dark collection. ‍
5. Spring 2005
‍Both the men's and women's collections from this season are still spectacular to look at. This was the first Prada collection where I really paid attention to how an interesting and surprising colour combination goes a long way. There's a super bourgeois feel to this that I'm really into and again, such a great connection between the menswear and womenswear. ‍
Honourable mention: Menswear Fall 2010‍
‍It's the knitted collars that do it for me, but this entire show was perfection from start to finish. The mix of womenswear, the complex runway - it still feels so fresh. There are moments when Prada really nails a very simplified look which I personally love - not everyone wants to wear the most obvious thing in the room, but it does still need to feel unique and special. This collection sums up my personal style and I'd wear every single look.
EMMA GLEASON, writer and commercial editor at NZ Herald magazines
It's hard to vocalise why Prada is so enduring and appealing. There are few other labels whose aesthetic can span such a wide range yet still be so decidedly "Prada" - whether refined black nylon coats or embellished chandelier footwear. Perhaps it's because Miuccia always comes at things from an intellectual angle, so the substance and message is always there and well thought-out.
I appreciate that she neither panders to nor rejects sex appeal, as it's easy to go one route or the other. There's a nostalgia to most collections, though they're never a facsimile of what has gone before. Most of all, I think I love that Miuccia clearly has fun with it all, showing that you can be smart and serious while still finding joy and having a sense of wit with how you dress and what it says to the world.
So much of this is also seen in Raf Simon's work, which makes him joining Miuccia as co-creative director so exciting. It makes so much sense, yet it was also so unexpected. Their friendship is well-known, but this kind of development is unprecedented. It's a meaningful development for both designers, and I'm excited for them, and quite moved by the whole thing. I think we will see some nods to the earlier years - aesthetically, and through gestures on the runway (which we know Raf loves), maybe something dark and dystopian. Or light, that's nice too.
Fall 1988‍
The early Prada collections are so poetic - it's something that comes from the photography style, model choice, and the authenticity of the collections. They're not perfect, but that's what makes them so nice. I love the gestures and body language of the models in these early shows.‍
If there's an iconic Prada collection for those in the know, then this is it. The ugly prints, the colours, the casting - all are perfect and still resonate today.‍
Fall 2000 Menswear‍
Maybe it's the touch of '70s style, but this is probably the men's collection I find most appealing - the palette, textures and garments are so good.‍
This collection is so romantic, from the crunchy crushed silks to the closures and fastening being all ribbon (no buttons or zips), it's all just so divinely undone.‍
Spring 2020‍
This show felt like a return to the earlier Prada years - less bells and whistles, simple, but with inspired colours and details.
ZOE WALKER AHWA, editorial director of Ensemble
‍1. Spring 1996
This show is The One - the defining Prada show. It's also the one that I have watched on repeat, noting styling tricks and afterwards typing things like 'Prada + spring + 1996 + vintage + shoes' into eBay in the hope of finding a vintage treasure.
The show itself is extremely simple, but the relatively modest and classic clothes are given a new twist in the styling (the hair), and the hip '90s models (Kate Moss, Amber Valetta, Kristen McMenamy, Shalom Harlow). Ugh it's all just so cool.
For Miuccia, this show was all about questioning ideals of beauty and bad taste. What is ugly? Who decides what is ugly? Who decides what is beautiful? "Ugly chic" became a key facet of the Pradasphere after this; I think it's something Raf will draw on at some point, if not with his Prada debut.
As a fashion writer, I also appreciate how much it tortured journalists to cover and write about - both at the time, and years later. I'm obsessed with Robin Givhan's 1996 reporting: "The clothes that poured down Prada's Milan runway for spring '96 were stiff and unflattering. The greens hovered somewhere between shades of slime and mould. The browns were murky - the colour of water as it stagnates over a long, steamy summer. The dizzying, crisscrossing patterns were reminiscent of UHF static or an old-fashioned labyrinth of rusted plumbing."
The disdain! But you can immediately picture it, and the show sparked an entire in-depth feature about ugly clothing. A good show sparks conversation and debate, and this did just that.
2. Spring 2015 womens and menswear 
I admit that I have a soft spot for this season because the womenswear presentation was my first time at a Prada show in real life. I remember the flutter of excitement when Gemma Ward walked out to open the show, and the pre-show canapés were chocolate on dry bread (read into that what you want).
As a set, these shows complement each other beautifully - the bright blue pool and brown carpet runway at the menswear show, followed by eerie lilac sand dunes and brown carpet runway at the womenswear a few months later - with common threads throughout like the top-stitching.  The clothes felt like a journey too - the menswear show (featuring some womenswear) was very "proper", with extremely classic 'normal' clothes of the bourgeois, whereas things start to fall apart a little bit come the womenswear with its frayed edging and patchwork.
3. Fall 2010
There are key Prada codes, and you can tell which one Miuccia is exploring from look one of each show. One of my favourites is when she chooses to look at femininity and womanhood, often subverting feminine ideals - this show is exactly that, with its full skirts, bosom-y silhouettes and the beehives. And all the Prada skirts! This was the show where the casting sent a message too: Victoria's Secret favourites (i.e. the opposite of a Prada favourite) Doutzen Kroes, Alessandra Ambrosio, Miranda Kerr, Rosie Huntington-Whiteley, and Bianca Balti all walked.
4. Spring 2008
I'm not usually a fan of Prada collections that lean heavily on prints; particularly in the age of street style when they can quickly become cliche (that Prada banana print? No thank you). But this show speaks to the twee part of me, with its silks and knits, pyjama dressing that feels epically relevant still, and of course, fairies. It's the weird whimsy for me - the harsh makeup against the ethereal clothes, the messy hair, the psychedelic set.
5. Fall 2008
Full-on repressed, buttoned-up Prada; again, referencing Miuccia's love of exploring tropes of femininity. The show as a whole feels like a woman trying to keep herself together but on the edge of falling apart - the slope the models had to walk down, the circular runway, the chaotic music, the strict slicked back hair. Oh and the lace which doesn't feel pretty at all: very Prada.
Bonus: Fall 1988
I'm including this as my bonus round, as I've only recently watched this and feel it deserves a lot more of my time to fully appreciate. But it's divine. This was Miuccia's debut ready-to-wear show, featuring models, family and friends, and the chaotic, low-fi energy of the show is totally charming (my favourite is the waiter standing on the runway still serving as models walk past). It has all the Prada tropes that are still relevant today - including the classic 'Prada gesture' of the chic clasped coat.
CHLOE HILL, stylist and photographer
You could say my obsession with Prada began in the '90s, pining after nylon pants, polo tops and sheer dresses in the Glassons at my local mall. None the wiser that they had likely been ripped off Prada's Milan runways.
Once the 2000s rolled around, I was much more informed about said plagiarism and started to immerse myself in the real deal. Miuccia's world, by then, had exploded with colours and prints, heavily influencing my style. Here's hoping Raf also embraces the bold and beautiful Prada I so adore.
Chloe's top five Prada shows:‍
Spring 2014 - Sporty dresses emblazoned with screen-printed faces and dripping in jewels. This was my kind of sports luxe, a trend so popular at the time.
Spring 1996 - Google this collection and you'll find many an article talking about the 'rise of ugly'. With this show Prada made so-called ugly fashion cool (think avocado green, chunky sandals and boxy skirt suits). So wrong it's right.
Fall 2013 - One of my first ever Prada purchases was a tweed clutch from this collection. I'm still trying to track down the checked coats and midi skirts to add to my collection too. 
Fall 2018 - The first Prada show I was lucky enough to attend in person, in the newly opened tower of the Fondazione Prada in Milan. The mirrored multi-level space was like stepping into a sci-fi film and the collection a futuristic neon explosion, topped off with modern tweed and patterned knitwear.
Fall 2017 Menswear - Without a doubt one of the best ever collections had to be this one. Dotted with cardigans, pencil skirts and socks rendered in fluffy wool and beaded by hand. The quality and craftsmanship on display is bar none.
Share this: